You could've knocked me down with a feather upon sight of Jennifer Aniston on the red carpet for the premiere of 'Cake' held at ArcLight Cinemas on Wednesday (January 14) in Los Angeles, California.
Following her snoozefest at the Golden Globes, I had pretty much made the assumption that this promo tour was going to go back to all black, so I am very surprised by this Giambattista Valli Spring 2015 mini dress.
Featuring a white racer open-back top with jacquard floral skirt, I'm quite tempted to say that this look feels a tad too twee for the actress as I can see the likes of Kiernan Shipka rocking this on the red carpet, but I don't want to dent any hopes of Jennifer stepping outside her comfort zone in future.
Jen's refreshing look was styled with black Christian Louboutin 'Iriza' pumps and Jennifer Meyer jewels.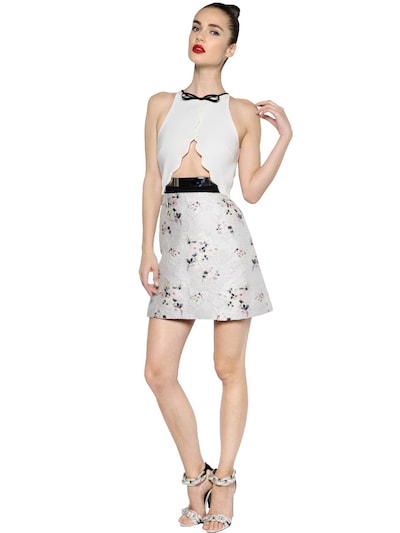 You can buy Jennifer's Giambattista Valli Jacquard and Crepe Dress from Luisa via Roma US, Luisa via Roma Europe and Luisa via Roma UK

https://www.redcarpet-fashionawards.com/wp-content/uploads/2015/01/Jennifer-Aniston-In-Giambattista-Valli-Cake-LA-Premiere.jpg