In the space of four days, Zooey Deschanel has been tirelessly promoting her 'To Tommy, From Zooey' Tommy Hilfiger capsule collection, which Macy's and Tommy Hilfiger stores now stock, with the collection of dresses and accessories ranging from $35 (accessories) to $199 (dresses).
It appears that adding 'designer' to her growing résumé was seamless; she was able to fuse her '60s super-girlie ensembles with Tommy's all-American preppy style, which she calls 'Modical', with ease.
The collection couldn't be a more perfect embodiment of her own style.
Tommy Hilfiger in Mexico 20th Anniversary: Celebrating the designer's 20th anniversary with a party held at the Ex-Convento de San Hipolito on Thursday (April 10) in Mexico City, Zooey worked the nautical angle wearing a navy-and-white striped dress. I know she loves tights, but they just don't work with this sleeveless dress.
Saturday Night Live: For her guest appearance on SNL, pleats were in play as she wore a charming red-and-white striped long-sleeved frock styled with micro-dot tights and toecap midi heels.
Good Morning America: Looking very perky on Monday (April 14) morning, the actress wore a red-white-and-blue diamond-print dress with plenty of retro appeal, styled with a navy tie plus the same accessories from SNL.
To Tommy, From Zooey Collection launch: Look number four was showcased at Macy's Herald Square on Monday (April 14) in New York City, with the actress getting good wear out of her micro-dot tights and sparkling pumps with a white toecap. Her playful daytime-chic striped and multicolour-polka-dot dress really does signal 'here comes the summer'.
Which look of the four works best? My favourite is her GMA look.
You can buy each look from Macys.com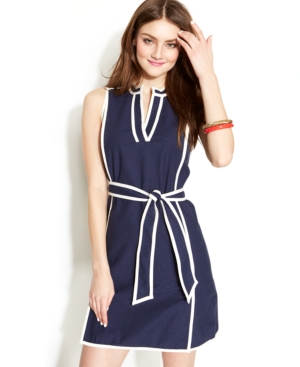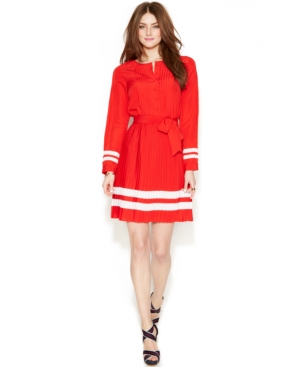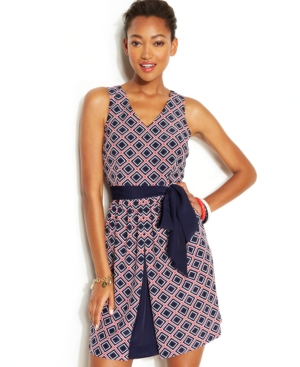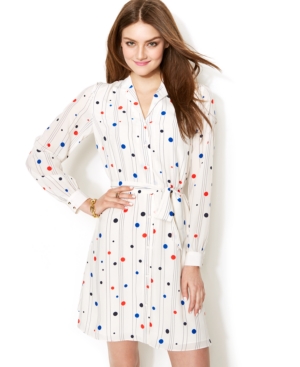 Zooey Deschanel for Tommy Hilfiger Sleeveless Contrast-Trim Belted Dress
Zooey Deschanel for Tommy Hilfiger Pleated Dress
Zooey Deschanel for Tommy Hilfiger Sleeveless Diamond-Print Dress
Zooey Deschanel for Tommy Hilfiger Polka-Dot Printed Shirtdress
Credit: FameFlynet & Getty