Schiaparelli @ The 2022 Met Gala
Daniel Roseberry of Schiaparelli dressed Carey Mulligan, Jessie Buckley, Louisa Jacobson and director Janicza Bravo for the 2022 Met Gala on Monday (May 2) in New York City.
I don't know why I continue to be surprised by Carey Mulligan when she serves up a breath-taking look, because she consistently serves up breath-taking looks, and this custom Schiaparelli Haute Couture gown is no exception.
I was enamoured by the front…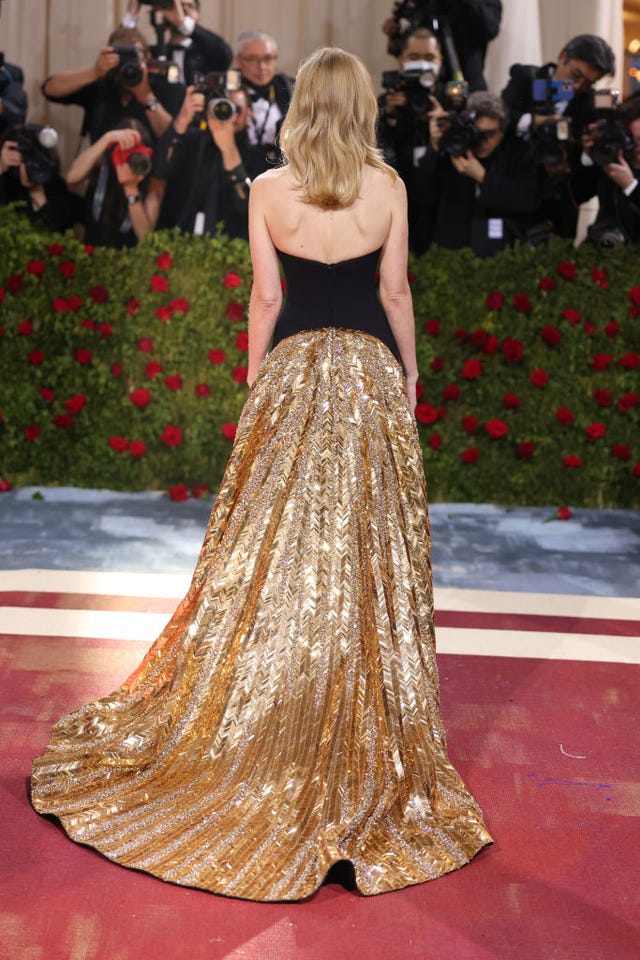 …then I saw the back.
Rarely am I speechless, but… *jaw drop*
Jessie Buckley's love affair for sharp suiting continued with this Schiaparelli black and white pinstripe three-piece suit with the brands signature gold details styled with a wide-brim Stephen Jones hat.
The fake moustache was to highlight (or make fun of) gender stereotypes.
Some might find Louisa Jacobson's Schiaparelli Haute Couture tulle gown too sheer, but I'm thoroughly distracted by the ornate gold detailing.
Janicza Bravo also opted for a Schiaparelli suit with gilded details that are very much a signature for the brand.
Credit: Getty
FTC Disclaimer: Keep in mind that I may receive commissions when you click links and make purchases. However, this does not impact my reviews.