Worst Dressed Female Award
Between the criss cross halter neck, the exposure of her breasts and her sour puss face, Brittny Gastineau is a holy hot mess.
Worst Dressed Male/Worst White/Worst Michael Jackson Impression Award
Soccer player Cristiano Ronaldo, again wearing my pet hate on the red carpet – sunglasses, looked really really bad.
Mostly because of the off white suit with the white tee. I am surprised he did not colour coordinated the crutches.
I can not believe he flew from Manchester in England to attended an event on crutches when he did not even win an award. ?!?!
Worst Woman Over 6ft Award
After seeing what is possible with Candace Parker, WNBA player Lisa Leslie could have tried harder.
Worst Couple Award
Actor Forest Whitaker and wife Keisha are not usually known as Mr & Mrs Bland, but both went with very dark colours for such a sunny day.
Keisha is wearing a black Fendi Fall 2008 dress, with a feathered hem.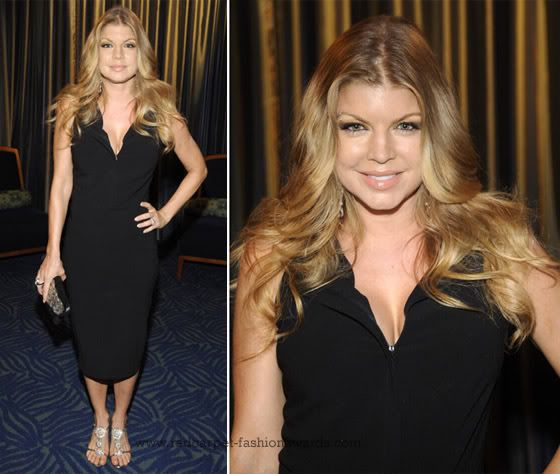 I Know You Can Do Better Award
On the red carpet is were Fergie really makes some magic happen, but on this occasion, she seems very muted. The Calvin Klein dress looks great, but it does not match Fergie's personality.
No Wonder You Did Not Walk The Red Carpet Award
Jessica Biel did not walk the red carpet, and no wonder. What she is wearing is suitable for work or a trip to the mall, but a little bland for a red carpet event.
Her peeping bra strap also loses her many points, her hair looks very greasy, she is in desperate need of some lipstick and what is that thing around her neck?
Nice Dress, Shame About The Make-Up Award
Toccara Jones plum dress is gorgeous. It really shows of her fantastic curves, but the eye make-up is enough to make Lil' Kim say "Oh no you didn't".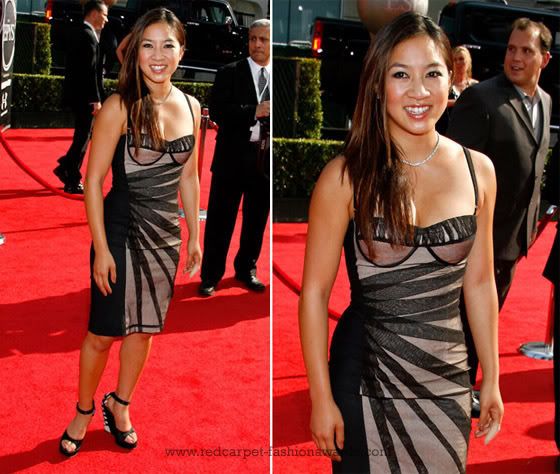 Three-peat Award
Figure skater Michelle Kwan ends up in this category for being the 3rd person within a week to wear this Dolce & Gabbana dress.
As beautiful as the dress is, I am bored of it already.
Best At Looking Trashy Award
Kendra Wilkinson and Bridget Marquardt look equally trashy, as you would expect.
Bridget's Mandalay dress has also been worn by her fellow housemate Holly Madison.
I guess they share dresses as well as wrinkly old men. *shudders*