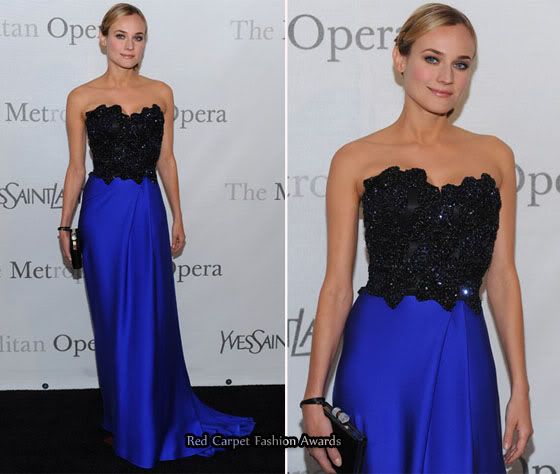 Diane Kruger was looking as radiant as ever in a strapless two-tone YSL gown. She outshone everyone at this event.
The detail on the bodice is exquisite, and the blue is electrifying.
Becki Newton is wearing a stunning pair of YSL Spring 2009 heels, which I have been lusting after since seeing them on the runway last year.
Amanda from Ugly Betty would be green with envy watching Becki walk the red carpet in a glimmering green sequined YSL Spring 2009 strapless dress.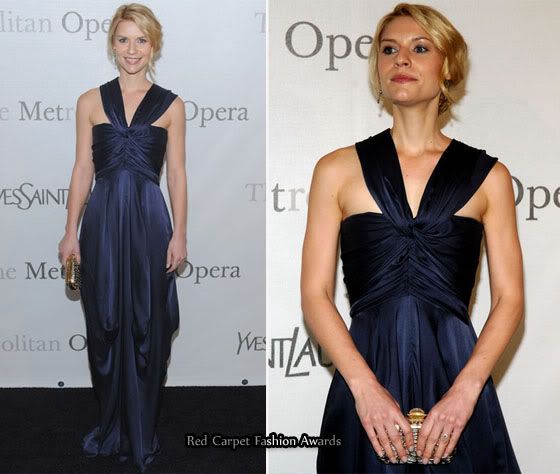 Claire Danes looked exquisite in a silk YSL Pre-Fall 2009 navy halter gown, which had a ruched bodice, and a draped skirt.
Her hair was styled in an elegant updo, and she carried a gorgeous gold jeweled YSL clutch.
British actress Emily Mortimer wore a round-necked maroon YSL Spring 2009 dress.
Her dress was accessorized with a black velvet with bow detailed belt, which sits a little too high for my liking, as it gives her quite an unflattering shape.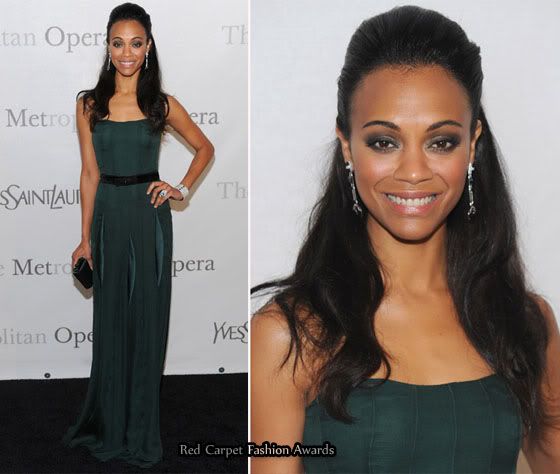 Zoe Saldana is gorgeous wearing a strapless green YSL Pre-Fall 2009 gown, which had a small black bowed detailed sash.
She completed the look with a matching emerald green satin clutch.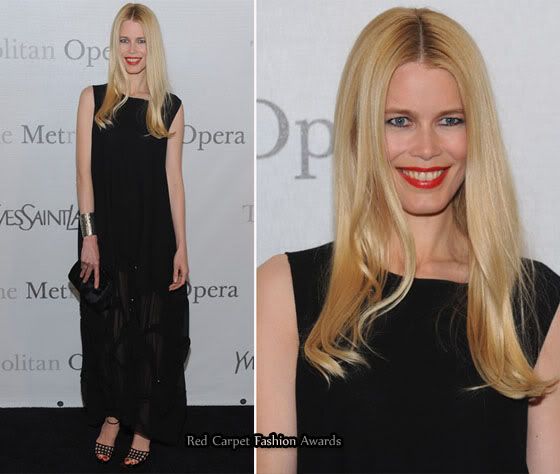 Claudia Schiffer only just pulls off this YSL Spring 2009 dress. On most of us this full-length, high neck gown would look like a sack, but on Claudia it's just works.
Maybe it was the YSL caged sandals and the ruby red lips, that helped perfect her look.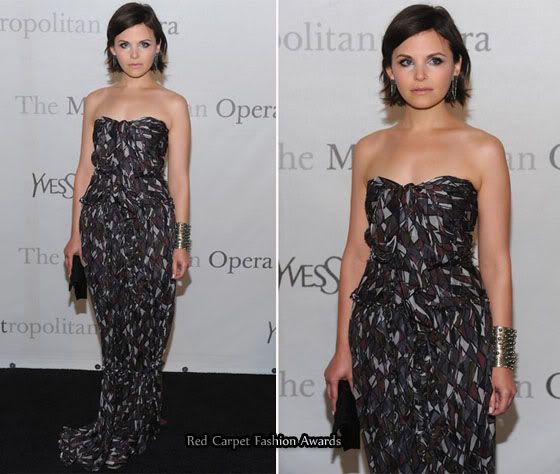 Ginnifer Goodwin has been a bit off on the red carpet lately. But she managed to redeemed herself with this stunning strapless YSL print gown.
I love how it flows with a slightly ruffled and tiered fishtail skirt.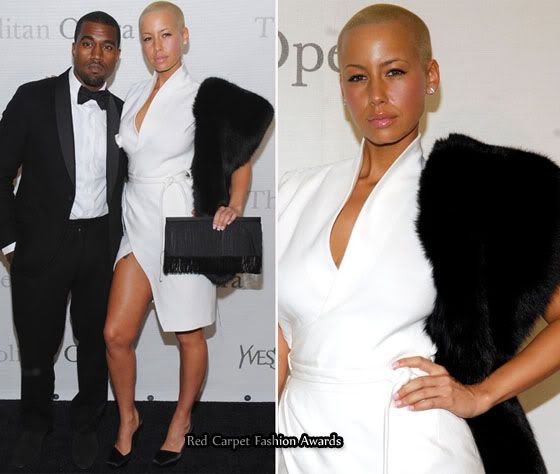 Kanye West and girlfriend Amber Rose are making the most of their new-found fashion status.
Amber Rose looked quite elegant from the waist up, wearing a white wrap dress, which had a thigh-high split, revealing her tattoo.
The look was completed with a black furry stole, a black fringed clutch, and black satin pumps.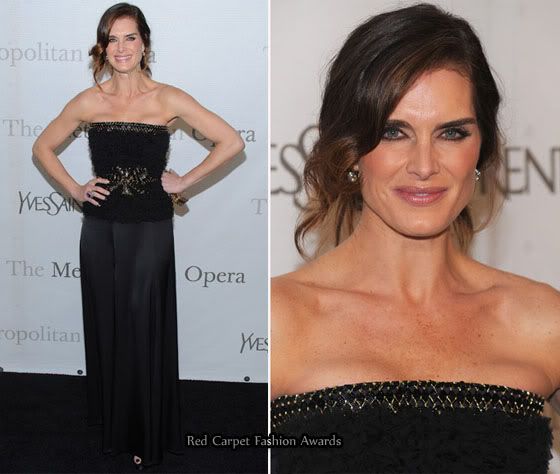 Brooke Shields was sophisticated in strapless gown. The gown had a bow detail on the bodice, which seems to be the theme of the night.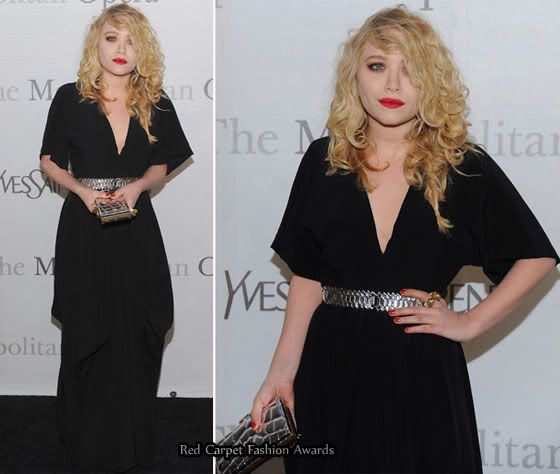 Had Mary-Kate Olsen styled her hair better, I would have really liked this look, but an Olsen isn't an Olsen without a hint of signature scruffiness, right?
Mary-Kate wears her black kimono with a silver belt, which matched her YSL clutch.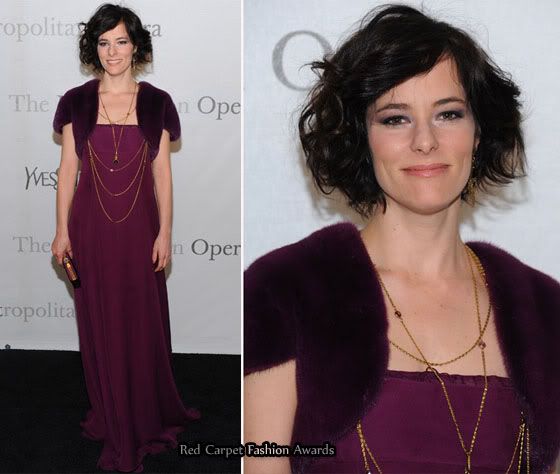 Parker Posey opted for a burgundy gown, with a matching furry bolero. The look was complete with a multiple gold linked necklace, and a YSL clutch.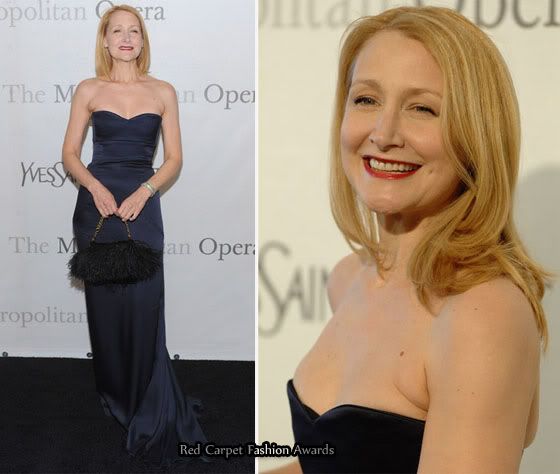 Patricia Clarkson was elegant in a blue strapless YSL gown. I adore her feathered clutch.