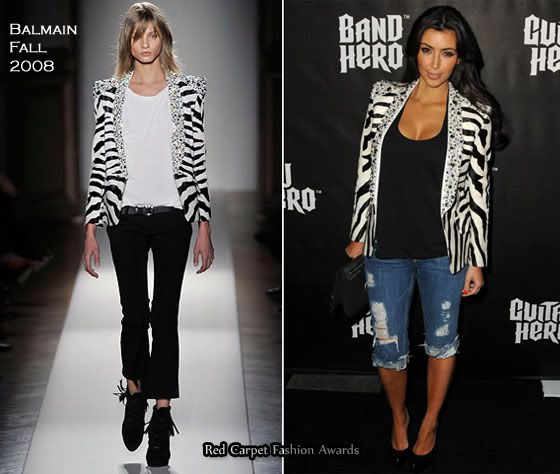 I KNEW IT.
I knew it wouldn't be long before Kim Kardashian jumped on the Balmain bandwagon.
For many of you this will be the final straw, as you couldn't even bare to see Beyonce in Christophe Decarnin designs.
I love the zebra print embellished Balmain Fall 2008 jacket, but I HATE those ripped turned up jeans she insisted on wearing with it. They're way too casual and way too scruffy for such a jacket.
Disappointment doesn't even cover it.
Rihanna wore this jacket on "Star Academy" last year.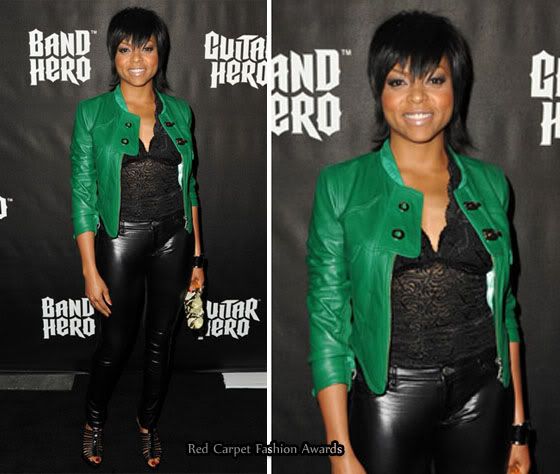 Taraji P. Henson got into the rock n' roll spirit of this event ticking all the boxes to present herself as an archetypal rock chick:
Leather jacket – check, black leather pants – check, sexy lace top – check.
Black strappy sandals complete the rebellious look.
Ali Larter kept is very casual in also wearing black leather pants, a taupe tee, and a stunning textured clutch.
A multitude of necklaces punched up her look.
Dania Ramirez could have pulled off this strapless denim jumpsuit, if she has purchased it in her size.
The cute jumpsuit is just too small for her twins, and looks really uncomfortable.
A nameplate necklace, pearls, and a pink feathered bag complete this look.
Whilst everyone was on a rock chic vibe, Aisha Tyler opted to keep her look sexy and sweet. She opted for an ombre satin dress, with an oversized clutch.
[nggallery id=57]