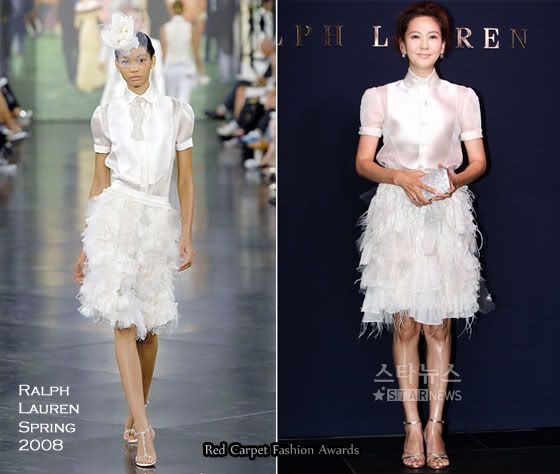 Kim Nam Joo works an ultra-girly look, wearing a white ensemble from Ralph Lauren's Spring 2008 collection.
Her white satin blouse, is worn with a gorgeous tiered feathered skirt, which is so floaty and dreamy.
This pristine look is complemented with silver strappy sandals, and a silver embellished clutch.
Très chic.
Lee Yo Won also opted for neutral colours, wearing a champagne coloured halter top with a bow, paired with white pants from Ralph Lauren's Spring 2009 collection.
Like Kim's look, Lee gives me that summer time feeling, which it's so refreshing to see on the red carpet, and much preferable to black.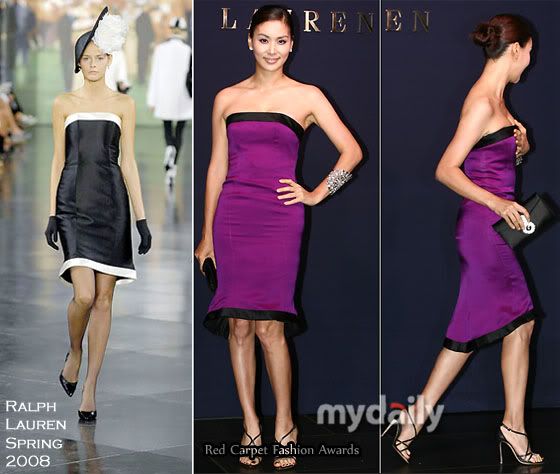 Ko So-young's opted for this bold purple strapless Ralph Lauren Spring 2008 dress, with a black trim.
The fitted dress, which gives her a stunning silhouette, was partnered with black strappy heels, a black jeweled clutch, a stunning silver cuff.
Lee Hye Young shimmered with enchantment, wearing a strapless gold Ralph Lauren dress, with exquisite embroidered details.
Her look was completed with a gold strappy heels, a dark grey embellished clutch, and a black leather belt.
[nggallery id=48]