MoMA's Party in the Garden, Memorial Day fundraiser weekend lasted for four days. The Tuesday night event, featured performances from DJ Cassidy and Estelle.
The Brit singer arrived wearing an Alexander McQueen printed dress from the Spring 2009 collection, with a black leather belt, black peep-toes and a bronze cuff.
If you're thinking it's the same Alexander McQueen dress Camilla Belle wore to the Push LA premiere, I would say you're half right, because it's the same print, but not the same dress.
Camilla's was more fitted, whereas Estelle's is longer and drapes at the front.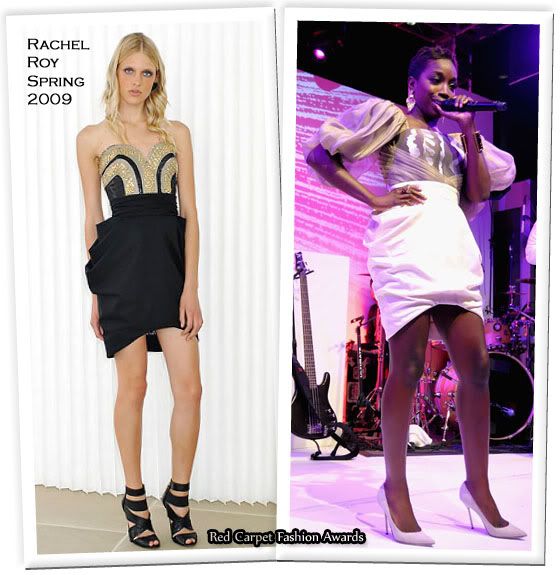 Estelle performed a 45-minute set, wearing a modified Rachel Roy Spring 2009 dress.  The major modifications were the tribal print bodice, and the nude blouson sleeves.
This softer, delectable look, is a huge contrast to her edgier red carpet look, and it's a look I much prefer.
She kicked off her set with her single "No Substitute for Love", and then worked her way through some classic soul, and a cover of Coldplay's "God Put a Smile Upon Your Face."
She finished her performance the only way she could, with her smash hit "American Boy."