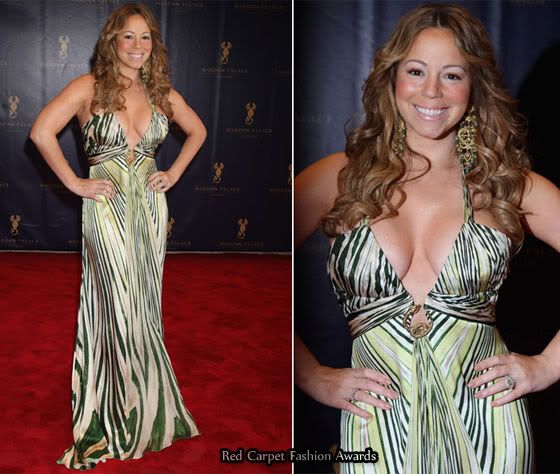 Many stars attended the Mardan Palace Hotel opening in Turkey, which is Europe's most expensive luxury resort.
Mariah Carey was one of the performers on the night.  She arrived on the red carpet, wearing a green striped Roberto Cavalli plunging gown.
Cavalli signature gold serpent seems to under a lot of pressure, keeping Mariah's gown together.
I only say this because I'm jealous.
Monica Bellucci shows off her enviable figure, wearing a beautiful fishtail blush pink lace gown.
I like that she kept her make-up light and luminous, to complement her gown.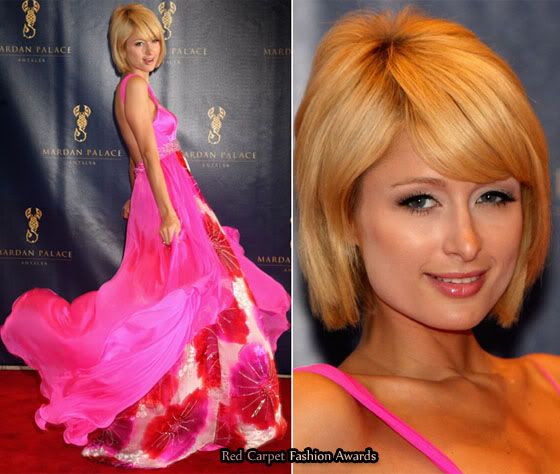 Paris Hilton gave us a twirl Рas she so often does Рshowing us the full capacity of her fuchsia pink Canker Ka̤ar gown.
She glows in pink, and I much prefer this gown to the Basil Soda gown she wore to the amfAR Cinema Against AIDS Benefit.
Sharon Stone continues to keep tackiness at bay, wearing a stunning Roberto Cavalli black strapless gown, with a feathered skirt.