Creating a sensation at the charity benefit, Diane Kruger looked outstanding in a white Chanel Spring 2009 Couture ensemble.
For me it doesn't have the same impact as her Marchesa gown which made my heart melt, but she still looks amazing.
I love the square shouldered cropped jacket, the cute black bow – which we know she loves – and the interesting shaped skirt, which reveals a lace lining.
A bejeweled clutch and Louboutin's complete the look.
With so many great dresses this week, would it be fair to include both Diane's looks in Best Dressed of the Week?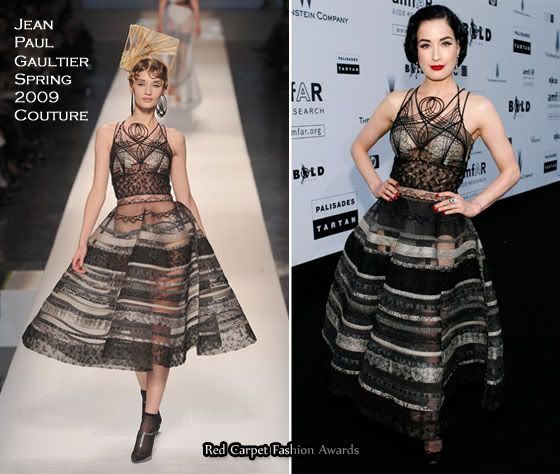 Only Dita von Teese can get away with wearing a Jean Paul Gaultier Spring 2009 Couture dress, with a transparent skirt revealing her garter.
That's because she oozes class and chic sophistication.
I'm much more inspired by her in this dress than her previous Dior Couture dress.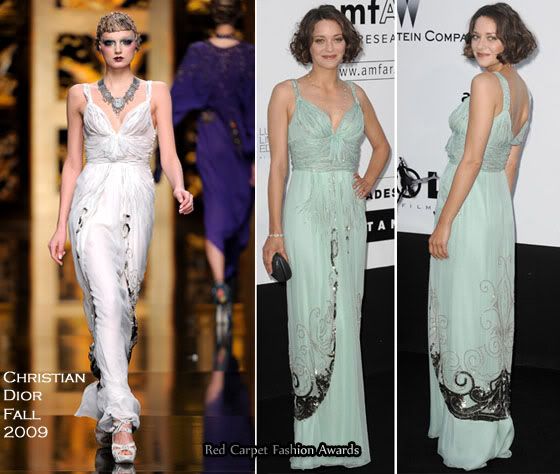 I love Marion Cotillard, and her association with Dior is a match made in heaven but I would have loved something more dramatic from her.
Her pale blue Christian Dior Fall 2009 embroidered gown is gorgeous, as it brightens up her complexion.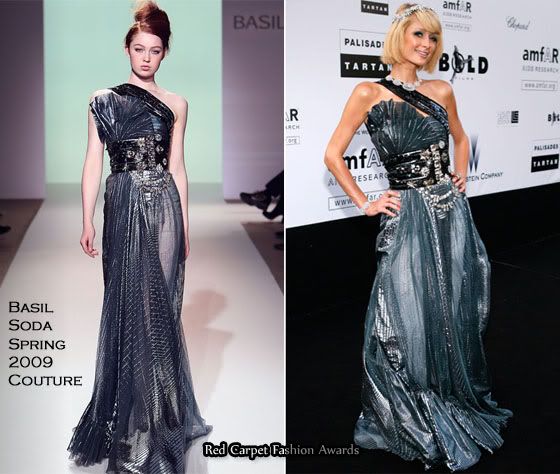 You know saying, "Take one thing off before you leave the house"?
Well Paris Hilton should have taken off 3.
The headband, the necklace and the bracelet.
Her Basil Soda Spring 2009 Couture gown is already dripping with embellishments around the waist, that she needn't have over cooked it.
This gown is quite dark and dramatic for Paris. I'm surprised she didn't pick something more sugary.
Donatella Versace's modification on her Versace Fall 2009 cornflower blue gown are very subtle.
I prefer her softer blue strapless gown.
The bodice is longer plus her gown has a fuller skirt.
I'm a constant admirer of how immaculate she always looks.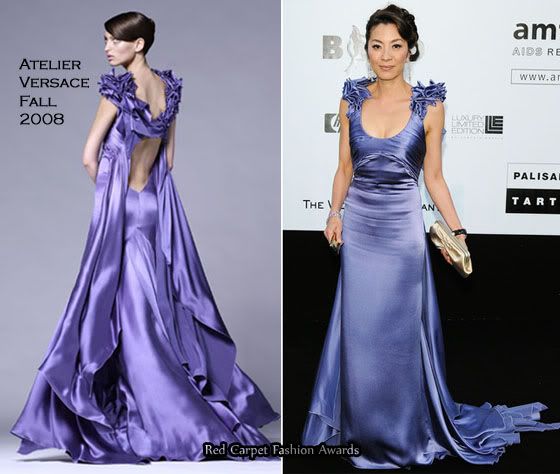 Michelle Yeoh opted for a purple satin Atelier Versace Fall 2008 gown with ruffled details on the shoulders and an open back.
She kept her jewelery minimal, with a few diamonds on the bracelet and earrings.
All my diva's are going red.
First Coco Rocha, now Eva Green.
Is red the new black?
I've love Eva since she first stepped on the red carpet. She's such a daredevil when it come to fashion. But on this occasion not so much.
Don't get me wrong, I love her fuschia pink Christian Dior Fall 2009 Indian inspired gown with intricate embroidered details, but if ever their was someone to wear one of Dior's Spring 2009 Couture ball gowns on the red carpet, this was our girl.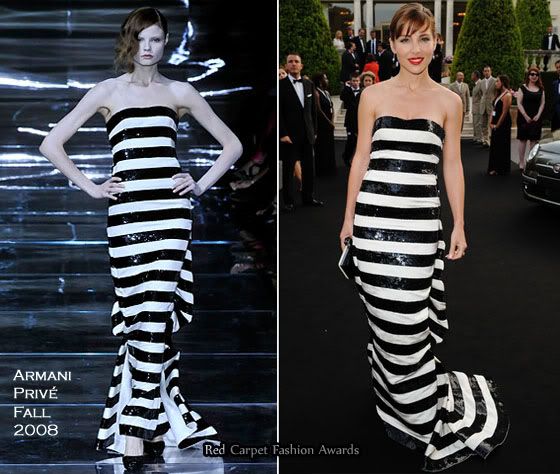 Elsa Pataky's Armani Prive Fall 2008 black and white striped strapless gown may look a bit tame from the front, but that's because all the drama is at the back, as it gathers then falls to a fishtail hem.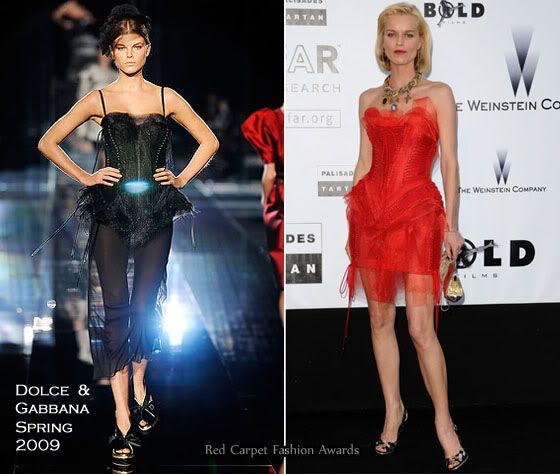 There would have been no prizes for guessing that Eva Herzigova would wear Dolce & Gabbana to this event. Much like her supermodel chum Claudia Schiffer.
Her Spring 2009 corseted red dress, had more sass than the runway version.
Hers was strapless and shorter to show off those impossibly long legs.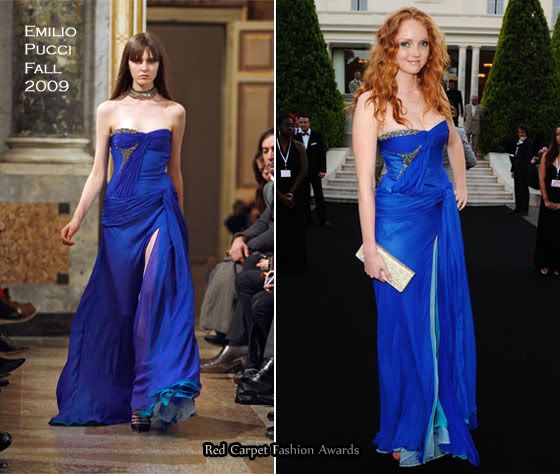 As much as Lily Cole is wearing a beautiful Emilio Pucci Fall 2009 strapless gown, she fails to excite.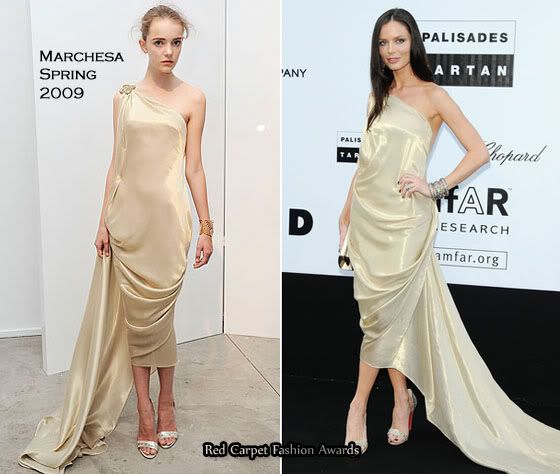 Many of you have remarked that you would love for Georgina Chapman to modify her gowns, to make herself more individual, and stand out from the runway and her clients like Donatella Versace.
Unfortunately she didn't hear your pleas on this occasion, because she wore a gold lame Marchesa Spring 2009 asymmetrical gown as it was presented on the runway plus the gold Louboutin's.
Whatever the weather, she always looks outstanding, and here is no exception.
It feels strange calling anything by Chanel casual, but Anna Mouglalis' blood red Chanel Cruise 2010 satin dress, feels too casual for such an event.
Kudos to her for wearing a piece from this collection, which was only presented last Thursday.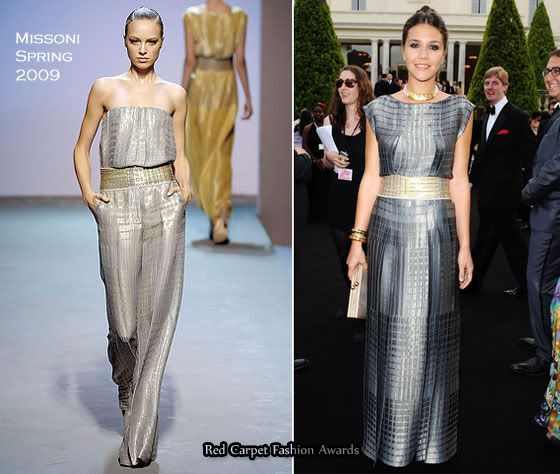 Margherita Missoni represented her family brand in the way she always does, with style and grace.
Her lurex silvery blue Missoni Spring 2009 gown, with a gold waistband, is a modification of the strapless jumpsuit which was presented on the runway.
Her added gold jewelery, and a matching mini clutch were the perfect touches for added glamour.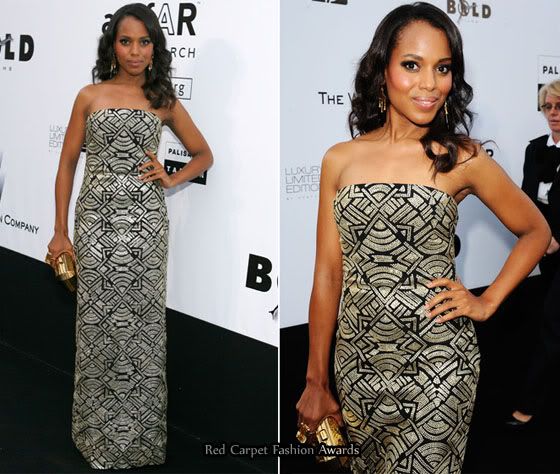 L'Oreal girl Kerry Washington takes the baton for the final leg of Cannes Film Festival, after Elizabeth Banks, Aishwarya Rai, Eva Longoria, and Evangeline Lilly represented the brand before her.
Kerry is a vision, as always wearing a strapless deco beaded Marchesa gown paired with a gold Bally box clutch.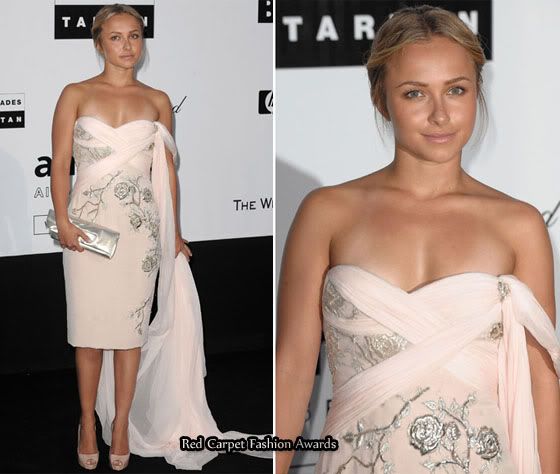 Hayden Panettiere arrived at this event wearing a gorgeous blush silk chiffon Marchesa dress with similar silver embroidered details to Diane Kruger's Marchesa gown.
I love the dress, but even in this picture it feels like the falling train is in the way.
Prior to this event you would have seen Hayden sunbathing on a yacht, relaxing with friends and topping up her tan.
Unfortunately it's left unsightly tan lines.
I'm loving the vacation glow, but a hint of lippy would have worked wonders.
Zoe Saldana opted for a nude dress with a gathered detail on the hip, whilst she paired her look with copper accessories.
Sharon Stone has never looked better, but next time she should consider tanning her legs, before opting for a thigh high split. Her arm appears to be a different shade to her legs.
Despite all that the annual host for this event look magnificent wearing an asymmetrical Dior gown, with silver strappy Dior heels.
Claudia Schiffer stays faithful to her boys Dolce & Gabbana, wearing this tulle black bustier gown.
You'll be happy to see that she's keeping the bangs for now.
Zhang Ziyi's ethereal nude gown is so delicious on her. The colour is exquisite complimenting her skin tone.
Her hair was pulled back off her face to reveal a long earring, and a diamond stud. How very 80s Janet Jackson.
I'm not quite getting the wow factor from Carine Roitfeld, which I got last year, but she still looks fantastic wearing this white Givenchy Couture gown.
I'm wondering has anyone ever seen her with her hair up?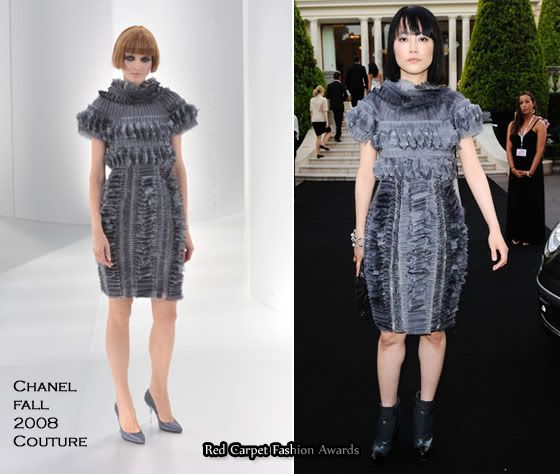 Rinko Kikuchi wears a grey ruffled Chanel Fall 2008 Couture dress with really heavy clunky heels.
Shu Qi wears my least favourite gown of her Cannes experience.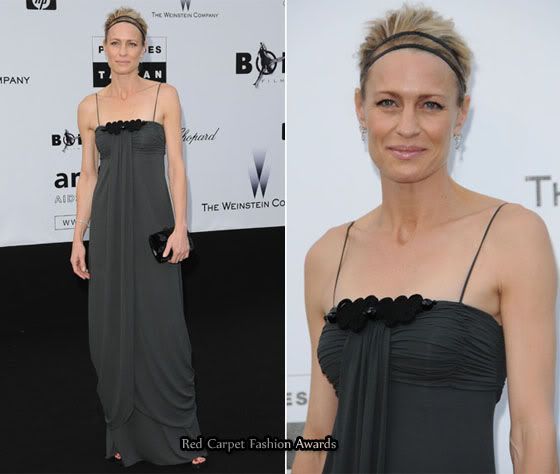 All good runs come to a crashing end.
Case in point Robin Wright Penn in this charcoal spaghetti strapped gown.
[nggallery id=30]