I secretly knew she wouldn't let me down.
Tthats 3 years in a row she's wowed at Cannes.
Angelina Jolie walked the red carpet in not only colour, but this season colour – nude.
Her chiffon one-sleeved Versace Fall 2008 gown is so beautiful, delicate and feminine yet she's still exudes her usual sex appeal.
Those famous full lips are red divine, and her look is complete with champagne heels.
This is definitely one of her best looks to date.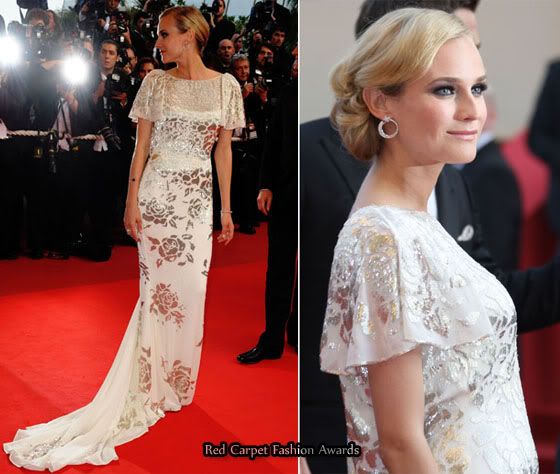 Diane Kruger was equally radiant, if not more so than Angelina.
The stunning actress walked the red carpet in a custom made ivory silk chiffon Marchesa gown with flutter sleeves.
I love the cowl back dress with silver floral embroidered detail.
The side swept bun, and simple diamonds quietly scream elegance.
Best Dressed of The Week just became even harder.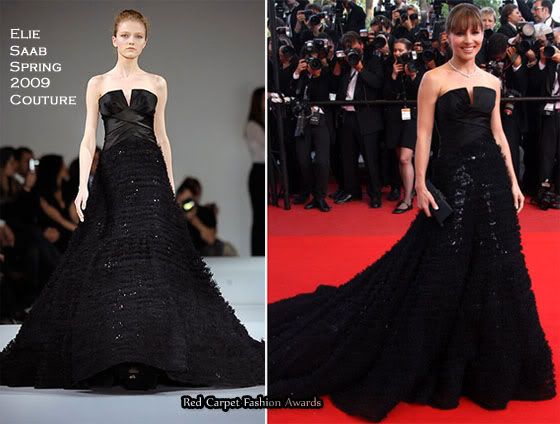 Elsa Pataky swept the red carpet with her black Elie Saab Spring 2009 Couture strapless gown.
Elsa likes to be a sex kitten on the red carpet, but with a few diamonds here and there and her hair pulled back she looks very demure.
I would've loved to have seen her in another colour gown, as she wore black to the Chopard "Cascade" perfume launch.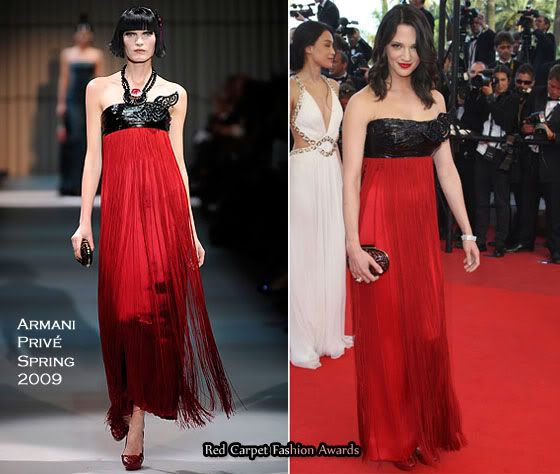 Asia Argento plays the femme fatale wearing a bold Armani Prive Spring 2009 strapless gown with a blood red fringed skirt.
She paired her devilish look with matching shoes, and bright red lipstick for an eye-catching pout.
I'm surprised to say that I kinda like Sharon Stone in this Balmain Fall 2009 gown.
It shows off her body – which looks amazing – and she's not wearing some tacky animal print which she's usually so fond of.
For once Sharon, I don't hate.
I'm happy to see Dita von Teese wearing something from the Christian Dior Spring 2009 Couture collection, but I'm disappointed she didn't pick one of the more colourful risky pieces.
I hope those gowns aren't destined to only be editorial gowns.
Dita wore her one-shouldered dress with a red clutch to match her perfect pout.
Cute, but safe for Dita.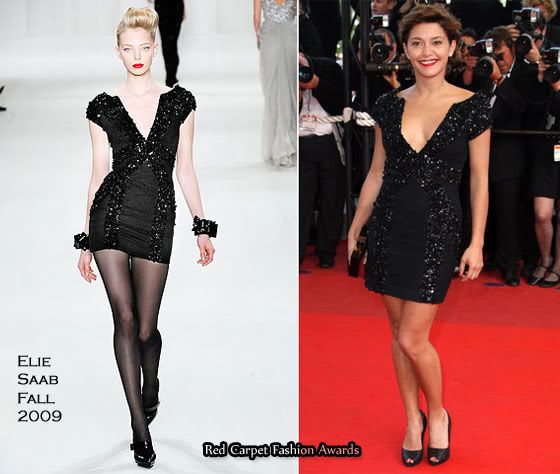 Emma de Caunes also opted for a black Elie Saab dress, but her embellished cocktail dress was from the Fall 2009 collection.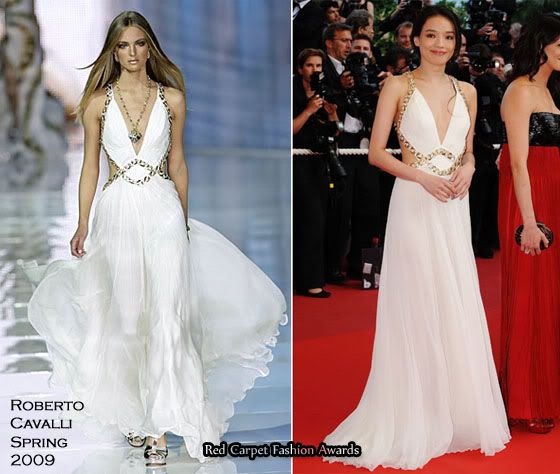 Judge Shu Qi looked angelic wearing a white Roberto Cavalli Spring 2009 gown, which had a gold chain detail embellishing the trim of the bodice.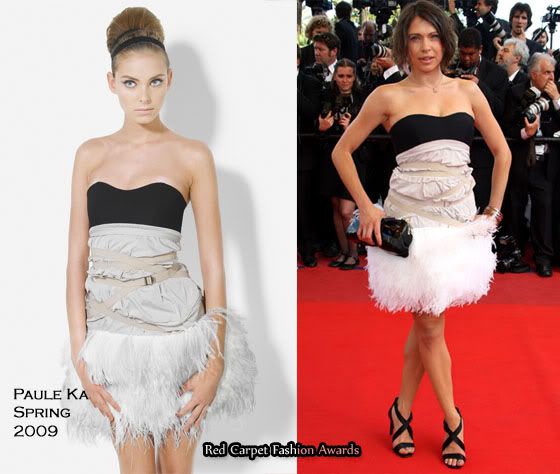 German actress Jana Pallaske wore an eventful Paule Ka Spring 2009 strapless dress on the red carpet with bandage straps, black contrasting bodice, and feathered hem.
There's a lot going on, but it's fun and fruity.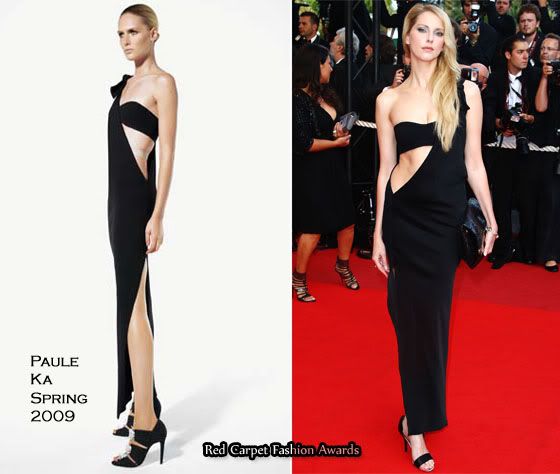 French actress Frédérique Bel also opted for a Paule Ka Spring 2009 creation.
Hers was less cutesy, and more risqué with the cut-out panel showing off her toned abs.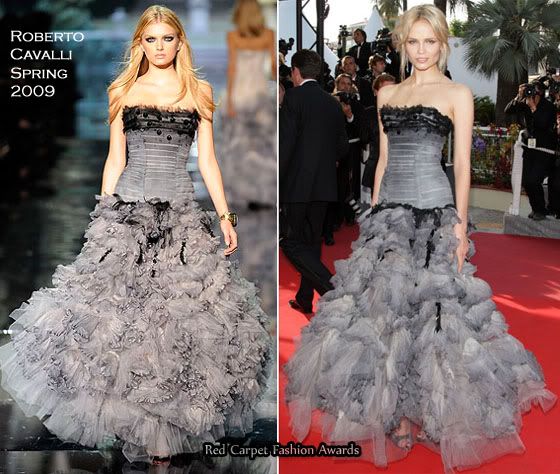 Natasha Poly's Roberto Cavalli Spring 2009 strapless black and grey gown has plenty of frou frou in the skirt with the ruffles and tulle layers.
In this supermodel face-off Natasha's soft make-up and sultry smile wins me over.
Robin Wright Penn opts for her second Narciso Rodriguez gown of Cannes Film Festival.
This time it's refreshing white crepe gown, with sleek lines to give her a beautiful silhouette.
Michelle Yeoh opted for a beige strapless Roberto Cavalli gown with stunning gold accessories to compliment the gold embroidered details on her bodice.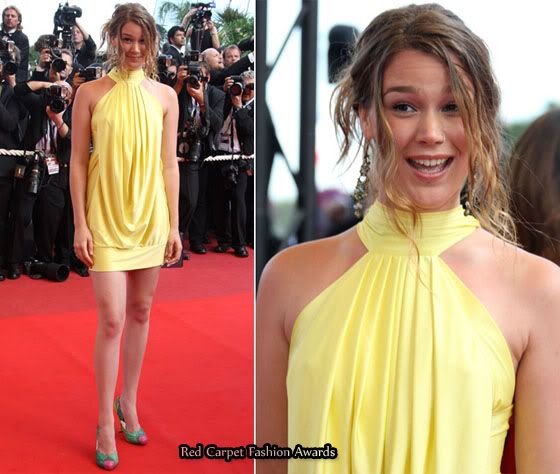 I've never been a fan of Joss Stone's style.
She over did the hippy maxi look, but here she opts for a yellow haltered dress which does nothing for her.
Her yellow dress was paired with green heels, with a pink tip. !?!?!?
[nggallery id=34]