Let's see how many Trib Two's, and Herve Leger dresses we can count at this event.
Heidi Montag, or should I say Heidi Pratt, wore platinum strappy heels, and a matching Nancy Gonzalez clutch, with her predictable Hervé Léger by Max Azria Spring 2009 bandage dress.
I'm not particularly crazy about this look, and her necklace is so unnecessary. She should have saved it for a better outfit.
Herve Leger Count: 1
Trib Two Count: 0
Kim Kardashian opted for a very tight white H&M dress, from the Divided Exclusive Summer 2009 Collection, with 80s inspired shoulder pads.
This look is too severe for my liking, as she has one of those council estate face-lifts, were her hair is pulled back so tight her face looks stretched.
Jil Sander black pumps, and a Christian Louboutin clutch complete the look.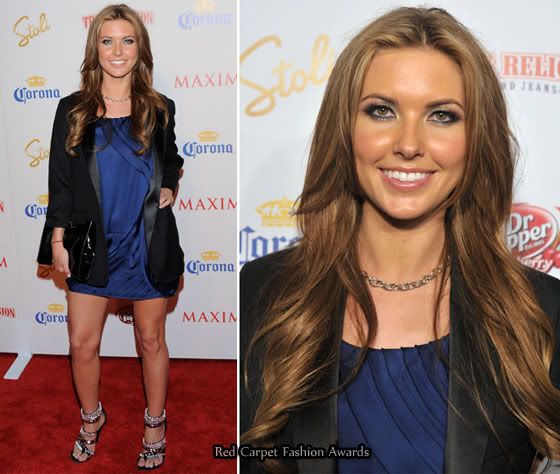 I'm really not liking Audrina Patridge's lighter hair. She was so much prettier when her hair was darker.
She wore a navy mini dress under a black Kris Van Assche tuxedo jacket, whilst wearing her very favourite Balmain Crystal embellished studded sandals, and carrying her favourite Alexander McQueen bow clutch.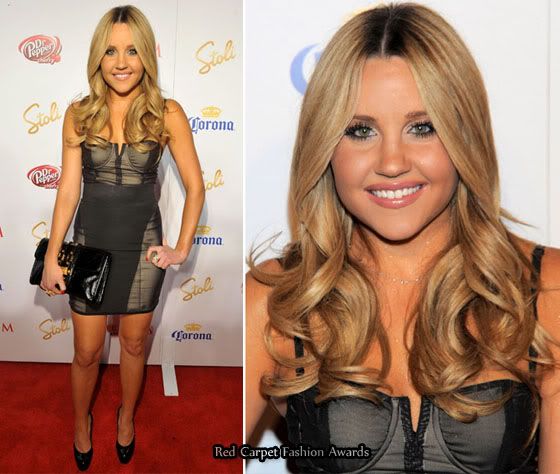 The only surprise with Amanda Bynes' look, is that she's not wearing a Herve Leger dress, but I guess when you know Heidi Montage has been invited, a Herve Leger dress is automatically off the table, as Heidi will definitely wear one.
Everything is standard Bynes'. Shoes, hair, vacant expression.
Herve Leger Count: 1
Trib Two Count: 1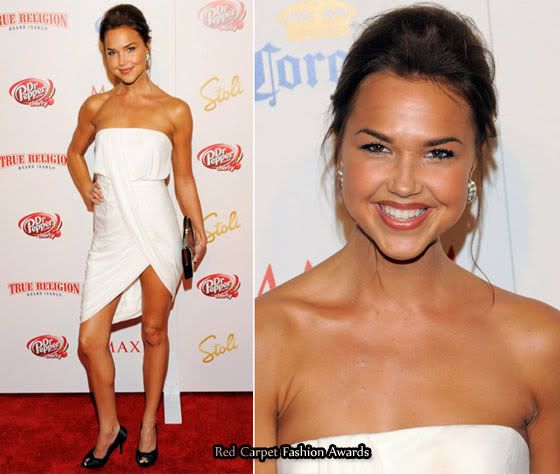 Arielle Kebbel is wearing black peep-toes with her cute strapless BCBG Max Azria Spring 2009 dress *shudders*
God those heels are killing me, such a bad choice.
She should have considered the split in her dress, before striking that pose.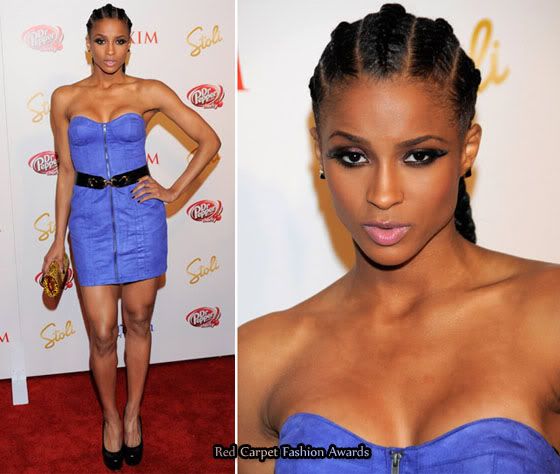 Ciara sure knows how to rock cornrows. The dress is event appropriate, but I would have expected her to go more high fashion, and stand out from this crowd considering her many good choices lately.
Herve Leger Count: 1
Trib Two Count: 2
Dania Ramirez channeled her inner Carrie Bradshaw wearing a pair of Manolo Blahnik Something blue satin pumps, with her marble print strapless Farah Angsana dress.
Gabrielle Union & Jamie Gunns arrived wearing the same Herve Leger dress.
That's gotta be embarrassing, but that will teach them both to be so unimaginative.
Herve Leger Count: 3
Trib Two Count: 2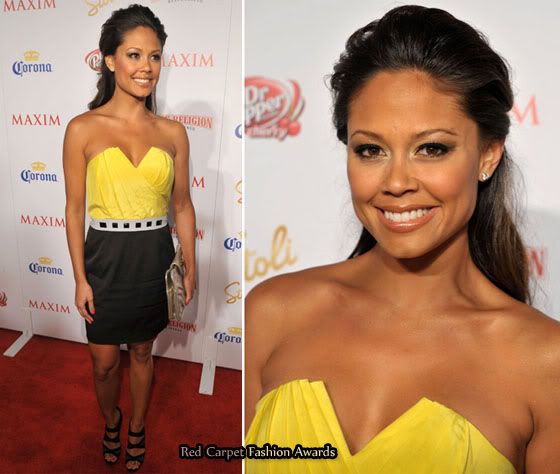 Vanessa Minnillo quietly walked the red carpet with Nick Lachey, wearing a Laila Azhar pleated strapless dress, with lust worthy Fendi Boudoir sandals.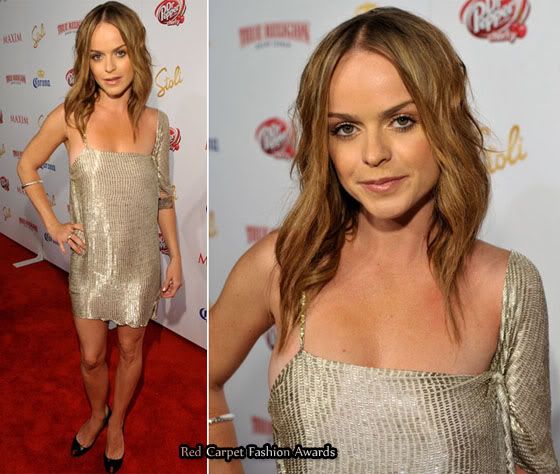 Whenever I see Taryn Manning, I always think this is one of the lost Lohan sisters.
This platinum dress is so ill-fitting on her.