"The Informers" Los Angeles Premiere
I really like Jessica Stroup. She always looks great on the red carpet, and I don't feel like she's trying too hard.
Last night she was all zipped up in her Elise Øverland Fall 2009 teal satin mini dress, which she wore with Camilla Skovgaard peep-toe, cut-out booties.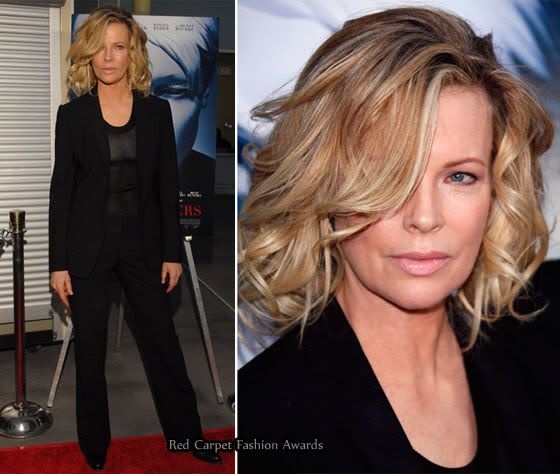 She's still got it.
Kim Basinger has obviously been drinking out of the same fountain of youth, as Iman and Demi Moore.
The actress wore a simple Hugo Boss black pant suit, but it's her hair and make-up that wow me.
Grey Gardens LA Premiere
Ali Larter wore a very deep plunging navy embellished Brian Reyes Spring 2009 dress.
I love the dress and matching satin heels, but why the waiter tuxedo jacket?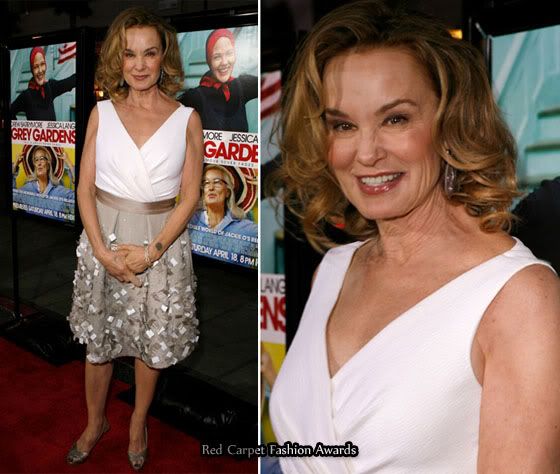 Jessica Lange looked delightful in a dress with a white crossover top, and a taupe skirt with stunning embellished details.
PaleyFest09 "Dollhouse" Premiere, LA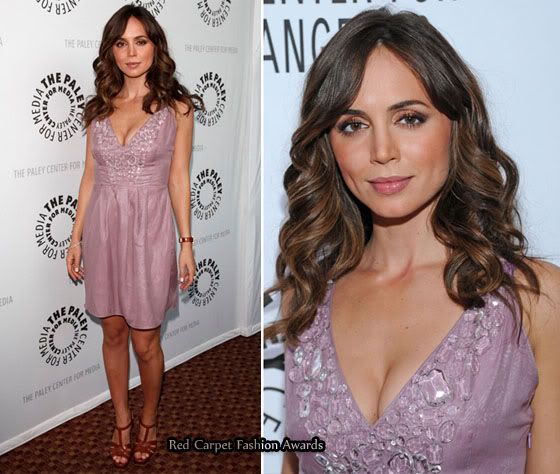 Eliza Dushku looks delightful in her Moschino Cheap and Chic Spring 2009 lilac sleeveless dress with crystal beading details.
Sexy, yet sophisticated.
The actress completes her look with YSL Tribute sandals.
10th Anniversary Scenarios USA Awards And Gala, New York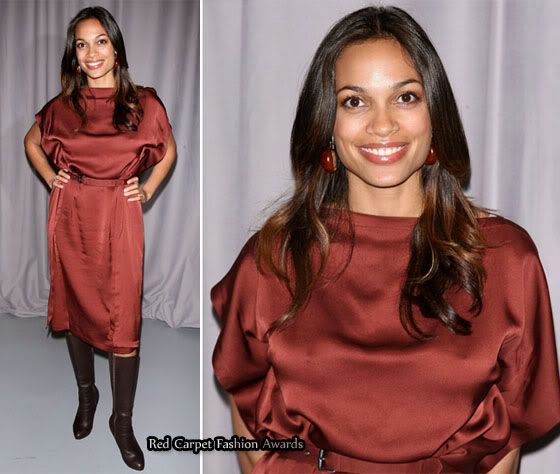 Rosario Dawson matches her Bottega Veneta Pre-Fall 2009 maroon belted dress, with large earrings for this colour co-ordinated look.
I wouldn't have worn the boots, but she makes them work.
"Tyson" Los Angeles Premiere
I'm loving Elise Neal bangs. I've always wanted blunt bangs, but I always change my mind once in the stylist chair.
Elise wore her champagne satin tiered embellished dress, under a black satin blazer. She complimented her look with animal print heels.
Alani "Lala" Vazquez wore a short, but very chic Stella McCartney Spring 2009 strapless white dress, which had a draped detail on the skirt.
I love the multi-coloured diamante clutch, but her dress is a wardrobe malfunction waiting to happen. She should have hoisted it up a bit more.
Bergdorf Goodman's Party for Bottega Veneta, New York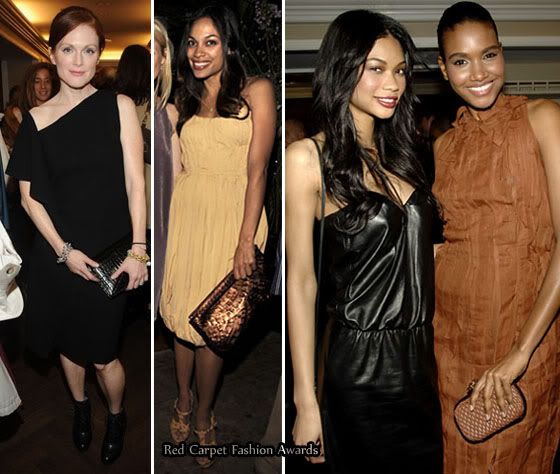 Julianna Moore wore a black asymmetrical dress from Bottega Veneta's Fall 2009 collection, which had a large ruffle going down one side. Booties and a black clutch from the same collection complete the look.
Rosario Dawson opted for a lighter Spring look, wearing a mellow yellow Bottega Veneta Spring 2009 dress. A metallic clutch and strappy sandals completed the look.
Chanel Iman wore a black leather Bottega Veneta dress, whilst her fellow catwalker Arlenis Sosa, wore the same dress and carried the same clutch walked the Spring 2009 runway show in coincidentally.