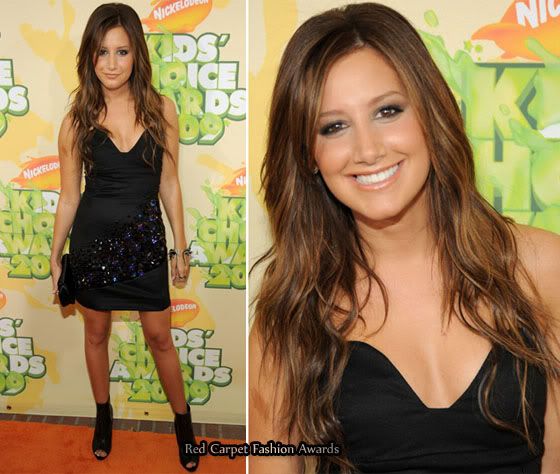 Here is the Best and the Worst from the orange carpet, at the 2009 Nickelodeon Kids' Choice Awards.
Despite Ashley Tisdale giving us a re-run in this navy strapless Akiko Ogawa Fall 2008 embellished dress – previously worn by Hayden Panettiere – I still think she was the Best Dressed at this event.
I love everything about this look. She really made an effort, and I love how she keeps her look young, by wearing booties and not the expect Louboutin's peep-toes.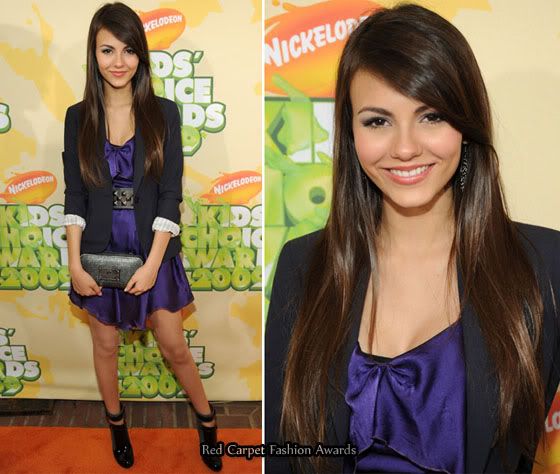 Victoria Justice is a cute as ever, wearing a Alice + Olivia Cotton sateen rolled sleeve blazer, over her purple satin dress. She gives her look a slight edge by wearing a Streets Ahead studded belt.
Victoria completes her look with a pair of Modern Vintage Evanise ankle booties, and a large silver clutch.
Demi Lovato wore a gold bustier Ina Soltani dress, with black YSL Tribute sandals.
I love how this dress shimmers.
Miranda Cosgrove understands how to dress for this occasion, wearing a cute black 3/4 length sleeved Sonia Rykiel dress, with white hearts embellished with diamante's.
I love the cute hair accessory.
She always has fun on the red carpet, dresses her age, and doesn't take herself too seriously. Love her spirit.
Miley Cyrus' Sheri Bodell gown is gorgeous, with its tiers and delicate ruffles, but it feels slightly grown up for an occasion which slimes its guests.
This is the Kids Choice Awards, Miley should have had fun wearing something young and hip.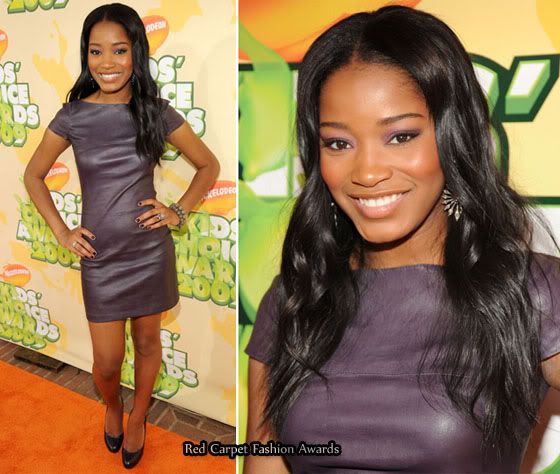 Actress Keke Palmer matches her eyeshadow and nail polish to her eggplant Elise Øverland leather mini dress.
Love the earrings.
Brenda Song is so cute, I just want to keep her in my pocket.
The tiny cutie wore a gorgeous yellow satin dress, with intricate embroidered and studded embellishments fanning over the top half of her dress.
I love the silver belt, which compliments her dress perfectly.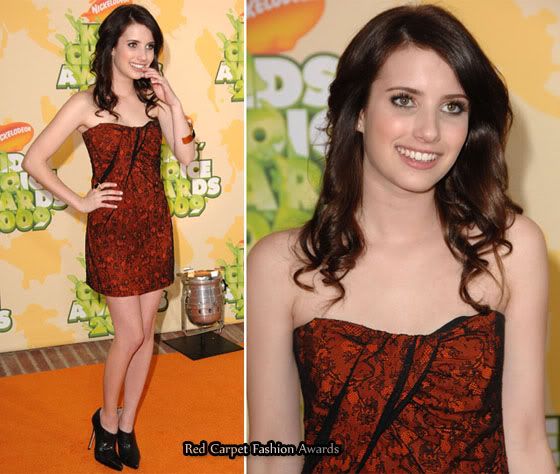 Nice booties, shame about Emma Roberts' lace blood red strapless dress. Eek.
Cameron Diaz is a regular at the Nickelodeon Kids Choice Awards.
She kept her look casual, yet still chic, wearing a navy and red polka dotted Micheal Kors sleeveless top, with distressed ripped 7 For All Mankind jeans.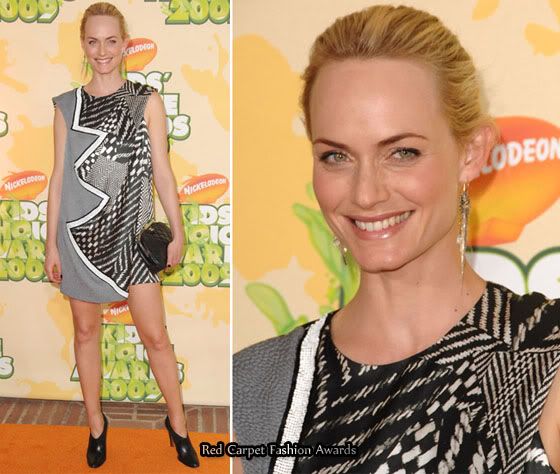 They say supermodels can wear anything and still look good, but for Amber Valetta this gorgeous Preen Fall 2009 geometric print tunic comes off looking very maternity.
America Ferrera looked quite chic, wearing a ruched red J.Mendel dress, with batwing sleeves.
This dress was incredibly flattering on her.
Not quite sure what happened to Megan Fox here. I appreciate she dialed down the sexy for a kids awards show, but that shouldn't be an excuse to dress like this.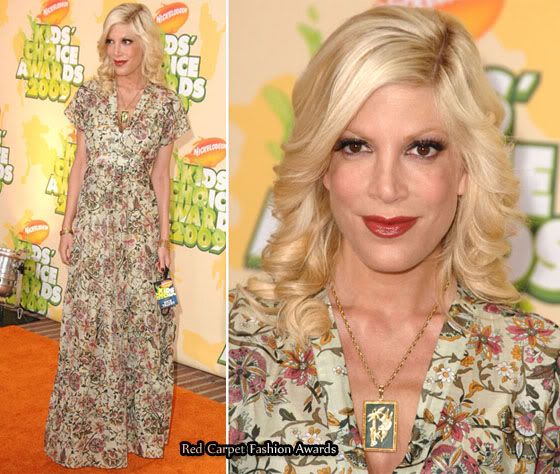 Tori Spelling looks looks surprisingly good in her maxi floral dress. This is indeed a rarity.