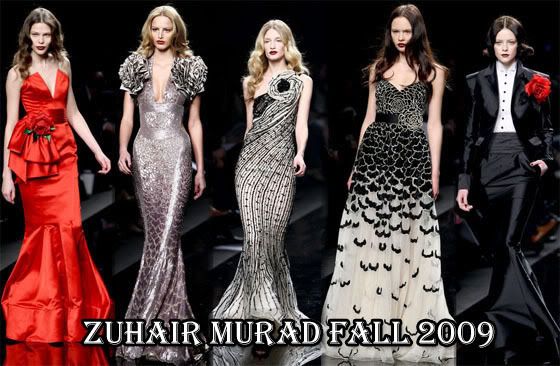 Zuhair Murad's Fall 2009

collection was just what I expected, nothing but red carpet glamour featuring many lavish gowns and cocktail dresses.

Carrie Underwood, Miley Cyrus, Kellie Pickler and Beyonce are huge fan of Zuhair Murad, so we will no doubt see these designs on the red carpet soon.

The classic black tuxedo ensemble with a white shirt and jacket was probably the most simple piece of the collection, but the most interesting to me, as it's nothing like we have seen on the red carpet.

Rose/rosettes seemed to be a theme of the collection with them appearing on nearly every piece.

Lanvin and Christian Dior show later today.