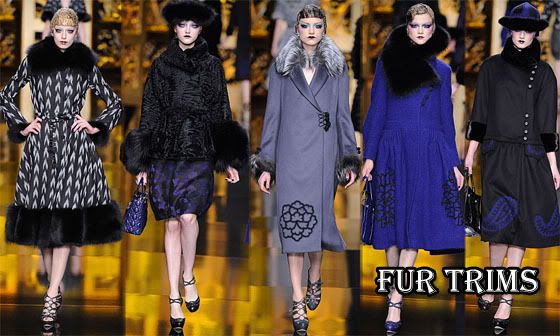 The Christian Dior Fall 2009 collection, started off with a lot of grey suits, and coats. The skirts had bubbled hems, and the coat and hats were trimmed with fur.

The darker colours didn't last for long, as the presentation became very exotic, with Indian and Asian influences becoming very evident via Harem pants, saris' and tunic gowns.

The colour palette was black, white and grey, along with fuchsia, red, blue, coral, and sunshine yellow. Some pieces had light metallic effects.

The collection provided lots of volumes and drama, as we have come to expect from John Galliano.

The embellished tunics and saris gowns, I hope will not be watered down, by the time they hit the red carpet, because they were my favourite pieces.

I hope this is the last season we see harem pants presented.

There was no surprise that Charlize Theron attended this show. She was no doubt picking out her red carpet looks for next season.

The star was wearing head-to-toe black…Dior of course. I ♥ her embellished top.