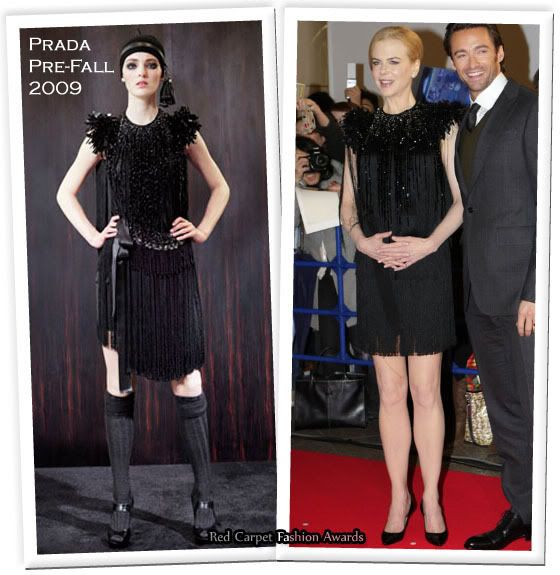 On most actress black would be a safe choice, but on Nicole Kidman it's a refreshing break from all those

L'Wren Scott

white dresses she's been wearing recently.

Nicole joined her co-star Hugh Jackman in Tokyo today, for the premiere of Australia.

She looked really elegant wearing in a black fringed flapper-style Prada Pre-Fall 2009 dress, with a stunning waterfall of sequins cascading down the front of the dress, and pom-pom-esqe shoulders.

While the dress glittered, Nicole wore minimal make-up, and had her hair swept back into a tight bun.

Nicole seems to have watered the dress down a lot from the runway, as her dress appears to be shorter – or she's much taller than the model – and she's not worn the dress with the jeweled ribbon sash – which for me makes the dress.

Nicole sparked rumours that she's pregnant at this premiere, by holding her stomach. I normally don't get into these "is she, isn't she?" debates, but there is no denying a slight bump from the side.

Source & Source