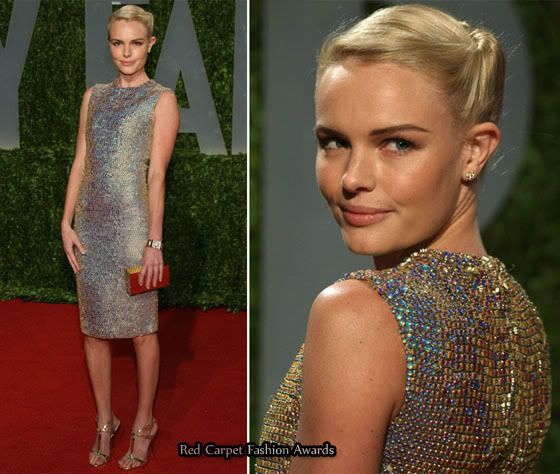 I think Kate Bosworth looks absolutely outstanding in this Alexander McQueen Resort 2009 dress. One of the best looks of the party night.
I love that it is sleeveless, unlike the runway version, and I like that her hair is unfussy.
Madonna arrived wearing a Christian Dior Spring 2009 dress, which was unsurprisingly sheer in places.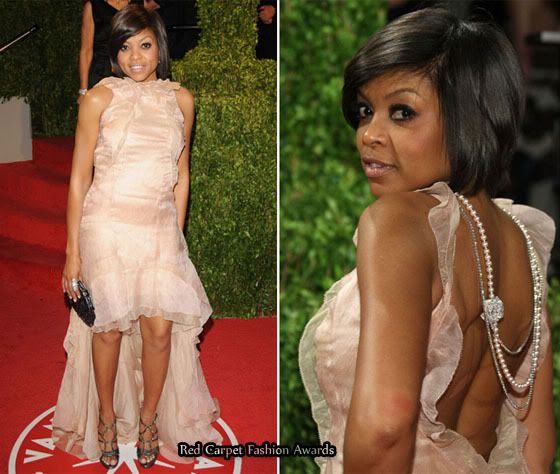 Taraji P. Henson did a quick change from the show. Her second pick was this Nina Ricci Spring 2009 peachy gown with ruffled details, and a rise & fall hem.
YIKES, was the first thing I said when I saw Zoe Saldana in this Dolce & Gabbana gown. The animal print is too 'in your face'.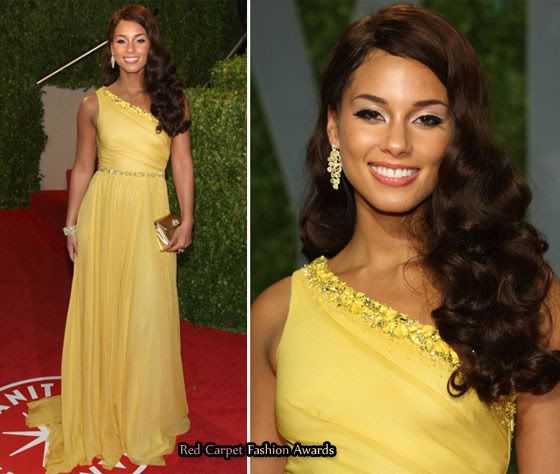 Speaking of YIKES. Alicia Keys changed the dress, but didn't change the hair and make-up which has been an issue with me and many of you.
This canary yellow asymmetrical gown is gorgeous. Such a shame about rest.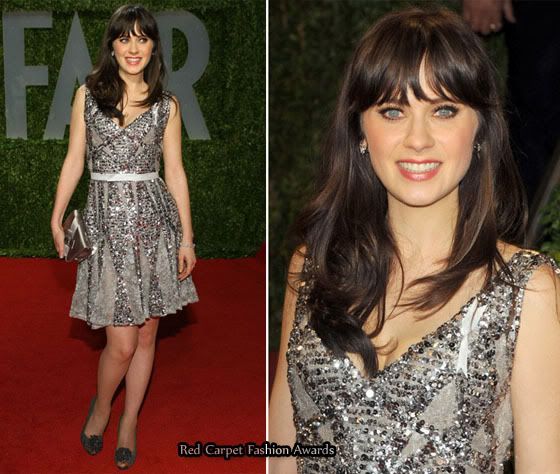 Zooey Deschanel – Katy Perry's could be twin – arrived looks cute as always wearing a stunning silver sequined Elie Saab dress.
I think it's a first that she is not wearing tights on the red carpet.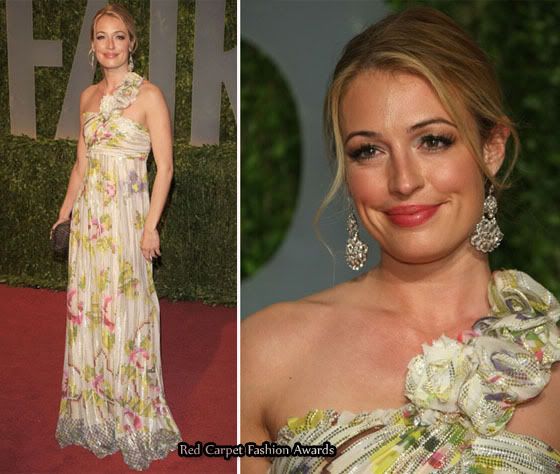 Cat Deeley wears a one-shouldered Matthew Williams Fall 2008 gown, that has already been worn by Mischa Barton.
The gorgeous Georgina Chapman wore a gold embroidered self designed dress from her Marchsea Spring 2009 collection.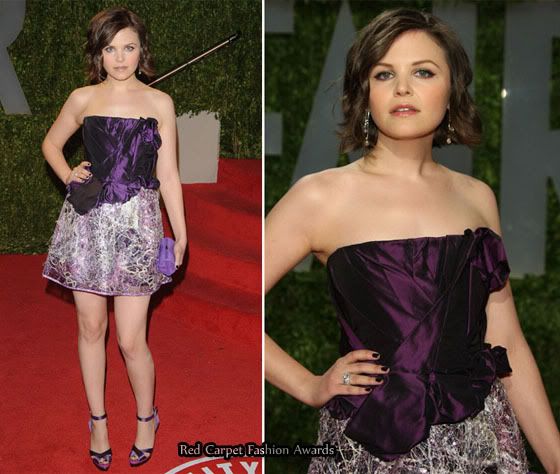 I love the swirling pattern on the skirt of Ginnifer Goodwin's dress, but not so crazy about the bodice. This is a great colour on her though.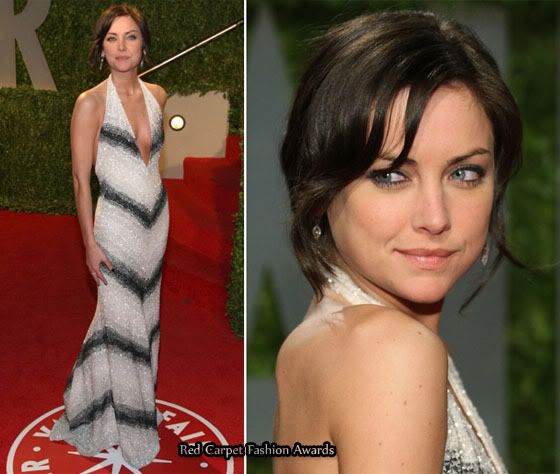 Being in the front row of a fashion show pays off for actresses, as Jessica Stroup was wearing a Pamella Roland Spring 2009 plunging black and white sequined gown, after she attended Pamella Roland's Fall 2009 show last week.
The actress dazzled in Jude Frances jewelry.
There are a few things I hated last night. Jessica Biel's hair, Beyonce's dress. Now I can add Salma Hayek's Balenciaga dress.
It looks so unflattering on her, and the tired old YSL Trib Two's and the tights don't help her cause either.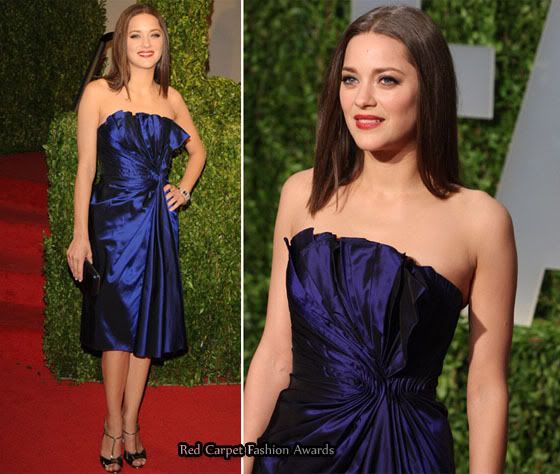 I will guess Marion Cotillard didn't want people stepping on the train of her Dior gown, so she slipped into this violet strapless cocktail Elie Saab Fall 2008 dress for this party.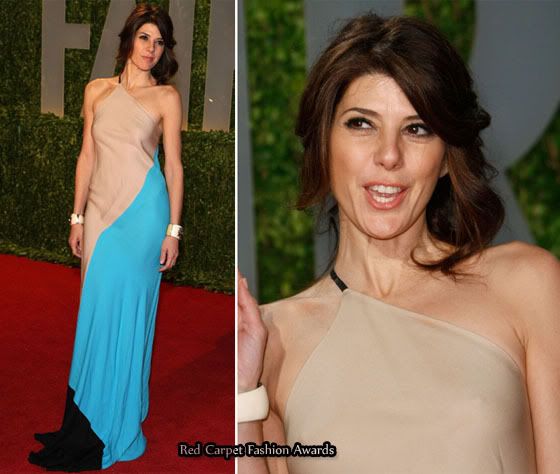 Marisa Tomei did the same, but I really dislike the colour blocking on this Juan Carlos Obando Spring 2009 gown.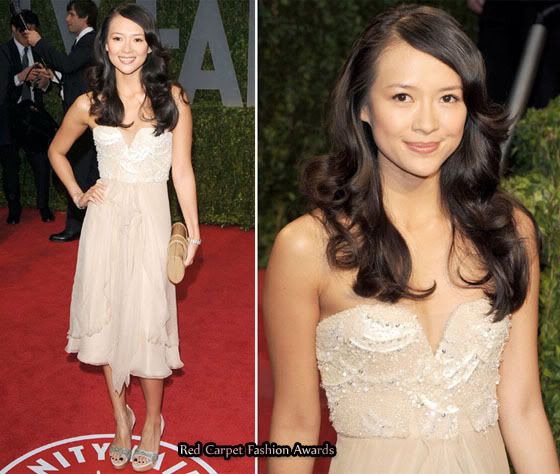 Like last year's Vanity Fair party, Ziyi Zhang wore Armani Privé.
Her nude cocktail Armani Privé Fall 2008 dress had a stunning embellished bodice, and a soft silk chiffon layered skirt.
Jada Pinkett-Smith wore a Roberto Cavalli Resort 2009 one-sleeved gown, which had a crystal embellished detail on the waist.
Daniel Craig's partner Satsuki Mitchell, wore a watermelon Christian Lacroix Spring 2009 Couture one shouldered gown.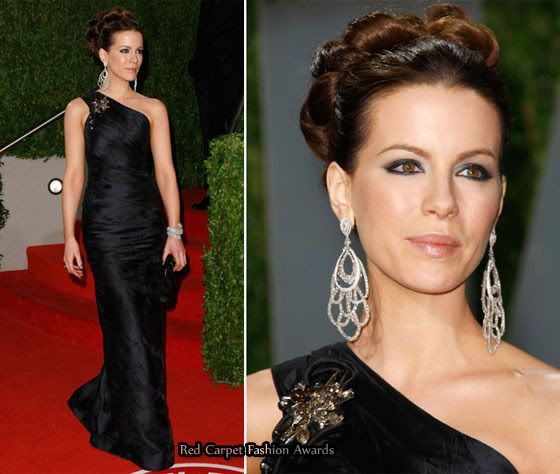 Kate Beckinsale wore a J.Mendel Fall 2009 asymmetrical black gown, which she decorated with a silver brooch.
This is a very subdued look for Kate, who usually loves big gowns.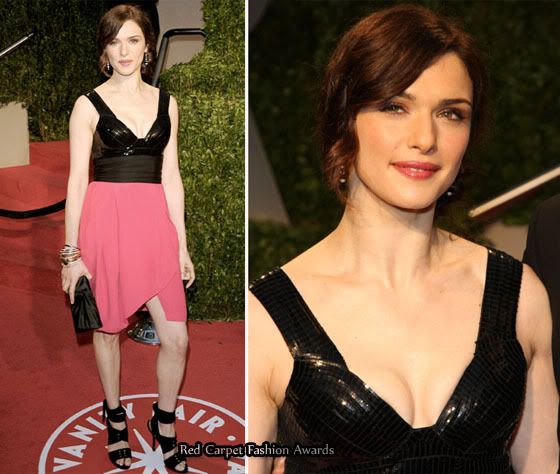 Rachel Weisz wore one of the finale dresses from the Narciso Rodriguez Fall 2009 collection.
I wasn't particularly crazy about this dress then, and even less enthused about it now.
The heels are fierce though.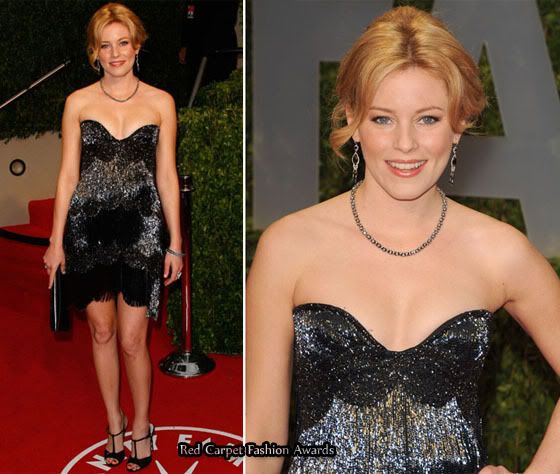 Elizabeth Banks wore this black flapper-esqe Roberto Cavalli Resort 2009 cocktail dress.
This dress was presented in ivory, and I think this would have been a better choice for Elizabeth.
Her look is complete with Sergio Rossi shoes and a Swarovski clutch.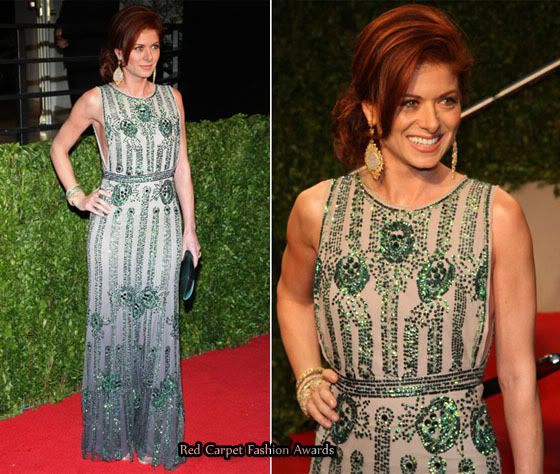 Yay. Now the parties start.
Debra Messing makes up for her earlier disappointment, by wearing this nude sleeveless Jenny Packham Fall 2008 gown with emerald green embellishments.
I have always loved this gown, and I am glad Debra wore it well.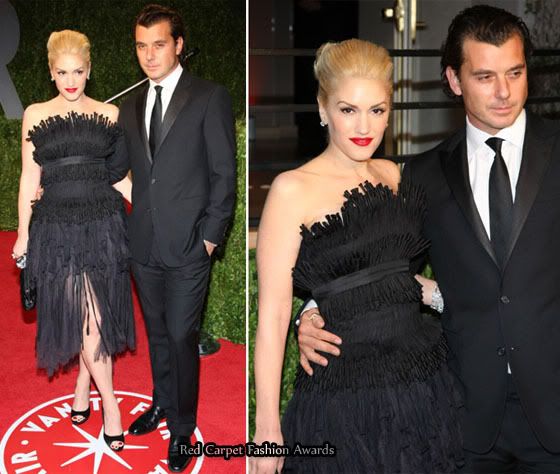 Instead wearing her own expected L.A.M.B. designs, Gwen Stefani wore a black Chanel Fall 2008 Couture cocktail dress, with interesting detail on the bodice.
I really dislike this collection, so kudos to Gwen for making this work.
Good to see her back on the red carpet.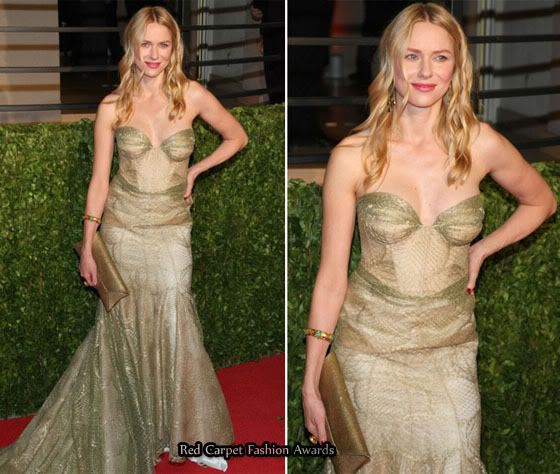 This has to be one of the first times I have really dislike something worn by Naomi Watts.
Diane von Furstenberg is of course wearing her own designs. The lavender sequined dress, with beaded details is from her Spring 2009 collection.
Carolina Herrera was of course wearing her own design from her Spring 2009 collection.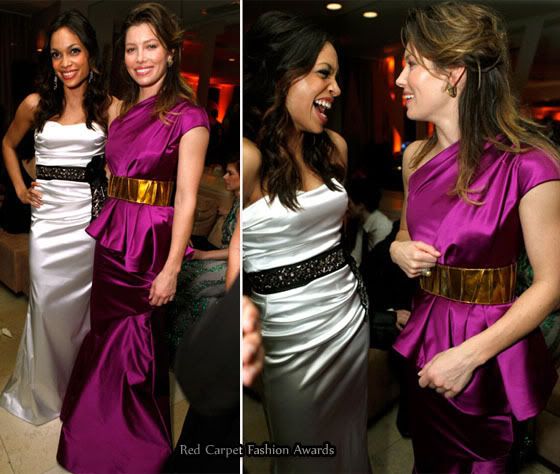 Jessica Biel tries to redeem herself wearing a fuschia Oscar de la Renta Fall 2009 gown, but still fails with her greasy hair.
Rosario Dawson out does her wearing a strapless white satin Dolce & Gabbana gown with an black embellished belt.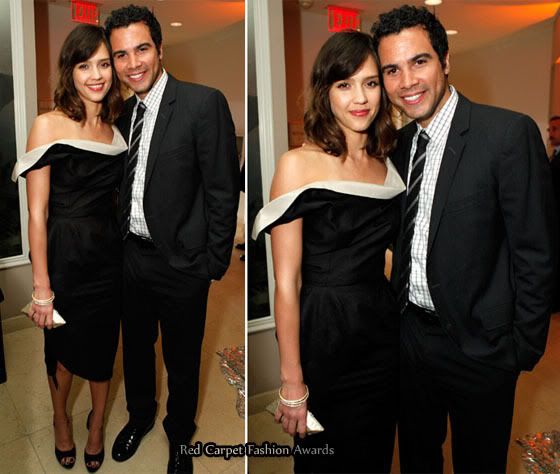 Jessica Alba, like Heidi Klum, wore a RM by Roland Mouret Resort 2009 black gown, with an asymmetrical hem, and a overshot shoulder, which was folded down, to reveal the ivory lining.