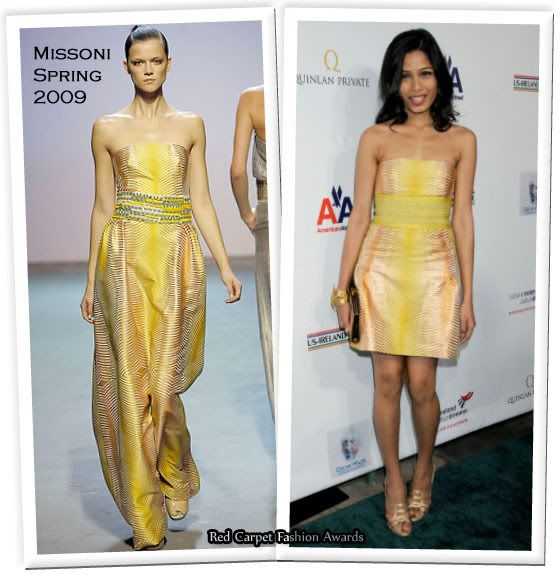 The hottest girl in Hollywood right now, Freida Pinto, again showed us her perfect style, when she attended the

Irish In Film Awards

pre-Oscars bash.

The beautiful actress wore a strapless yellow, orange and gold printed Missoni Spring 2009 mini dress, which had been shorten from the runway. This modification was right for Freida, unlike Estelle's Brit Awards modification disaster.

She also replaced the embellished runway sash, with a shimmering sunshiny yellow one.

Her look was completed with a gold clutch, and a pair of blush Christian Louboutin Paquita satin gladiator sandals.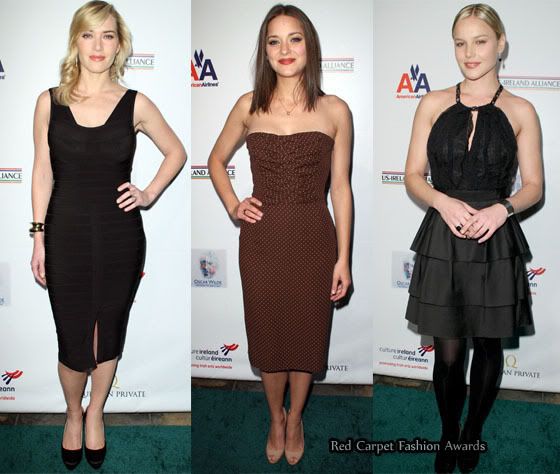 Others at this event included Kate Winslet, Marion Cotillard and Abbie Cornish.

I love Kate Winslet, but the constant black is tiring, I am so Jennifer Aniston over it, and I'm worried that she will pick a black dress on Sunday night.

If she does – unless it is outstanding – she will end up on the worst dressed list.

Here she is wearing a Herve Leger LBD, with black pumps.

As elegant as Marion Cotillard looks in her strapless brown dress with white polka dots, her hair leaves a lot to be desired. It really is lacking in volume.

Abbie Cornish also opted for a LDB with a tiered skirt.

All I can say is thank the fashion gods for Freida being at this event, otherwise it would have been a complete wash out.