Rodarte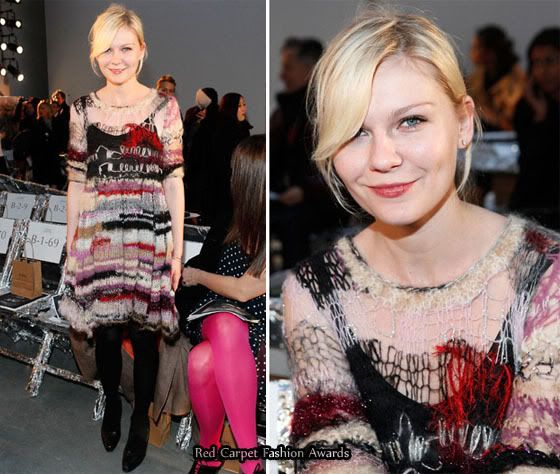 Kristen Dunst was front row at the Rodarte Fall 2009 show looking fantastic wearing a Rodarte Fall 2008 multi-coloured knit dress.
I always love what the Mulleavy sisters produce, I just wish we would see more of their edgy designs on the red carpet.
Calvin Klein
I seriously did not recognise Kate Beckinsale until I saw the caption under her name.
Looking at her hair, I will guess these are clip on bangs. I hope she ditches them before the Oscars.
I appreciate that Kate has tried to shake up her look a bit in this leather dress, but it just feels a bit false.
Eva Mendes wears head-to-toe black. What more can I say?
Erin Wasson + RVCA
Leighton Meester wore a Proenza Schouler Pre-Fall 2009 ensemble consisting of a gold sequinned top, and a teal snake print skirt, with navy tights and bronze heels.
Like Kate, Leighton as opted for bangs, and like Kate, I don't think it quite works.
3.1 Phillip Lim
I expected to see more of Becki Newton at fashion week. She arrived at Phillip Lim's show wearing a taupe sequinned dress, from the designers Spring 2009 collection.
Badgley Mischka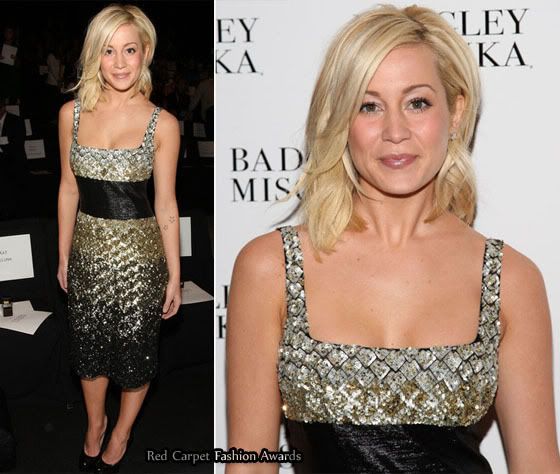 Kellie Pickler continues to shine in the front row. Her she wears a stunning ombre Badgley Mischka Pre-Fall 2009 dress, with a black sash at the waist.
I have been praising Kellie a lot, but she really should have packed another pair of shoes, she has been wearing those Trib Two's all week. Even I brought 10 pairs.
Jessica Stroup wore a white strapless Badgley Mischka Spring 2009 collection, with silver slingbacks.
Her dress was presented as a gown, but I equally love this shorten version, as it's young, fun and suits her personality.
Kim Kardashian wore an black asymmetrical dress, with black Louboutin's. Another very sophisticated look for Kim.
Anna Sui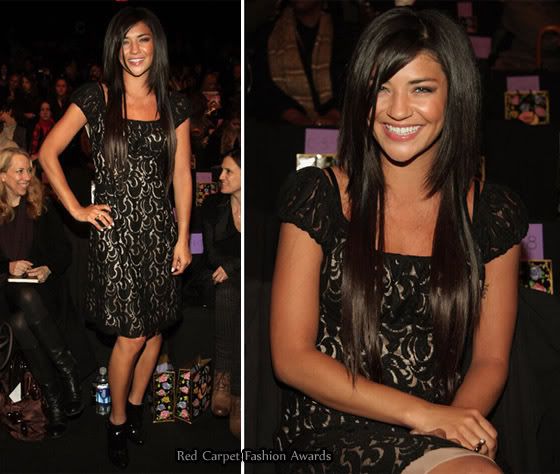 Jessica Szhor wore a cute lace dress with black booties.
She as naturally -enviable- thick hair, so I am perplexed about her need for extensions.
Taylor Momsen just tries too hard. What is so wrong with being 15 years old? Why is she trying to act way older than her young years?
I feel like getting a pack of baby wipes, and taking all that eye-liner off her face.

Vladimir Restoin-Roitfeld Party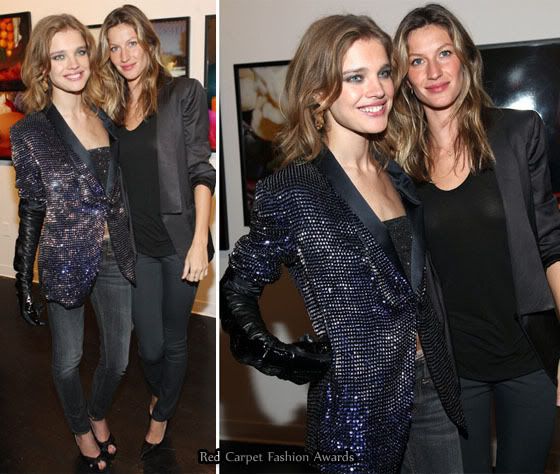 Supermodels Natalia Vodianova and Gisele Bundchen struck a pose together.
With her long leather gloves Natalia wore a crystal embellished Emporio Armani Spring 2009 blazer.
Gisele was conservative by comparison, wearing an all black ensemble.
Julia Restoin Roitfeld attended her brother's event wearing a cute navy and gold polka dotted Christian Dior Spring 2009 dress with a Louis Vuitton Spring 2009 purse.