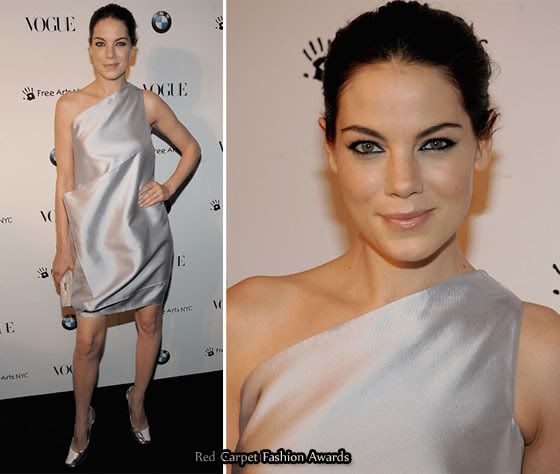 Michelle Monaghan is head-to-toe flawless, wearing a silver asymmetrical Calvin Klein Spring 2009 dress, which she wears with silver square toe pumps.
The most interesting feature of this dress, was the large boxy fold detail going across the skirt.
She is on fire at the moment.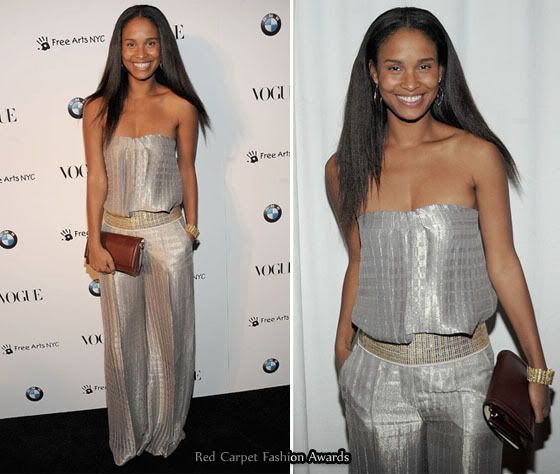 New York Fashion Week wouldn't be New York Fashion Week with out Joy Bryant in or around the tents.
The model/actress wore a silver strapless metallic Missoni Spring 2009 strapless jumpsuit to this event.
The jumpsuit had an embroidered band around the waist, which she wore without make-up, a large brown clutch and hooped earrings.
Consistently gorgeous as always.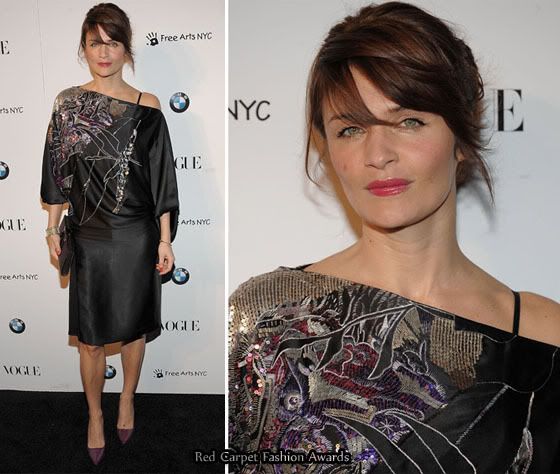 Helena Christensen opted for eggplant pointy pumps, to work with the embroidered details on her off-the-shoulder Salvatore Ferragamo Fall 2008 dress.
The details on her black satin dress are exquisite.
Mary Alice Stephenson wears exactly the same Thakoon Spring 2009 dress which Tilda Swinton wore to the opening ceremony of the Berlin Film Festival.
Of course the major differences are the colour and the length.
I absolutely adore this dress, and I hope to find it in Harrods, Selfridges or Harvey Nicks very soon.
Mary Alice looks fantastic in this dress, she really sold it to me.
Runway regular Chanel Iman wore a strapless teal taffeta top, with a short black skirt which has a touch of the teal taffetta on the hem.
She's even more beautiful without make-up. Life's just not fair.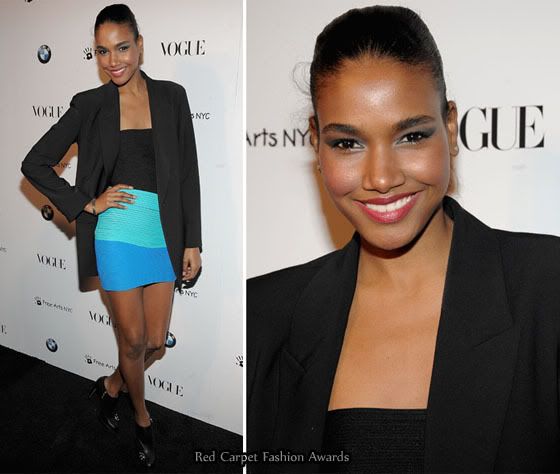 Arlenis Sosa is in her 2nd season, so I don't know if she still classifies as a newbie on the model scene, but she has learnt very quickly that the model's off-duty designer of choice is Alexander Wang.
The model wore a strapless dress with a black silk bodice, and a aqua blue and cerulean blue contoured coiled skirt from Alexander Wang's Spring 2009 collection.
The black blazer is also part of any model's uniform, but I wish she hadn't worn this outstanding dress.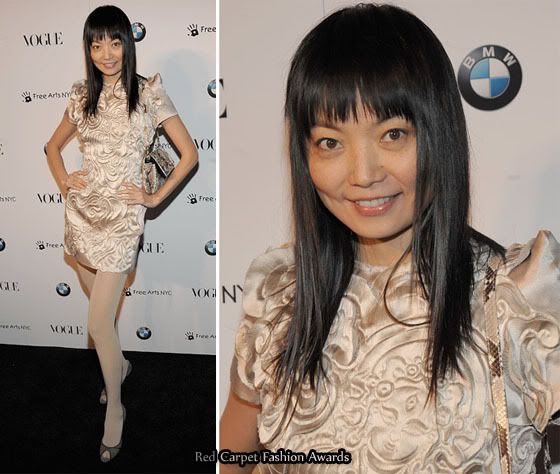 I am not a fan of tights on the red carpet, but in this case Irina Pantaeva's ivory tights really brings this look together.
Her ivory embroidered Vivienne Tam Fall 2008 dress, is quite simply a work of art.