I really struggle with Miley Cyrus when it comes to her style on the red carpet.
I do like this Roberto Cavalli Spring 2009 mini dress. It was one of the very few pieces I actually liked from this collection, but I don't feel Miley has the panache to pull it off.
I feel like she picked it out of her mother closet, and is playing dress-up.
This dress also needs the wearer to pull their hair right back off their face and shoulders, because the pretty detail on the front is lost under her hair.
Plus, the way she is showing off the layered and ruffled skirt at the back is way too proactive for my liking.
Gucci Ambassador Rihanna, picked one of the floaty strapless maxi dress from their Spring 2009 collection to walk the red carpet.
Although the dress, does not quite fit with her current bad-ass image, it looks very pretty on her despite her twins looking very squashed.
This look is slightly edgier than we would expect from Taylor Swift.
She pulls off this Collette Dinnigan Spring 2009 LBD with silver sequin embellishments with a style and charisma that fellow teen Miley just doesn't possess.
I would've liked to have seen her hair straight with this dress.
Estelle wore a nude Fendi Spring 2009 tunic, with latex leggings, and black peep-toes.
Katy Perry wore a lilac mini dress from couture designer Georges Chakra.
The dress had a sheer yoke, which was embellished like the rest of the dress. I'm not normally a fan of sheer yokes, but in this case it looks like it's needed to keep Katy's twins under control.
The tulle hem is divine.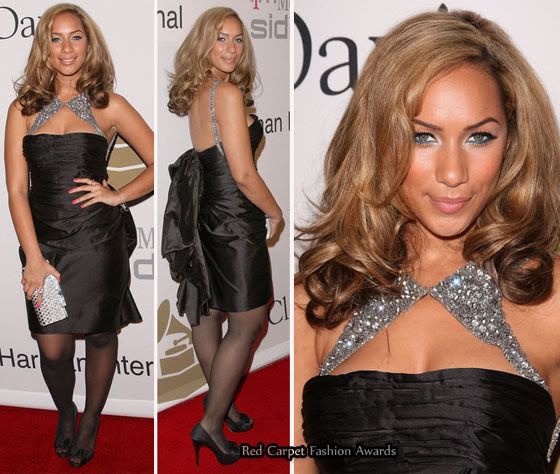 Regular readers will know my frustrations with Leona Lewis and wearing tights on the red carpet. No matter the event, and no matter what she is wearing, she is guaranteed to be wearing them.
This for me puts a downer on her Reem Acra Pre-Fall 2009 LBD, with it's silver embellished halter detail. What also puts me off this dress, is the quite unnecessary piece at the back of the dress.
The only saving grace, is her make-up and her stunning sparkling clutch.
Carrie Underwood is usually all about bright colours and heavy embellishments, so imagine my surprise to see her tone down her red carpet look with this Pamella Roland Spring 2009 black and silver beaded dot dress.
It's nice to see her versatility on the red carpet.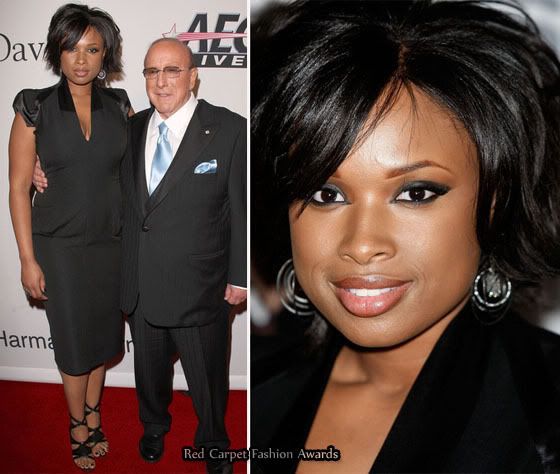 Jennifer Hudson's Balenciaga heels are to-die-for. I have to own these.
Jennifer arrived with Clive Davis on the red carpet wearing a Todd Lynn LBD, and looked flawless. I especially loved her eye make-up.
Terri Seymour redeemed herself from her hideous crimped hair last week, to a wavy style which suits her better.
The TV presenter looked ever-so-cute wearing a strapless yellow and navy printed DKNY Spring 2009 mini dress, which she wore with Christian Louboutin Mary Janes.
Pregnancy definitely agrees with Kimora Lee Simmons, as her look has soften from the less desirable ensemble she wore pre-pregnancy.
She walked the red carpet with her baby-daddy actor Djimon Hounsou wearing a ABS for Peas In A Pod gown, with a rosette detail on the shoulder.
Tattoo's aside I really like this lavender dress on Fantasia, which she wears with a Mary Norton clutch.
Sheryl Crow's tan is almost as dark as her bronze Ports 1961 dress, which she also wears with a Mary Norton clutch.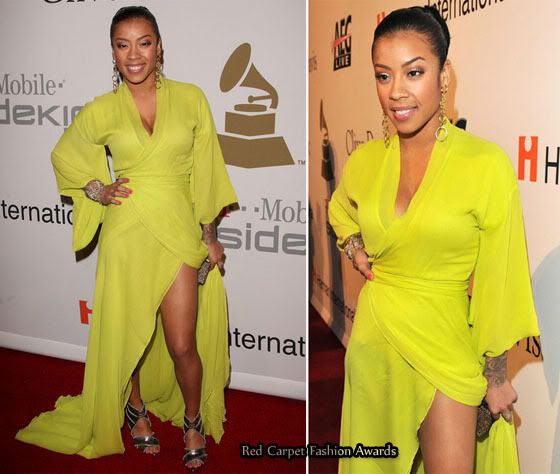 For some unknown reason Keyshia Cole decided to show off her leg in every picture on the red carpet.
Nice dress, shame about her desperate attempts to be noticed.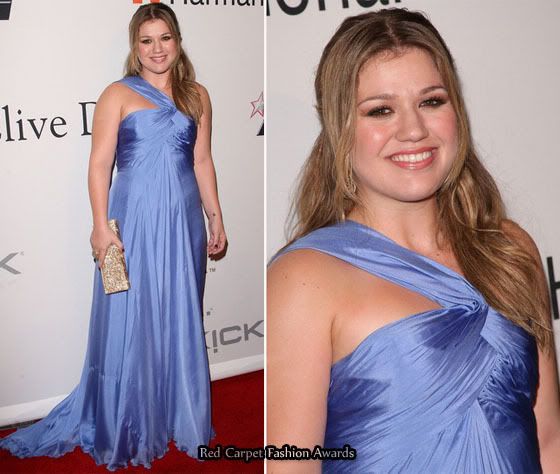 Great colour on Kelly Clarkson. I would have but money on her wearing black, but she opted for this perwinkle blue gown instead.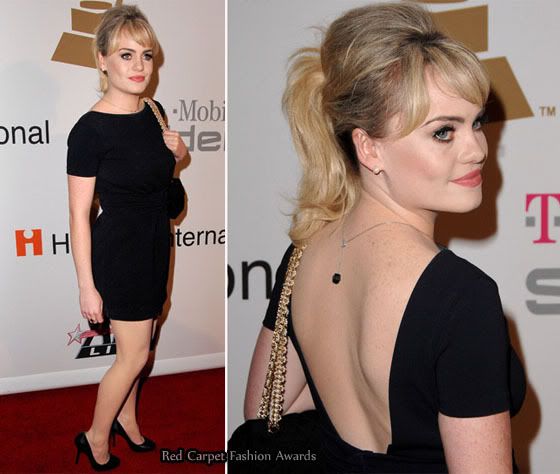 Boo to Duffy for letting us Brits down at this event by looking so plain.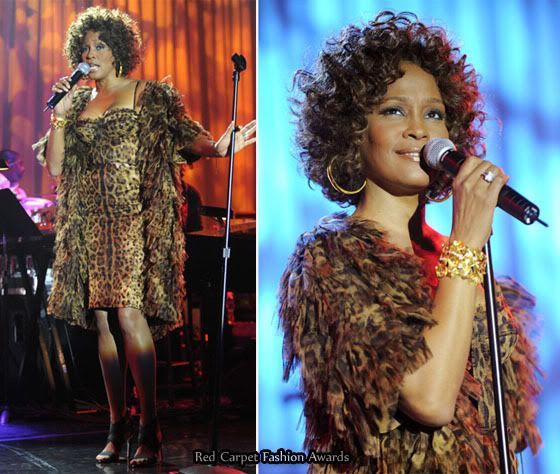 Seeing this picture Whitney Houston gives me chills, as it takes me back to 1987, when I was totally in love with Whitney, and I would single along to her songs like a deluded contestant on American Idol.
If you weren't aware like Britney, Whitney's back. Both in spirit and in song. I just wish she hadn't sported road-kill to perform at this event.