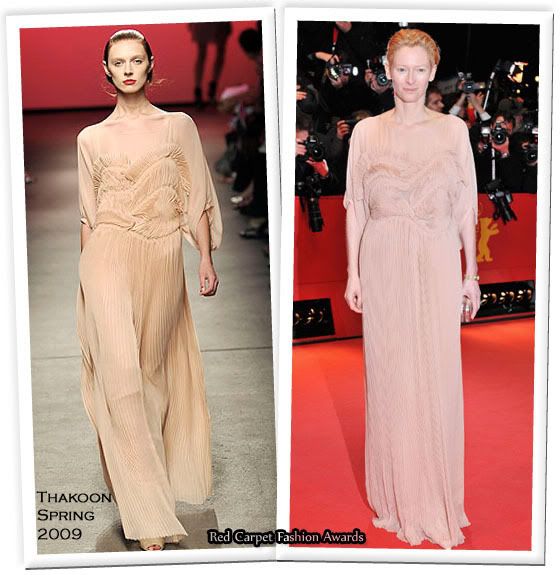 Tila Swinton is in Berlin for the

59th Film Festival

.

Last night she took the red carpet for the opening ceremony, and quite frankly I was horrified.

I love Tilda Swinton, she is a Brit, and a risk taker on the red carpet, but this Thakoon Spring 2009 nude gown is horrendous on her.

She never wears shapely clothes, so that's not the main problem, the problem is the colour.

Nude is the colour of Spring 2009, but this gown totally washes her out. If it weren't for the ruffles and the pleats, I would have thought she was naked.

This is not the adventurous Tilda I know. This is quite a safe, simple route for her.

Maybe because she is a jury member at this festival, she decided to dial down her edgy side. I say bring it back IMMEDIATELY. Rodarte, Givenchy, Lanvin, Dior…put a call into them now Tilda.

Natalie Portman was a jury member at Cannes last year, and her red carpet look excelled in wonderful Lanvin dresses, so being a jury member should not = boring.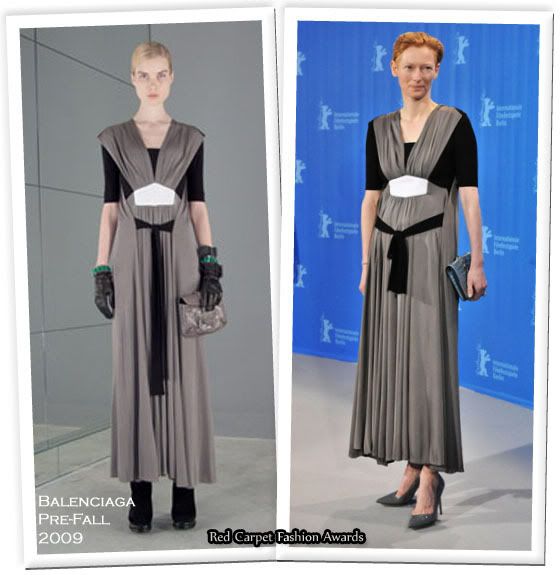 Oh and that's not the worst part. Just look at what she wore to the photocall, earlier in the day. I wouldn't wear this

Balenciaga Pre-Fall 2009

dress, but it doesn't look as bad on the model, as it does on Tilda.

I crying inside, this really hurts. I hope she improves as the festival goes on.

If she turns up at the BATFAs on Sunday wearing something equally horrendous, I don't know if I would be very disappointed.

Source & Soruce