Jennifer Connelly is killing me. I'm in total awe.

When I saw her wearing this green sequined Balmain Spring 2009 dress with a jagged hem, and super padded shoulders, I almost yelped with delight.

I love that she pulled this off without looking like she tired too hard.

I love that she wore the runway shoes, as any other shoe my have dialed down the look.

I love that she stood out amongst all the others as the edgy fashionista that she is.

LOVE, Love, ♥.

Drew Barrymore looks so incredible cute don't you think?

I love that her hair is pulled back so we can fully appreciate the black silk strapless Lanvin Spring 2009 dress. The nude satin detailing on the neckline is divine against her skin, so buttery.

Her Roger Vivier clutch has so much bling, that she kept her jewels to a minimum with simple earrings.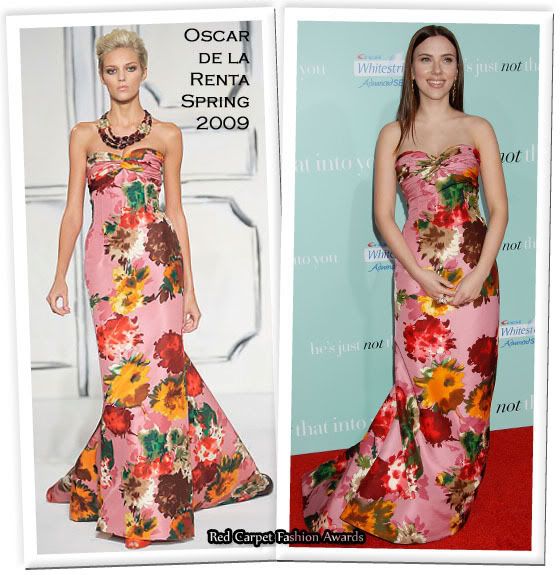 I have to say I was surprised by Scarlett Johansson. I didn't expect this from her

at all

, given her run on

The Spirit

promotional tour.

The gorgeous actress was positively radiant wearing a pink floral Oscar de la Renta Spring 2009 sweetheart necklined gown with a ruched bodice.

She wore her dress with long gold drop earrings, her wedding ring and a large ruby ring, which I adore.

I will excuse the hair behind her ears, because it was only in some pictures, and that's not how she deliberately styled it.




Wow Ginnifer Goodwin is also a knock out.

The brunette hair with the burnt orange is so incredibly powerful. I really love her look here.

In order to add a little punch to her shorten strapless Bottega Veneta Spring 2009 dress, she wore a beautiful glass floral necklace, with a tan clutch, and strappy heels.

This would have been one of the best red carpet film premieres if it were not for……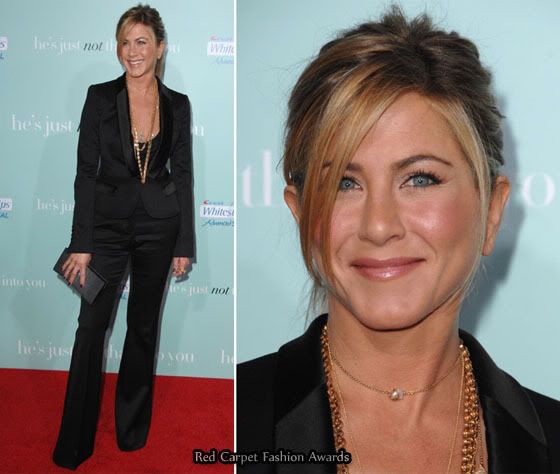 …Jennifer Aniston.

Please, please don't pretend you're surprised by what she is wearing.

It's a gorgeous black Burberry tuxedo, yes it is, but compared to everyone else, she is SO BORING.

So unoriginal, so Aniston, so blah, so boring, which is such a shame because she's so beautiful.

Source & Source