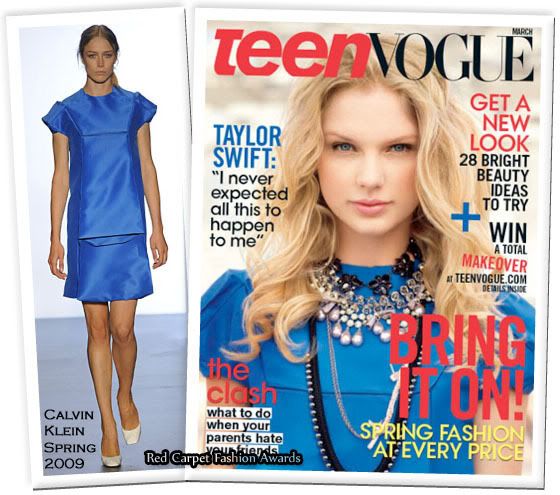 Country singer Taylor Swift graces the cover of

Teen Vogue's

March 2009 edition.

Taylor's second album Fearless debuted at number one on the Billboard charts, the Billboard Top Country Albums, Canadian Albums Chart, and Canadian Top Country Albums. The album has also gone two-time platinum. Not bad for a girl who was thought to be weird at school for liking country music.

Here are some extracts from her interview.

On her glamorous red carpet look: "I've learned a lot. I go to all these photo shoots, and each time I figure out something new about myself and what I want to wear. For a big night, I like Marchesa or Badgley Mischka""and I love Oscar de la Renta. I've never gotten to wear one of his dresses; if I ever did, I would probably faint. And I am obsessed with high heels."

On listening to country music growing up: "The kids at school thought it was weird that I liked country""they'd make fun of me. Junior high was actually sort of hard, because I got dumped by this group of popular girls. They didn't think I was cool or pretty enough, so they stopped talking to me."

On people taking her picture: "Well, I've never had paparazzi in Nashville before; that's a new thing. You really have a lot of privacy here. I saw that documentary on Britney Spears, and I feel bad for her""she can't leave her house!"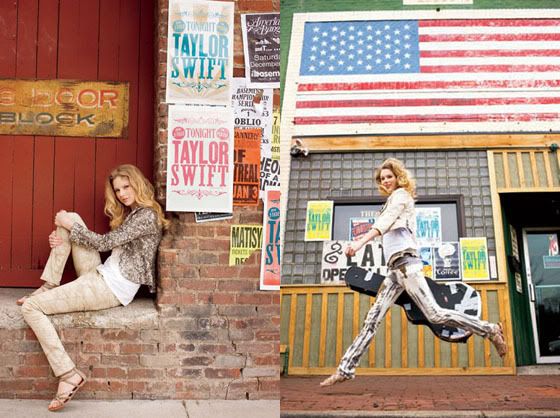 Teen Vogue's

March issue with cover girl Taylor Swift, will hit newsstands February 3rd.