After the

Georges Chakra

show, I introduced myself to Queen Latifah, who has to be one of the most gracious, interesting and engaging celebrity I have ever met.

Queen Latifah wore a stunning Pamella Roland gown, when she took to the stage at the BET Honors event last week.

Regular reader Robbie said, "Queen Latifah's dress looks so much better on her than the model."

I told Queen Latifah this, and she was genuinely pleased, clenching her fist and exclaiming "YES", which was so cute.

I asked her if she would wear any of the designs she was seen at the runway show. "Why not? the clothes are fun and interesting, and he (Georges Chakra) would make them especially for me," she said. Lucky girl.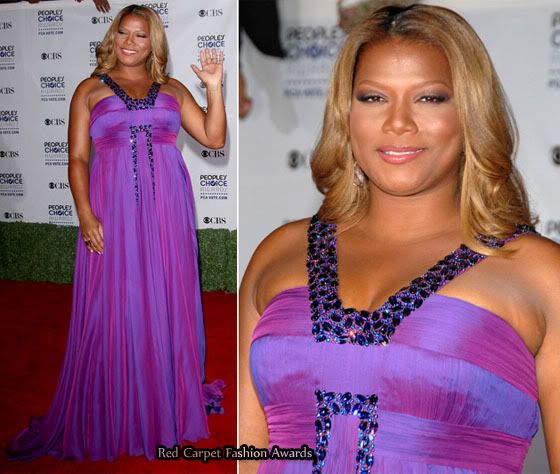 She then informed me that she has first been introduced to Mr Chakra when he designed the stunning purple gown she wore to the

People's Choice Awards

(above) this year, and since then she has been in love with his work.

I then told her that I admired her for always wearing such vibrant colours, and not sticking to safe black like Jennifer Aniston, she said "It's nice to take risks and be adventurous, but sometimes they don't always pay off. Cate Blanchett is one of those stars who can wear anything on the red carpet, and it's interesting and edgy, and she always looks amazing."

At this point I felt we were bonding over our mutual love to Cate Blanchett. How amazing that even Cate's peers think she is fierce on the red carpet.

I also spoke to Queen Latifah's stylist Timothy Snell, who also works with Whitney, and he told me that, Whitney can wear straight off the runway, whereas for Queen Latifah, the gowns have to be custom-made.

This I think is great for Queen Latifah, as she has less chance of appearing on a Who Wore It Better? Poll.

He then went onto say that for Queen Latifah there is a lot of pre-planning involved because of the customizations and modifications when it comes to her wardrobe. He is already planning for the Grammy's, and she is possibly attending the Oscars.

Wearing Georges Chakra? We'll have to wait and see.