When I arrived at the Givenchy Spring 2009 Haute Couture show just before it's 7pm scheduled start time, I knew it would not start at 7pm, because a van pulled up unloading the couture gowns.

Like it or not whilst waiting to get in I already had a preview of the nude gowns.

Whilst queuing I was also entertained by the models – Sessilee Lopez and Lily Donaldson – as they came out of hair and make-up, which was located opposite where the show was taking place. Both appeared with those white strips around their heads, to keep their hair off their perfectly made up faces.

The hall was decorated with beautiful petals all over the floor, and as the lights when down, the the first model was presented.

In stark contrast to Riccardo Tisci's very hard and edgy Spring 2009 RTW collection, this collection was ultra feminine with feathery chiffon layers, bouffant shoulders, visible corset under chiffon layers. The slight edge came with a few touches of leather, and heavy metal neck pieces.

The nudes I had witnessed outside were accompanied by pale violets, bright lemons, mint greens, black and whites.

One of my favourite pieces was the black Gothic queen gown worn by British model Lily Donaldson. The pictures do not quite do it justice, as it was a truly magnificent gown with a criss-cross detail at the back, and the puffed shoulders sparkled with jeweled embellishment.

The craftsmanship was exquisite, I was drooling over all the gowns, which were all very wearable. Oscar worthy, they certainly are.

Singer Roisin Murphy, Daphne Guinness, Kanye West, Anna Wintour and French Vogue editor Carine Roitfeld were all in the front row. Carine had changed from her earlier look at Christian Lacroix, into a all black Givenchy pant suit.

At the end of the show we received a pack full of detailed descriptions of all the elegant pieces.

I had a very entertaining, fashion fun filled day, which required lots of walking. I did carry flats in my bag, but because my Pour La Victoire heels were so incredibly comfortable, I didn't need them.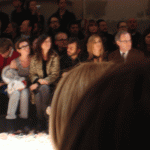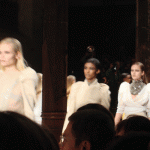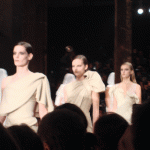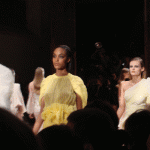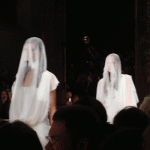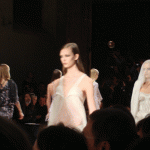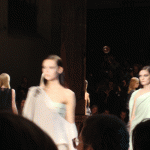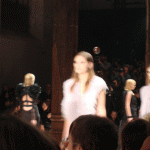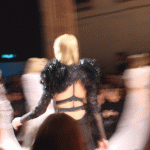 Here are my pictures.
Source