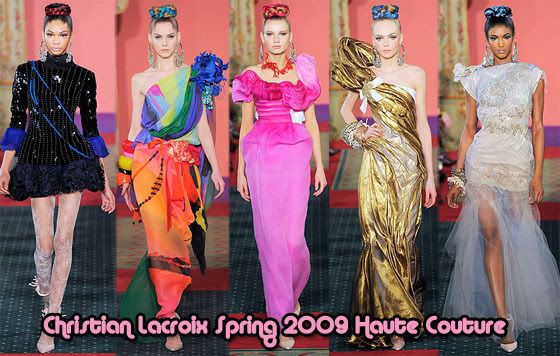 Yesterday my second show was the Christian Lacroix Spring 2009 Haute Couture show.

The collection, as expected, was very colourful and beautiful, mixing ultra feminine and romantic looks, with a touch chic of masculine tailoring.

The colours were vibrant, tropical for some pieces, and there were also prints, stripes and heavy embellishments.

The show opened with military inspired looks, then a series of tailored suits, followed by dresses with boleros, puffy skirts, flamenco-style dresses, and then the gowns. Each one more spectacular than the next.

My favourites were the pink ombre one above, which would look great on someone like Penelope Cruz, who has been lacking for me lately. The gold dress is of course reserved. in my eye. for Cate Blanchett. Only she could wear that sculptured dress so elegantly.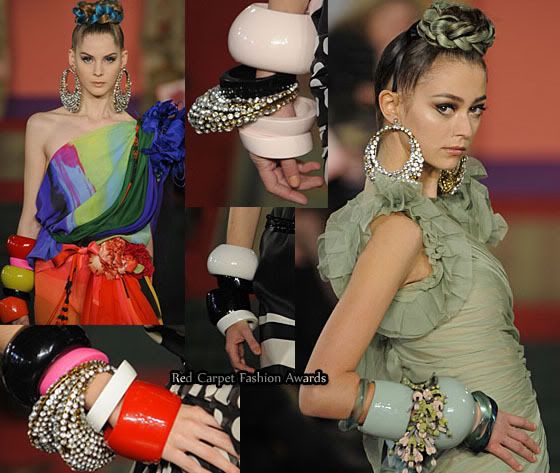 The hair was pulled up top, with a single braid. The accessories were big.

Big jeweled earrings, big plastic bangles, and earrings worn as bangles. These are fine details, but they made a big impact.

French Vogue editor Carine Roitfeld was in the front row looking gorgeous wearing a tan trench coat, which almost looked like a chic dress.

I had a 1000 watt blub pointing in my direction, but I was able to get a few great pictures from the show.

I need a faster reaction camera.