Anne Hathaway has been wowing us for the last few months, since Rachel Zoe started styling her. As a result I fallen in love with her.
As the saying goes, 'All good things come to an end', and her magnificent run was ruined last night, when she stepped onto the red carpet wearing this black and gold Chanel Fall 2008 Couture sleeveless dress, with feather detailing and a belt to nip in her waist.
She accessorized with black Chanel pumps and Bvlgari jewels.
I don't know about you, but I really don't like the dress. Hair and make-up is gorgeous, but the dress….No. It feels too old for her.
The Chanel Fall 2008 Couture collection, was not my favourite, and since Diane Kruger and Cameron Diaz fail to impress in this collection, my advice to everyone else is steer clear.
Unless of course you're Anna Wintour, because it appears that the Chanel Fall 2008 Couture collection was made for her.
Many of you have accused Amy Adams of continuing to play it safe. I would say that there's nothing safe about this one-shoulder nude Giambattista Valli dress with a black tulle overlay.
Heather Graham wowed in this plunging red maxi dress.
I must say I forgot how beautiful she is.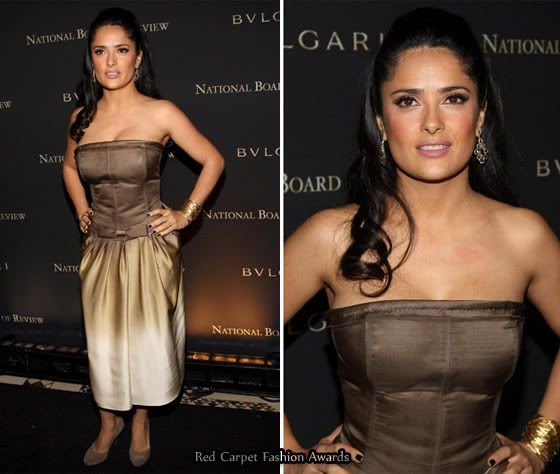 I really love this ombre strapless YSL dress, with a cute bow detail on the waist. Unfortunately I don't think it's Salma Hayek's style. It's a little to cutesy for her, but I love the colour against her skin.
All the ladies were of course blinged out with Bvlgari jewels.