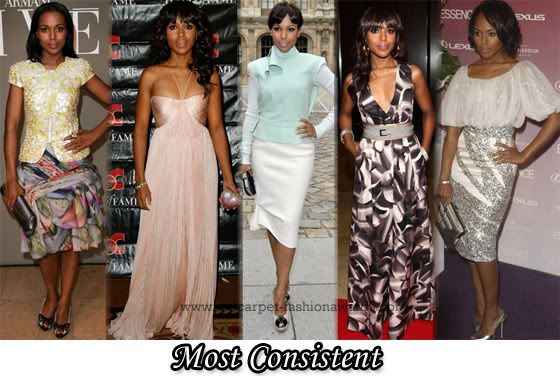 There are some who were magnificent for 6 months of the year then fell off towards the end of the year –

Blake Lively

and

Olga Kurylenko

.

There there were those who had some good weeks, some bad weeks – Juliette Lewis and Kristen Bell.

There were also those who look great, but sometimes have a touch of de ja vu about them – Dita von Teese

There were also those who stuck to one format – Jennifer Aniston, Lauren Conrad and Angelina Jolie.

Then there are those who mix it up, make the red carpet interesting, and always hit the red carpet looking fantastic. For me no one embodied that more than Kerry Washington.

She was the most consistent on the red carpet in 2008. She never took to many risks, I agree, but I never once said I disliked anything she wore, and I am a tough girl to please.

Hair, make-up and accessories all played an important part for the girl who quietly made an impact on the red carpet in 2008.