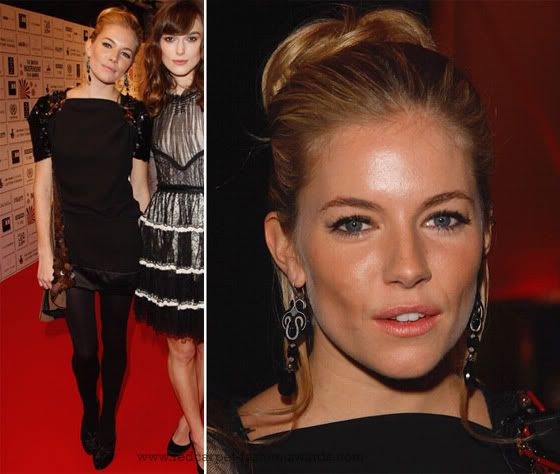 I do love it when British actress Sienna Miller and Keira Knightley step onto the red carpet but not together.  This is because they insist on holding each others hands the whole time like they are on a school trip, making it almost impossible to see their ensembles clearly.
That being said Sienna looks amazing wearing a Louis Vuitton Spring 2009 mini black dress with large black paillette details on the shoulders, and brown paillette details cascading down the skirt which has a satin hem.
The dress was equally beautiful from the back, as it is open with a cowl detail.
She completed her look with thick tights and Christian Louboutin heels. I think this maybe one of the few times that I actually like tights on the red carpet.
Keira Knightley wore an interesting black and white high-necked gothic lace Balenciaga dress.
I always like Keira's choices, because they're never predictable.
British actress Anna Friel arrived on the red carpet wearing an Erdem Fall 2008 gown. The stunning satin dress has a contrast chiffon yoke, which makes the gown more interesting.
I love the abstract print of the bees, birds and butterfly design. I have the short version on my Net-A-Porter wish list.
She compliments her dress with a red clutch.
Eva Green will always be faithful to John Galliano, but every now and again she will cheat on him with Alexander McQueen.
The French actress arrived on the red carpet wearing a red velvet Alexander McQueen puff sleeve velvet dress with an empire line and a gathered hem.
She completed her look with Alexander McQueen burgundy square toe pumps, and an Alexander McQueen Union Jack clutch.