"Rachel Getting Married" Premiere
With her incredibly fierce heels, Anne Hathaway showed off her long legs to perfection wearing a vintage Jean Louis Scherrer tulle ballerina dress, with white and silver rosettes.
The actress looked glamorous, chic and extremely feminine in her playful dress. She complete with a sweet silver clutch.
"The Duchess" Premiere
After Keira's stunning Alexis Mabille Couture dress last week, this grey shapeless bandeau dress, falls a lot flat for me.
Love the hair though.
"Blindness" Premiere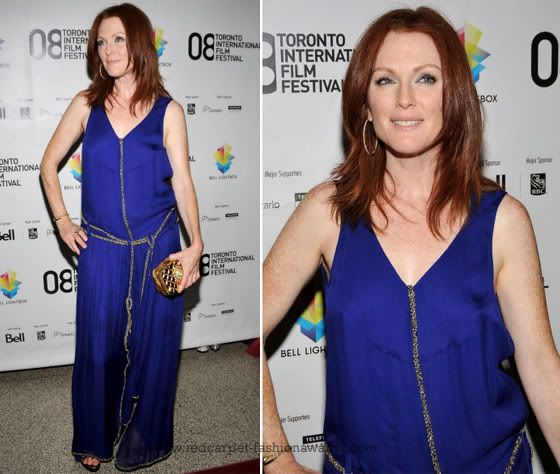 Julianne Moore wore a bold cobalt blue floor-length YSL gown with gold accents. The red haired actress carried the most exquisite gold clutch I have ever seen.
Sandra Oh loves to make bold choices on the red carpet, and does not disappoint here wearing a taupe long sleeved Fendi Feather swing dress dress with a feathered hem.
Evangeline Lilly is picture perfect in her strapless black and white strapless dress.
Burn After Reading Premiere
From couture she wore the the Venice Film Festival Tilda Swinton decided for a milder look to the Toronto Film Festival wearing a oversized white shirt and a long black skirt.
She adds multiple necklaces for added flair.
"The Secret Life Of Bees" Premiere
Alicia Keys wears a stunning pair of Jimmy Choo snake patchwork sandals, that have touches of purple, which perfectly compliment her spectacular purple strapless charmeuse dress by Nicole Miller.
As always Dakota Fanning is cute and age appropriate in her black full-skirted Zac Posen Zibeline Poof Mini Dress dress.
Jennifer Hudson wow the crowds in her olive green Lanvin Pre-Fall 2008 gown with a black bow.
She also wowed the crowds, when a big gush of wind blew up open her dress to reveal her black spanx under her dress.
Poor thing. How very embarrassing.
Queen Latifah asymmetric dress, matched her asymmetric hairstyle.
Sophie Okonedo's blue ruched strapless dress, showed off her sexy silhouette.
"Middle of Nowhere" Premiere
No wonder we have not seen Sophia Bush at Fashion Week.
The One Tree Hill star kept it simple in a strapless LBD.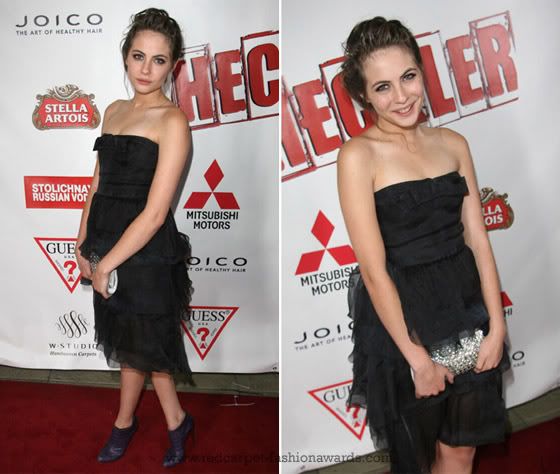 Willa Holland also opted for a strapless LBD, but her was layered with chiffon and had a cut bow on the bust line.
The actress wore her dress with a pair of eggplant Christian Louboutin Orniron Ankle Boots
Sir Richard Branson Unite Party
Kate Hudson was the guest of honour at Sir Richard Branson's party.
The actress with her trademark wild hair wore a strapless red knotted dress with gold heels.