Worst Dress Award/Worst Accessory Award
Lil Mama is usually a dead cert to end up on the Worst Dressed list, because she always incorporate something wacky into her look.
We had the comforter at the MTV Music Awards, now we have this ridiculous oversized bow.
Did she make that shirt herself?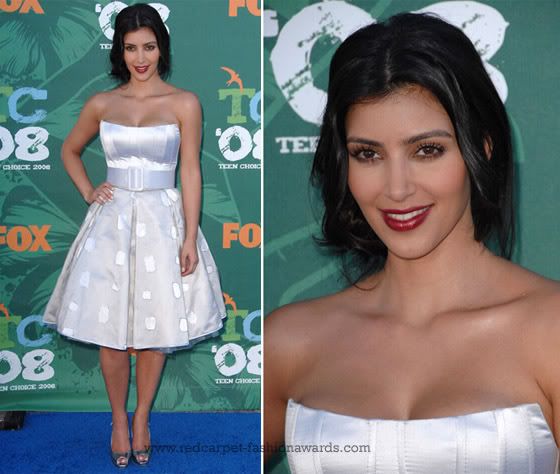 Worst Make-Up Award/Worst Hair Award
This strapless prom-esque Bradley Bayou belted dress is actually not that bad on Kim Kardashian, I am glad she did not adopt her usual hoochie style for this teen event.
Kim is on this list because of her hair and the make-up.
The foundation is a couple of shades too light for her, giving her a very Gothic look, which is not her style. Her hairline really gives away the true colour of her skin-tone.
Her hair is also very messy, and looks like it was styled in a hurry.
Needs A New Hair Stylist Award
I am so bored of Scarlett Johansson hair like this. Event after event, it is just the same old tired 'do.
She is wearing a beautiful Matthew Williamson Beaded chiffon dress in peach with multi-coloured beads on the shoulders, which is enough detail, but she then kills the look by wearing that necklace with the very large baubles which belong on a Christmas tree.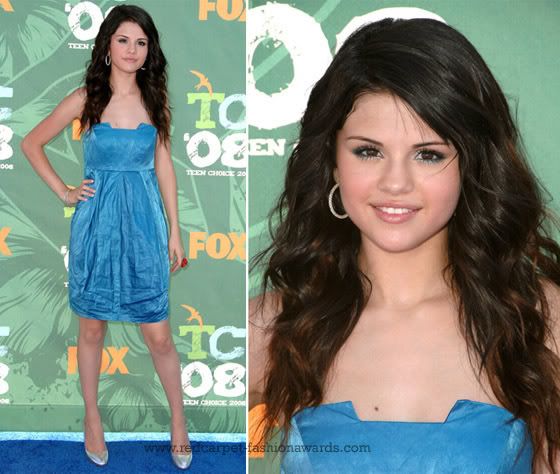 In Desperate Need Of An Iron Award
Selena Gomez' dress looks like it was not ironed before she left her house, therefore it just looks a total mess.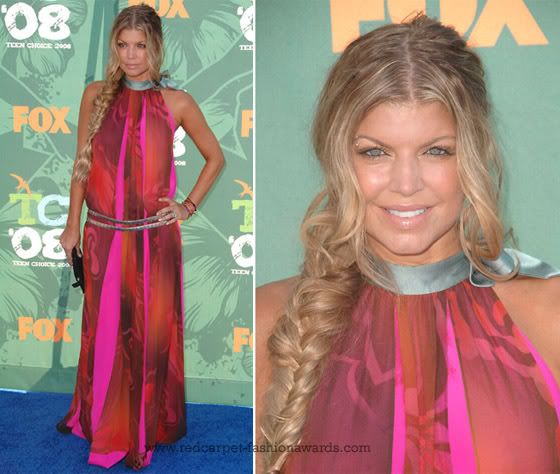 Worst At Not Maximizing Your Assets Award
Fergie has been wearing a lot of maxi dresses on the red carpet lately, and for the life of me I don't understand why.
Fergie is only rivaled in the best legs department by Cameron Diaz, so I do not understand why she is covering then up.
I really don't like this Etro Spring 2008 dress at all. The colours, the unflattering shape, the low slung belt.
Not a good look.
Most Boring Award
Miranda Cosgrove's closet usually is quite dark, but I would have thought for this occasion she would have incorporated more colour into her look.
Apart from the t-bar heels, this is such a boring look.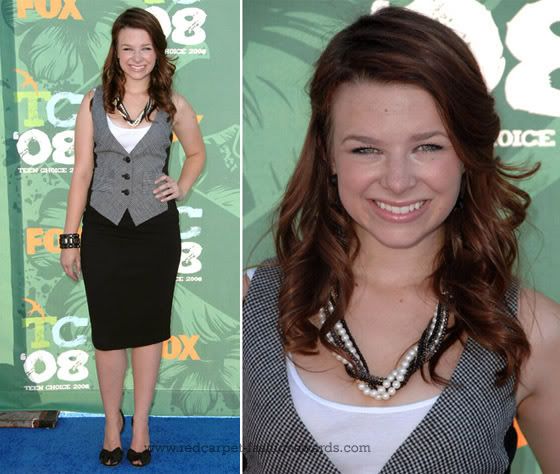 Worst Interview Ensemble Award
Joy Lauren this is the Teen Choice Awards, you are not attending an interview at a corporate office.