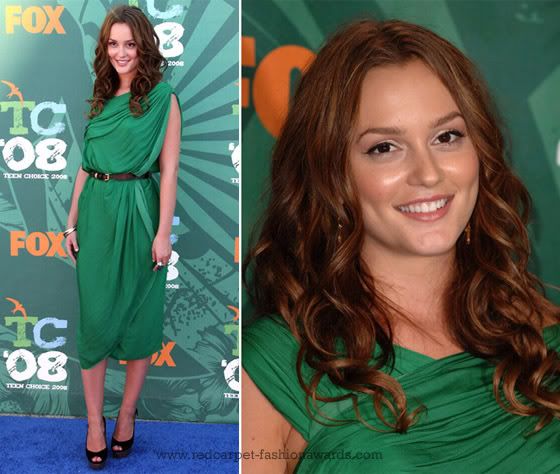 Best Dressed Award
Leighton Meester stayed away from the mini skirts and mini dresses like most of her contemporaries, and opted for a very grown up look, wearing a beautiful green Lanvin Spring 2008 Grecian draped cocktail dress.
She accesorized with black peep-toes, gold earrings and a gold bracelet.
Her hair appears to be lighter than usual.
Best Strapless Award
I am not a fan of Katharine McPhee, but I absolutely adore this strapless dress.
It's cute, fun, flirty and totally unique.
I love the embroidered pattern and the tulle hem.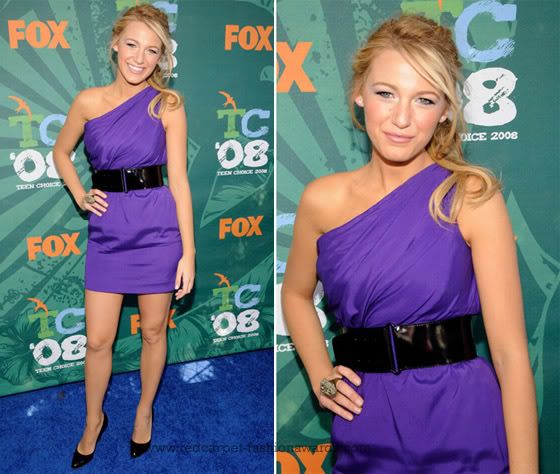 Best Legs Award
I love this mini purple one-shouldered Tadashi Shoji dress on Blake Lively, her legs appear endless.
The dress is cute and appropriate for the event, but the shoes are so boring.
A gladiator heel, or a strappy sandal would have made a whole world of difference.
She accessorizes with a large patent belt, and a chunky ring.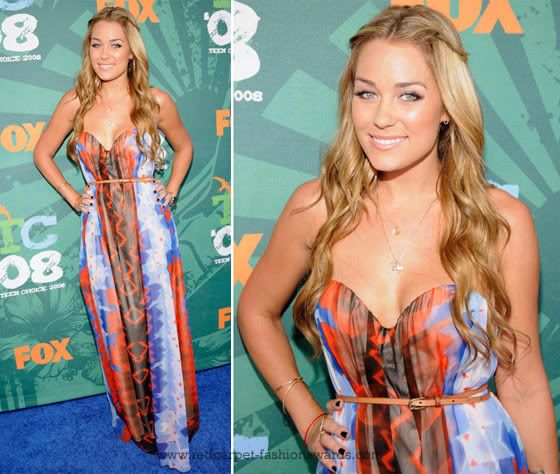 Most Improved Award
Apparently this dress Lauren Conrad wore is a one-of-a kind custom dress she designed specifically for this event.
Yes I am just as shocked and skeptical as you are.
The sweetheart necklined maxi dress is multi-coloured with blue, white, taupe and orange.
Lauren accessorized with two gold pendant necklaces, gold bangles, and her 'Lauren' ring.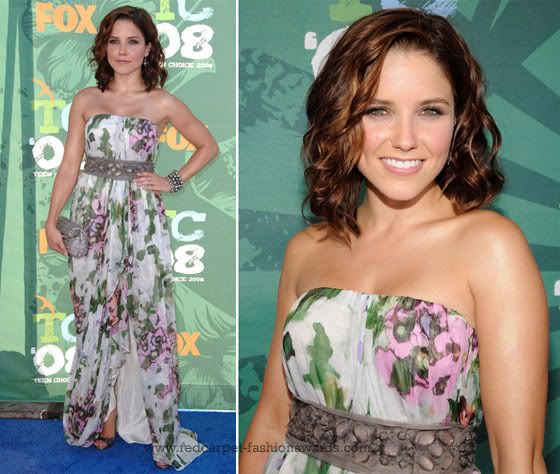 Best Maxi Floral Award
Sophia Bush looks absolutely adorable here. Her strapless floral Jenni Kayne Resort 2009 gown gives her a sophisticated air we are not used to seeing on the actress.
Her taupe clutch, belt and bracelet were a perfect choice.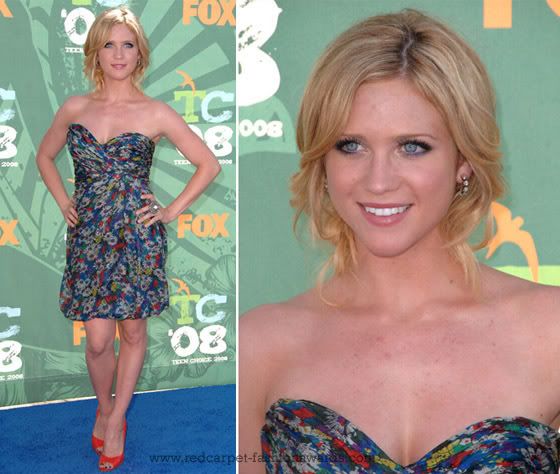 Best Mini Floral Award
Sophia chose a maxi floral dress, but Brittany Snow opted for a mini floral dress, which is simple gorgeous.
The red peep-toes were a great idea, as they compliment the dress, and really stand out on the blue carpet.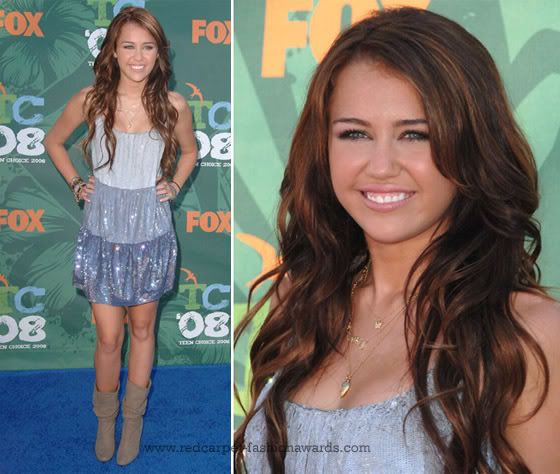 Best Sparkle Award
Teen Choice host Miley Cyrus sparkled in her tiered sequined Moschino Cheap & Chic Spring 2008 sequined dress.
She accessorized with slouchy taupe suede boots, which helps keep her look young. She also wore three necklaces of varying lengths, including a 'Miley', name tag, a butterfly and half a broken heart.
I wonder who has the other half?
The make-up was thankfully light, and her hair was trademark wavy.
All in all, an age appropriated look, for a change, on the red carpet.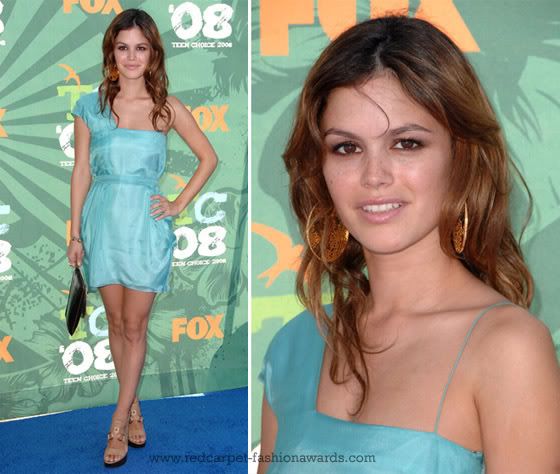 Best Use Of Colour Award
Rachel Bilson is striking in this ceramic blue asymmetrical Brian Reyes dress. The actress wore her one-shouldered mini dress, with a pair of strappy khaki heels.
Her nude make-up is fresh and flawless.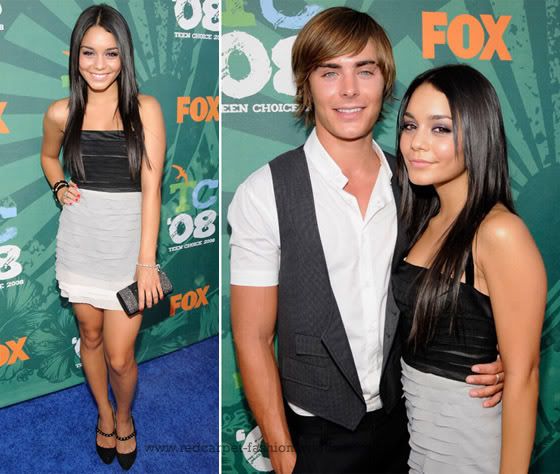 Best Hair Award
Vanessa Hudgens' trademark wavy hair, was last night replaced by sleek iron straight hair.
With her cute dimpled smile the young actress wore a beautiful Catherine Malandrino three-toned tiered strapless dress.
She wore her dress with a two-tone crystal clutch and Mischa Barton favourite Christian Louboutin Mad Mary Janes.
As always, Zanessa stole the show, by cozying up on the red carpet.
'I'm Not A Girl' Award
Hayden Panettiere wore this very elegant, and interesting red, pink and white watercolor silk strapless gown, which cinched in at the waist.
The elegance is complete with her up 'do.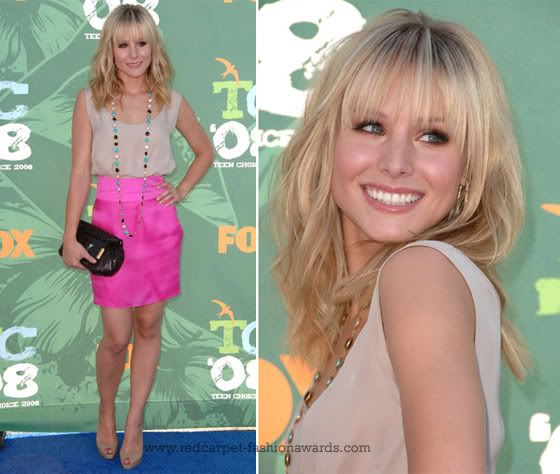 Just OK Award
I love the fuschia skirt on her Jenni Kayne Resort 2009 ensemble and the multi-coloured necklace, but if it was not for those two elements, Kristen Bell would have faded into the background in this 'Just OK' ensemble.
I think she was trying to go for an edgier look wearing, than we are used to seeing on her.
She has had better moments on the red carpet.
Most Glamourous Award
Olivia Wilde has an air of regal elegance about her.
Her BCBG Max Azria draped and ruffled ivory dress and grey belt, was accessorized with a gold clutch and peep-toes.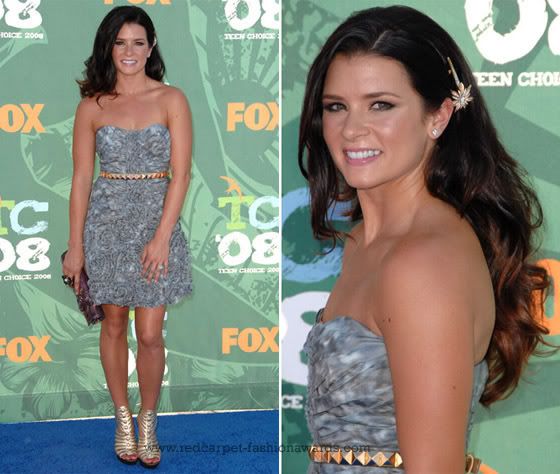 Best Heels Award
This is the second time I have featured Danica Patrick on my blog, and I have noticed that she loves funky footwear.
The Racing Driver's stand-out gold gladiator heels, complimented her gold studded belt which she wore with her grey/blue strapless dress.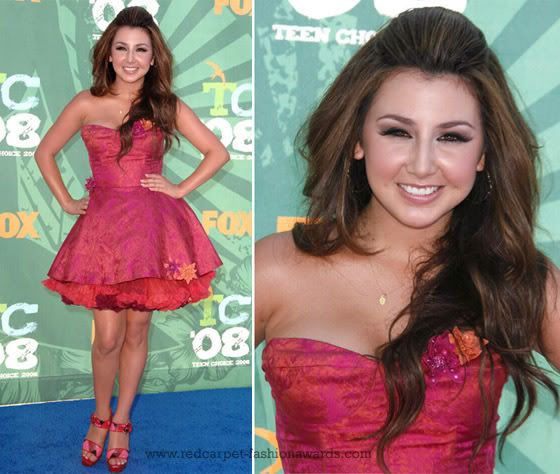 Best Tutu Award
Danity Kane are not known appearing on Best Dressed Lists, but Aundrea Fimbres looks so cute in this strapless Elsie Katz Couture Spring 2008 mini tutu dress.
The dress is made of chrysanthemum brocade with rulled petticoat and hand-formed crystal beaded blossoms from the Spring/Summer 2008 collection.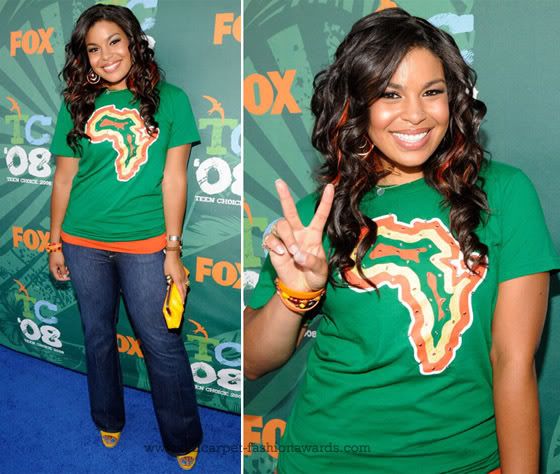 Best Clutch/Shoes Combo Award
I do love yellow and denim, they always work well together.
Jordin Sparks breaks my rule of wearing jeans on the red carpet, but for this teen event, she is forgiven.
The singer was the most casual at this event, wearing a green layer t-shirt with a pair of dark wash jeans.
I am still pleading with her to remove those streaks in her hair.