After looking at these pictures last night, I had one disturbing thought. I miss Beyonce Knowles.
Even with her over the top sequins, and her mother's vomit inducing designs, at least there was a talking point.
Not many attempted to steal her crown.
Best Dressed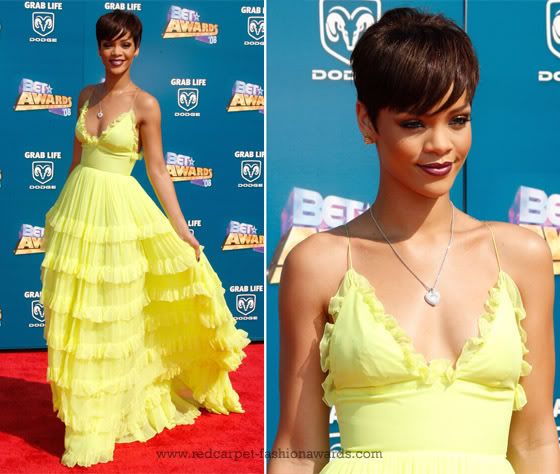 Best Dressed Award
The only shining light was Rihanna, and she was was literally a shining light in this neon-yellow Giambattista Valli Spring 2008 multi-tiered gown.
The only downside for me was the lip colour as it for me is too harsh for this dress.
Best Embellishments Award
Ashanti looked just OK in this jeweled embellished Marchesa Fall 2007 gown. Not to over the top and in your face.
Best Veteran Award
Nia Long has been attending these events for as long as I can remember, and she ALWAYS looks great. I love her this grape draped mini dress.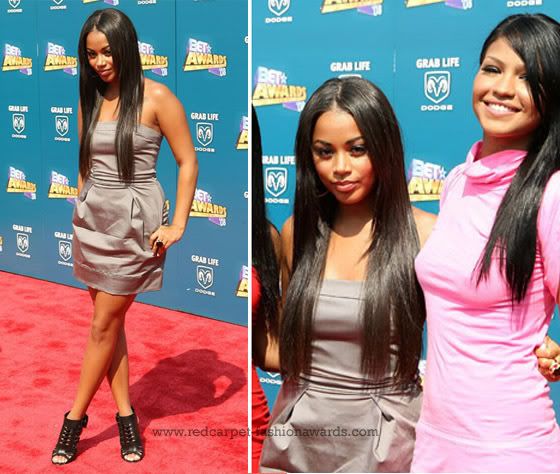 Best Booties Award
Despite not being able to crack a smile, Lauren London looks cute in her French Connection wizard cotton mini strapless grey dress, which she wears with the ever popular Givenchy Shoes Strappy Open Toe Ankle Booties.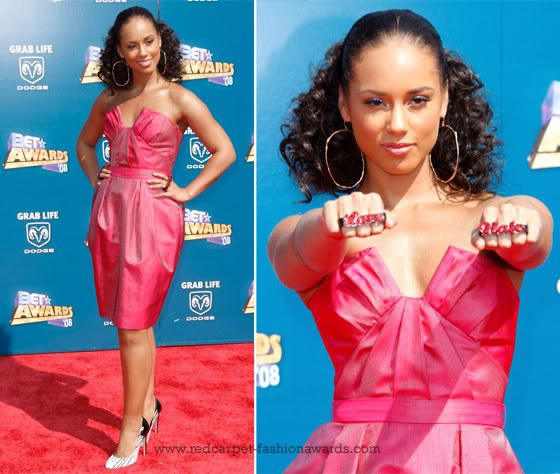 Best Shoes Award
I was not crazy about Alicia Keys fuchsia strapless David Meister dress, nor her choice of jewelry, but I do love her patent paint drip Sergio Rossi heels.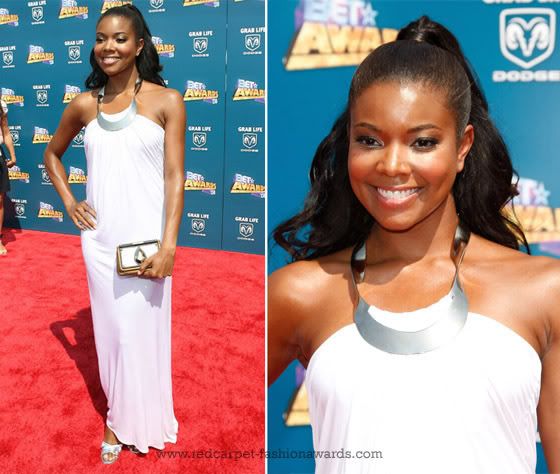 Best White Award
Gabrielle Union is an absolute vision in this white draped Celine gown with a metal halter and her mega-watt smile.
Best Clutch/Lady In Red Award
Jordin Sparks of course wore red, to match those red streaks in her hair, which she has been sporting for a while.
Although the dress looks like it needs to be pulled down, I do love the colour and fold details on the front.
Her multi-coloured shimmering snake-skin clutch is to die for.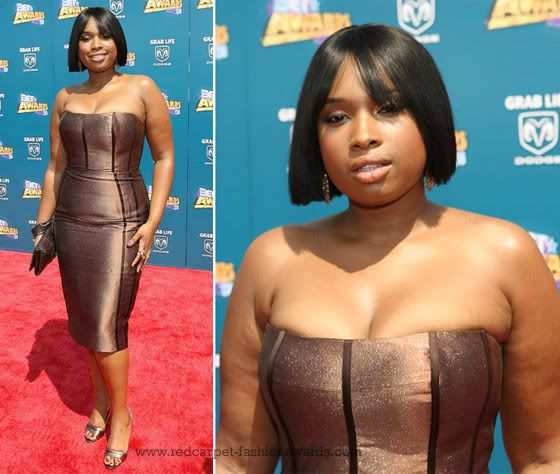 Just OK Award
After spending all that time in the presence of Patricia Field whilst working on Sex And The City movie, Jennifer Hudson really did not pick up many tips. She is still opting for the same brown/bronze colour she always seems to wear on the big occasions.
Her dress is again by Peter Soronen and her shoes are Miu Miu.
Most Improved Award
Tocarra Jones is usually falling out of her dress, so she wins many points for keeping her puppies under control and under her dress.
Worst Dressed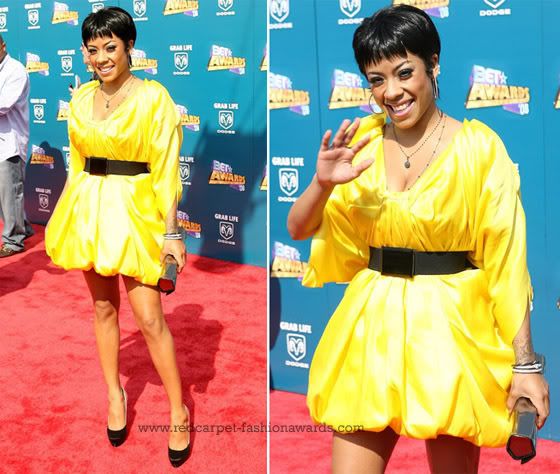 Worst Dressed Award
If you need to ask why, you need to go to your local opticians immediately.
Keyshia Cole is squinting, such is the brightness of her hideous bubble dress.
As Gizmo from the Gremlins would say "Bright light. Bright light".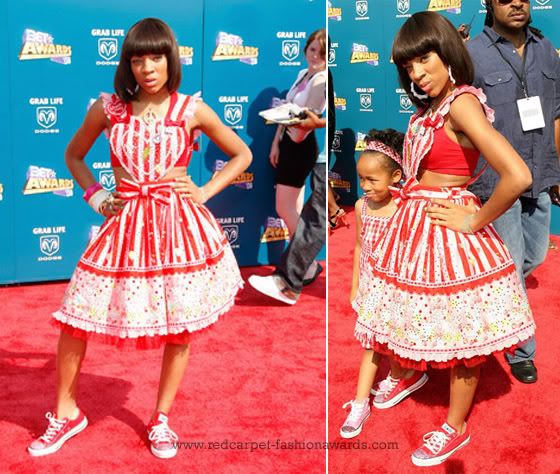 Worst Red Award
Lil Mama for a time sported Chanel and Betsey Johnson, so I thought she was on her way to change direction like Rihanna. Then this a complete 180.
That poor kid much be so embarrassed.
Worst Hair Award
Tionne "T-Boz" Watkins, it's 2008, when are you going to change that hairstyle?
It was cool when it was original back in 1994, but now it is just plain tired.
T Boz arrived with her home girl Rozonda "Chilli" Thomas, who's ensemble was just as hideous as her band mate.
Worst Veteran Award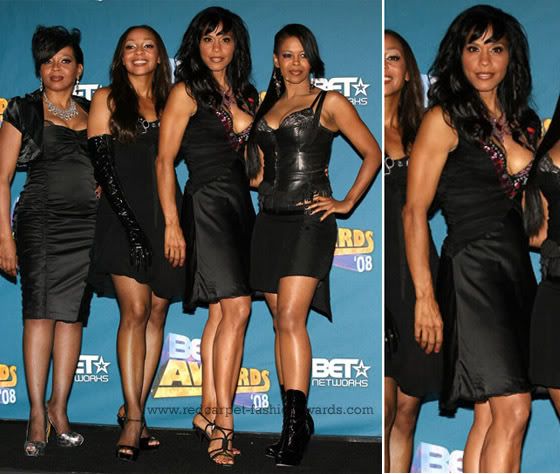 Cindy Herron is still the prettiest member of En Vogue, and was by far the best dressed in this line-up. The rest look like the are going to a S&M convention.
Did You Not Learn From Your Sister's Mistakes? Award
Big sister Beyonce passed the baton onto Solange Knowles, but she fumbled, dropped the baton and left the house looking like this.
The dress has Tina Knowles stench all over it, and her hair looks like the comb-over that men who are balding adopt, to cover a shiny thinning spot and when, OH when, is she going to lose the two tone nail varnish?
The only saving grace are her cut-out wedged sandals.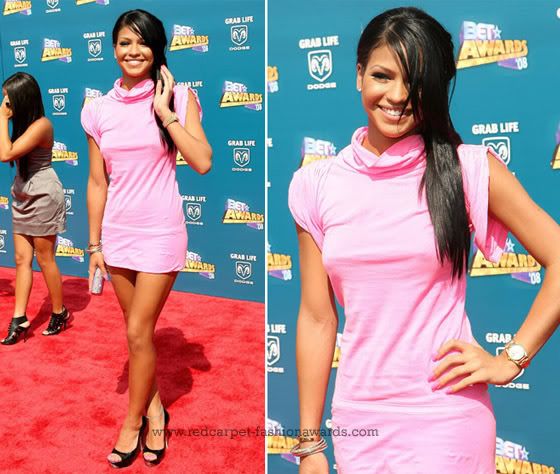 Worst Creases Award
As small as this dress is, it would have taken Cassie no more than 2 minutes to iron it.
Worst Make-Up Award
Either someone punched Lil Kim in the face, or that big purple thing on the side of her face is make-up.
Her hideous lace wig looks like it came from the same shop as Tyra Banks.
Worst Embellishments Award
What are those embellishments on Alicia Keys' Pollini Fall 2008 dress, fans or hair colour swatches?
Other than that, this would have been a stunning dress, as I adore the colour on her.
Music Junkie has all the coverage from the BET Awards including winners and performances.