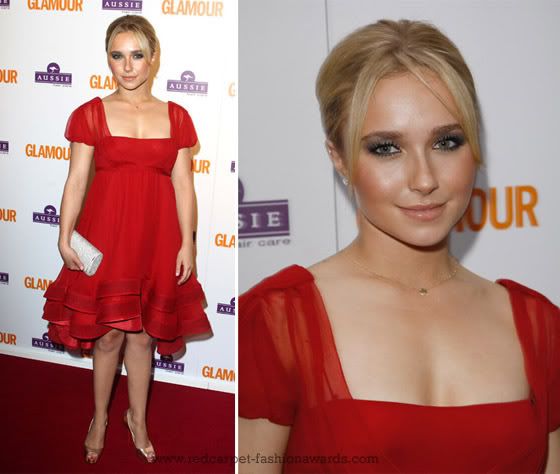 Hayden Panettiere unfortunately could bring the LA sunshine to this rain soaked event last night, but she did delight in this red empire-waist Moschino Spring 2008 mini dress, with an exaggerated double tiered flounce hem and cap sleeves.
She completed her look with a pair of bronze Christian Louboutin peep-toes.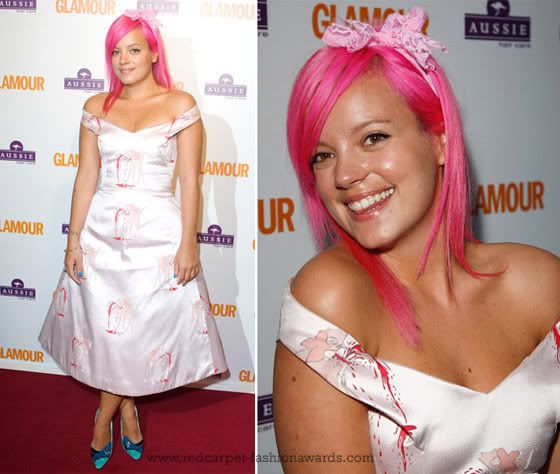 The Giles Spring 2008 prom-esqe dress Lily Allen was wearing looks very cute, but is decorated with prints of a bleeding Bambi's. Not so cute.
What is also not so cute is Lily's hair. I mean is she for real?
Yes it matches her dress, but just does not work in the grand scheme of things. I preferred her dark roots.
She teamed her dress with a pair of multi-blue Louis Vuitton shoes.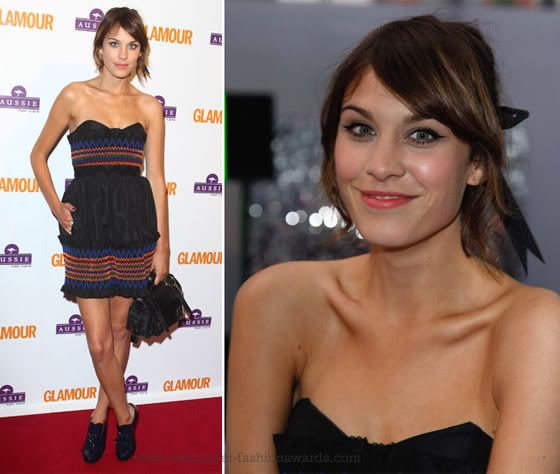 TV presenter Alexa Chung opted for a Luella Spring 2008 peasant-style embroidered strapless minidress, with black booties.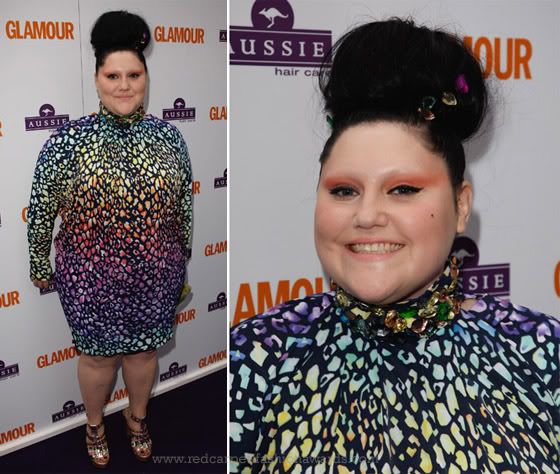 Beth Ditto's Matthew Williamson Fall 2007 dress could not be any louder, but I continue to applaud her for not taking the safe route.
Her gold gladiator heels are by Alexander McQueen.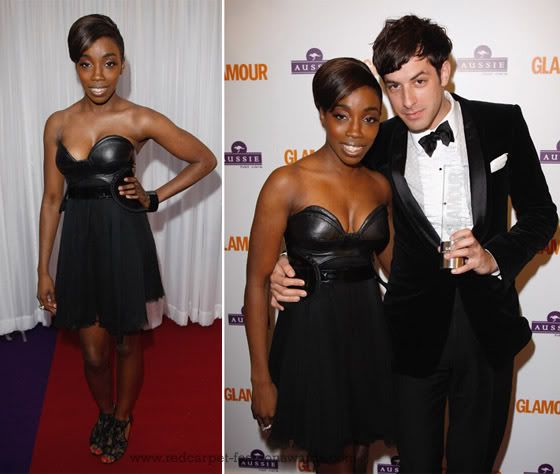 Estelle wore a chiffon black LBD from the Kristian Aadnevik Spring 2008 collection, with the bust and waist emphasised with sexy leather details. She teamed the dress with a pair of leather Sergio Rossi black lace sandals.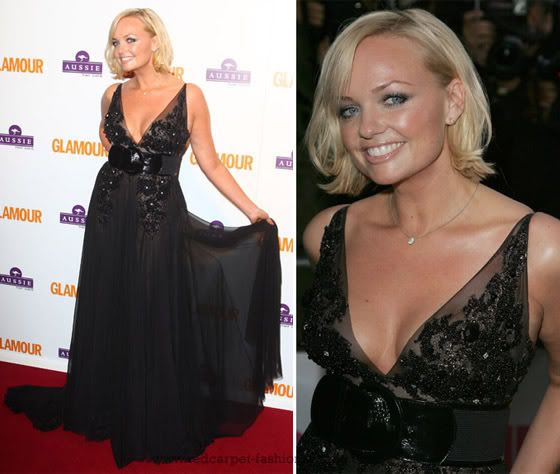 Emma Bunton will never shake off that "baby" tag, but she is all woman in her black beaded J'Aton Couture gown, which had a plunging neckline and a wide patent belt.
The new mum showed off her new chic bobbed hairstyle.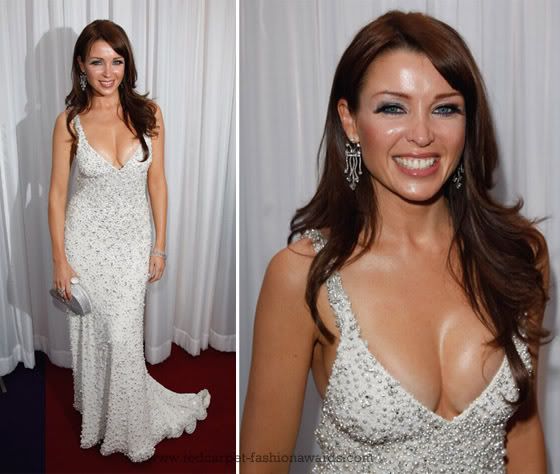 Dannii Minogue also wore a J'Aton Couture gown. Her stunning white gown was beaded throughout.
Danni is either glowing, or she moisturized very well before leaving for this event.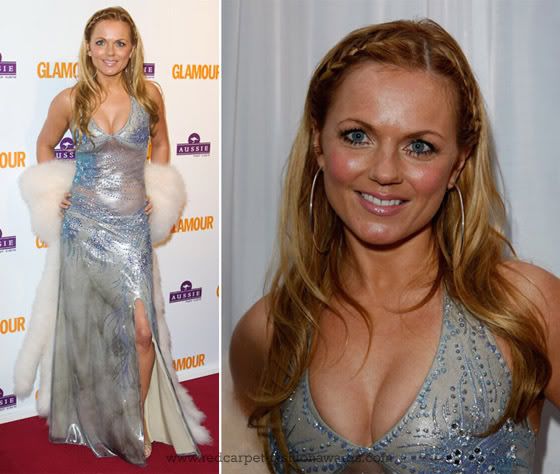 Geri Halliwell channelled her inner glamour-puss in a blue embroidered wet-look gown, complete with a fur boa.
Not a look I would favour, but Geri makes it work.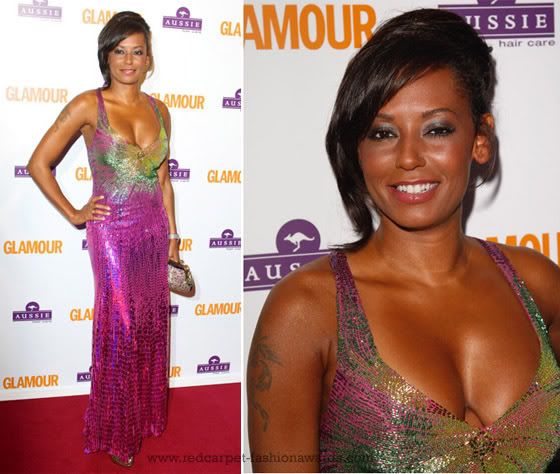 Mel B was determined to be the Spice Girl who stood out, and did so in this fuchsia v-front gown by Jenny Packham.
The dress is loud and revealing, but I would not expect anything less from her.
Tamara Mellon of Jimmy Choo won Accessories Designer Of The Year wearing a forest green mini Balmain Spring 2008 dress.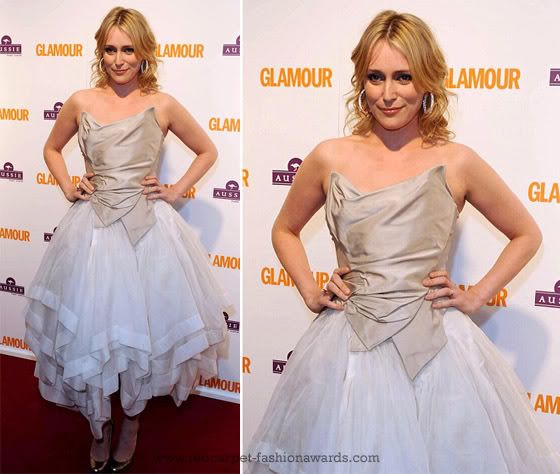 Keeley Hawes who won, UK TV Actress Of The Year, wore one of the most one of the most spectacular dresses of the evening.
Her voluminous, corseted cream gown is just a artistic master piece. She teamed the gown with bronze shoes.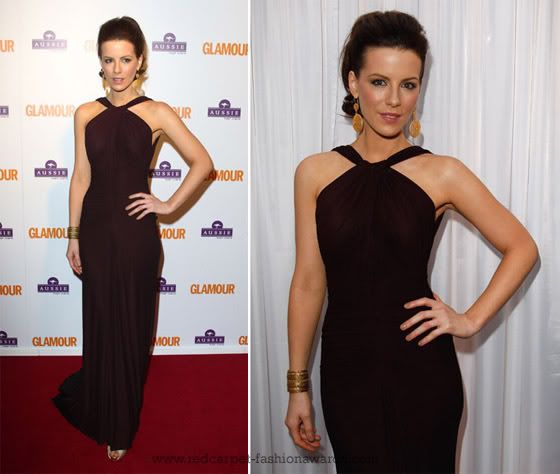 Kate Beckinsale was named Film Actress Of The Year and collected her award wearing a chocolate full-length halter-neck Herve Leroux gown, with her hair loosely tied-up.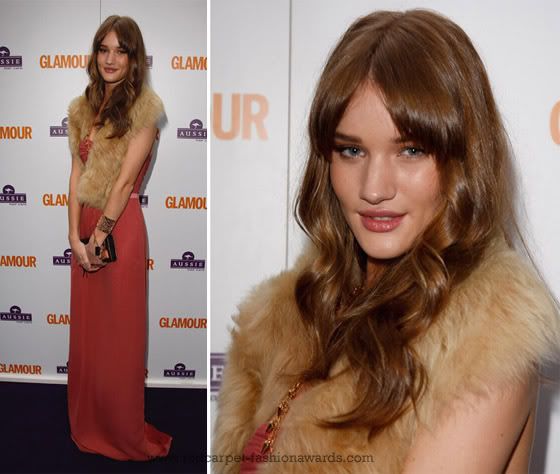 Rosie Huntington-Whiteley, the new face for Burberry, looks very elegant in her terracotta gown and fur boa.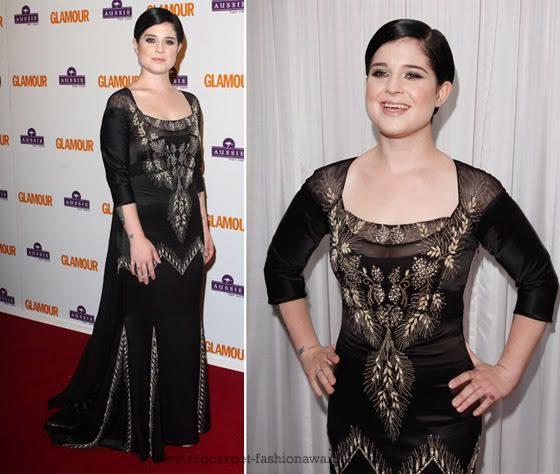 Kelly Osbourne opted for a vintage embroidered gown, from her mothers collection.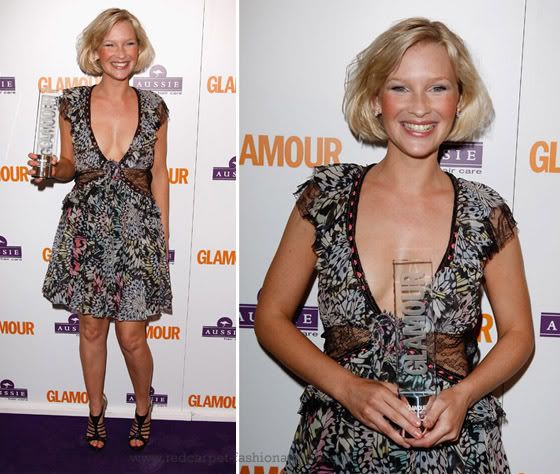 Joanna Page, winner of Comedy Actress of The Year, wore a cute silk frilly butterfly print Matthew Williamson Spring 2008 dress.
Kimberly Stewart opted for a short purple satin tunic dress with Miu Miu heels.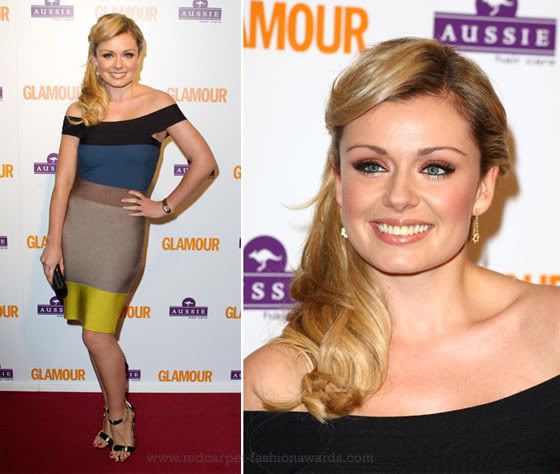 With her Jimmy Choo Aster snakeskin sandals, Katherine Jenkins wore this Hervé Léger Color block bandage dress.
This is a huge change for Katherine, as we are used to seeing her in structured dresses or cute frilly dresses. I would have preferred if she had opted for a more wild and adventurous hair style to fit the dress.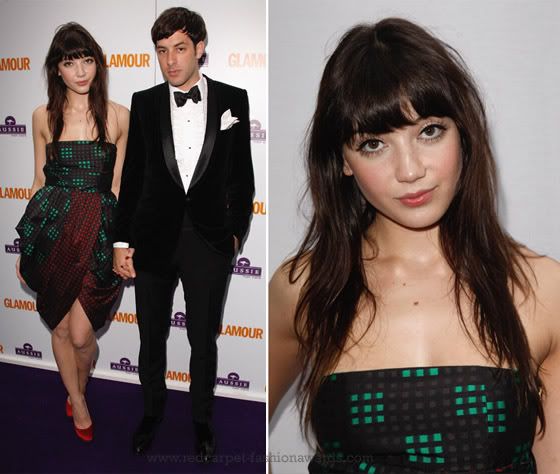 Model Daisy Lowe wore a strapless squared tulip dress and red shoes, whilst her beau Mark Ronson, opted for a classic velvet tuxedo. They are so hip it hurts.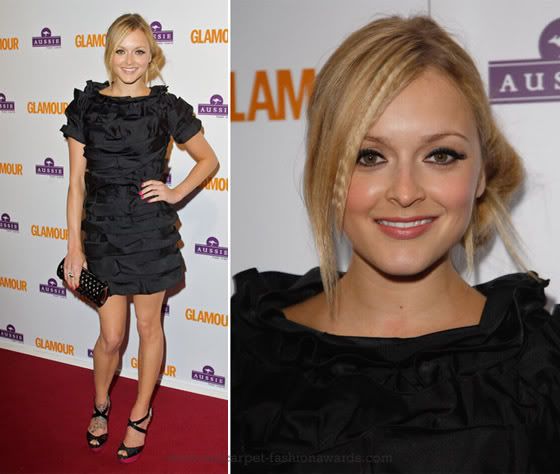 Ferne Cotton wore a black silk Moschino minidress with Jimmy Choo heels that had a fuschia platform and heel.
Britain's Next Top Model judge Lisa Snowdon, wore a very interesting tuxedo-style mini dress.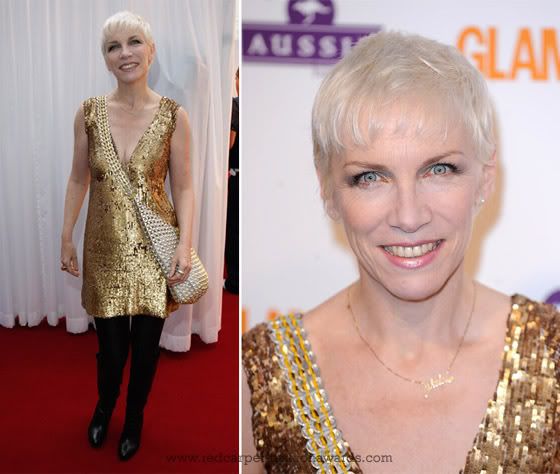 Annie Lennox won the Inspiration Award and was very much the golden girl in her sequined dress.
Here are the Glamour Awards Winners in full:
Band Of The Year – The Spice Girls
Entrepreneur Of The Year – Kate Moss
Comedy Actress Of The Year – Joanna Page
Television Actress Of The Year – Keeley Hawes
Radio Personality Of The Year – Jo Whiley
Inspiration Award – Annie Lennox
UK Solo Artist – Leona Lewis
Television Personality Of The Year – Dannii Minogue
Writer Of The Year – Cecilia Ahern
Film-maker Of The Year – Jonathan Ross's wife Jane Goldman
Man Of The Year – Mark Ronson