Best Dressed Award
Charlize Theron wore this silver metallic Proenza Schouler Pre-Fall 2008 bustier with black super skinny pants.
The actress wore a sexy pair of Roger Vivier heels.
Best Boots Award
Sarah Jessica Parker looked amazing again last night, wearing a chocolate shimmering L'Wren Scott Fall 2008 turtleneck dress. Only SJP can get away with wearing a dress this tight.
Check out the white lace up Louboutin boots. Of course they are not out yet. A Fall preview perhaps?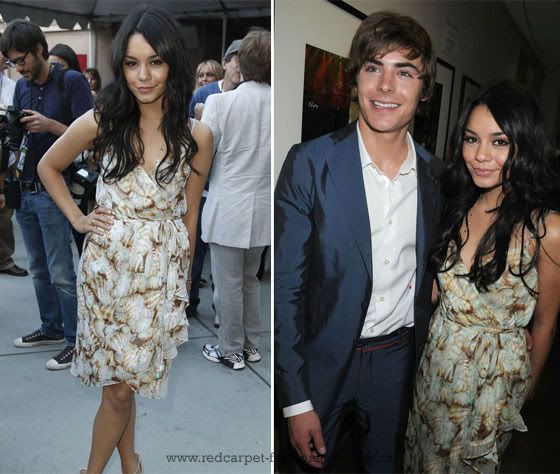 Best Couple Award
Zanessa aka Vanessa Hudgens and Zac Efron did not walk the yellow carpet, but they were snapped together.
Vanessa wore a summery plunging neckline sea shell-patterned Diane von Furstenberg dress, and her beau, Zac wore a navy blue sheen suit and white shirt by Moschino Uomo.
Best Style Transformation Award
Who would have thought lil' Miss Anne Hathaway could pull off such an edgy look?
From the neck down she is almost unrecognisable in her edgy one-shouldered Sophia Kokosalaki black dress.
Best Hair Transformation Award
Audrina Patridge was determined to make an impact on the red carpet following her fall out with Lauren Conrad, and she successfully accomplished that with her new bangs.
I like her new 'do, as her head does not appear to be as long and round.
Her navy satin dress is by Lloyd Klein.
Pretty In Pink Award
Liv Tyler wore a cute bubblegum pink Lanvin strapless toga dress with a gathered hem.
She carried a pink clutch, and wore a animal print pair of Louboutin heels.
Best Ruffles Award
Rocker Lucy Walsh just about pulls off this Christian Siriano Fall 2008 halter-neck purple ruffled dress without looking too much like an ostrich.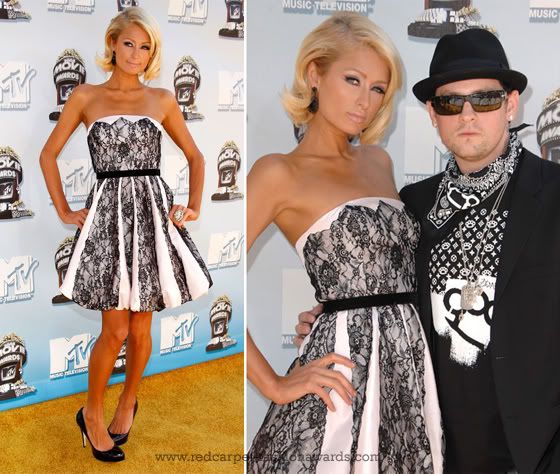 Best Couple Coordination Award
Paris Hilton and Benji Madden were perfectly coordinated in their black and white ensembles.
Paris wore a strapless Betsey Johnson lace embellished dress, which has a fitted bodice and a bubbled hem.
Keeping It Real Award
Well what did you expect Ellen Page to wear? Boob tube and mini skirt?
Last night she wore a black Suh-tahn leather jacket, black skinny pants and a white Suh-tahn t-shirt.
Best Herve Leger Award
OK, she looks like a blow up doll, but out of all the Herve Leger dresses that were worn last night, I loved the colour of this Adelisa strapless dress.
Best Use Of Colour Award
I love the multi-colours of Emma Stone strapless Blumarine dress. Her navy heels and orange clutch perfectly compliment her dress.
Best Silhouette Award
I love how this cobalt blue asymmetric dress from her own Lauren Conrad Collection, gives Lauren Conrad such a sexy silhouette. I did not know she had this body, as she always wears such loose fitting clothes.
Best Frenemy Award
Stephannie Pratt looks cute in this purple leopard print spaghetti strapped dress, but I am not sure about her sidewalk clutch.
Stephanie is obviously enjoying the benefits of being Lauren's friend.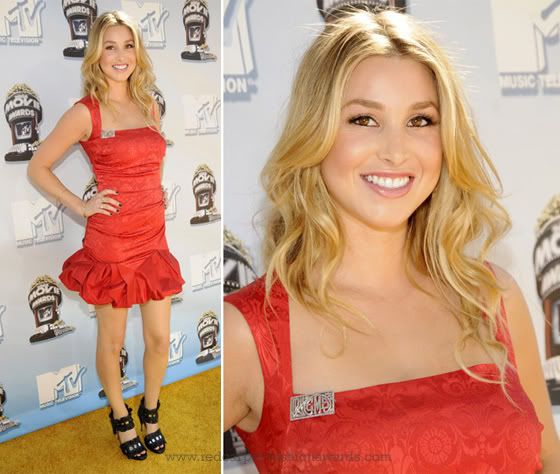 Best Bubble Hem Award
There were a lot of bubble hemmed dresses last night. But the uniquely quirky Whitney Port's red brocade Nicole Miller dress, was by far the most interesting.
I love the contrasting chunky heels, which were interlaced with blue and yellow ribbon.