Worst Statement Dress Award
I know Kelis is promoting her husband's album, but I do not approve of using this word for self promotion or use of this word in any context.
So trashy.
Worst Hair Award
Alicia Keys was not the worst dressed, in fact I loved the colour on her amazing custom-made Giorgio Armani Privé halter-neck gown.
What I did not like was the hair. She just ruined everything with the hair. Why a mohawk for such a pretty dress?
Worst Dressed Award
No I am not a Beyonce hater. This dress just did not work for me at all and I love Elie Saab.
The asymmetrical bodice and the dripping metallic detail was over-kill, without that this dress may have worked.
I am surprised that from all the dresses in Elie Saab Spring 2008 Couture collection that she choose this one.
I also did not like the hair. I know she was channeling Tina Turner, but I hated it.
Worst Black Award
Aren't trains supposed to be on the back of dresses?
Fantasia dress was just too much for her. She tried to go Hollywood glam, when she should have stuck to her edgy roots and opted for something a little more funkier.
Worst Floral Award
Lil Mama should have saved her Chanel dress for this occasion.
Least Flattering Award
Unfortunately for Nelly Furtaro this cerulean strapless Arthur Mendonca gown made her look very wide at the hips.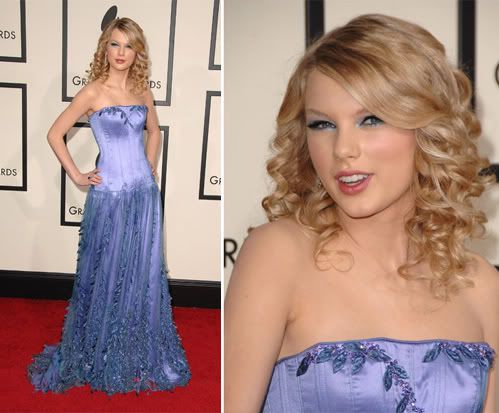 Worst Pageant Fancy Dress/Bridesmaid Award
Urgh…just hideous. This dress that Taylor Swift wore was just to sickly sweet for me and the leaf-embellished skirt was too much.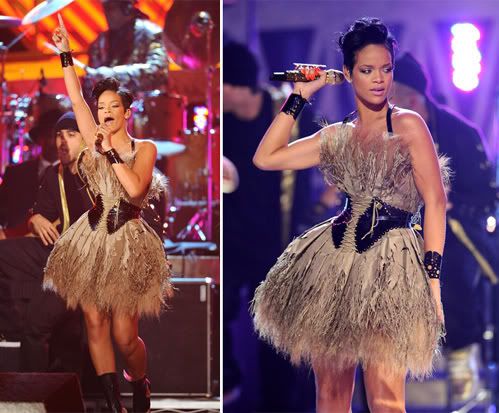 Worst On Stage Outfit
Good girl gone bad for Rihanna in this Zac Posen Spring 2008 dress. She looks like the straw-man from the Wizard of Oz.
oOpS Award
Debbie Matenopolous announced to the world that the designer of Carrie Underwood's dress was Badgley Mischka, which was incorrect. To make matters worst she then went onto say that she had seen the floral dress at their recent Fall 2008 New York Fashion Week show.
The fact of the matter was that the dress Carrie was wearing, was by the same designer – Zuhair Murad – that she was wearing. Once informed she desperately tried to make a retracting but the damage was already done. Zuhair Murad has dressed Debbie for other occasions, but I guess this will be her last.