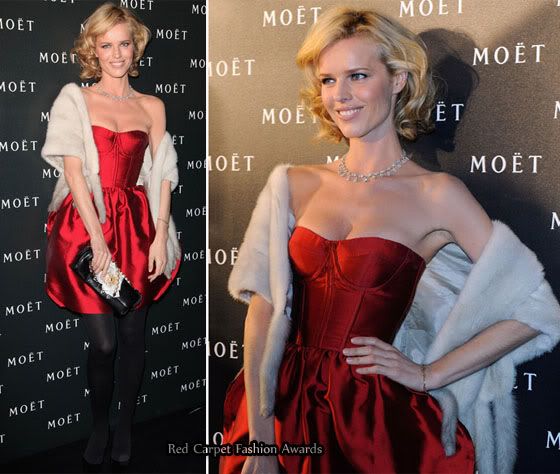 Eva Herzigova was the only one on this red carpet to opt for colour.
The supermodel evoked pure glamour in her red satin, strapless puffball Dolce & Gabbana Spring 2009 dress. This dress was presented in a black longer version, but I much prefer this look on Eva.
There's something about a fur stole that instantly completes and perfects a look, but the tights are really annoying. This can be forgiven, as it was cold and rainy in London last night.
As lovely as Thandie Newton looks in this Preen Fall 2009 dress, my first thought was that I had seen her in this dress before.
Then I realize that it's the hair that's so familiar. Looking back on her photo archive, and her many red carpet appearances, you have to go back to September 2008 to see a different style, which is a shame, because I love her hair down.
Back to her black satin dress. I love the lace panels, which give her a bit of an edge without begin too revealing. I love how she always supports British labels.
Scarlett Johansson is gorgeous and buxom wearing this lace vintage Givenchy LBD, with satin champagne Louboutin's.
She constantly gives us that old Hollywood look, which fits her so well.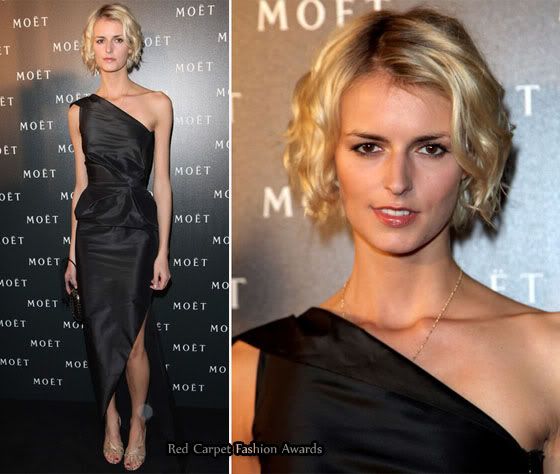 We have been seeing a lot of Jacquetta Wheeler on the red carpet lately, and she's like a breath of fresh air.
She always looks so statuesque and fresh faced.
Last night with gold strappy sandals she wore a RM by Roland Mouret Apollinaire taffeta gown.
The black full length one shoulder gown has a fishtail skirt, and a large slit to elegantly show-off a bit of leg.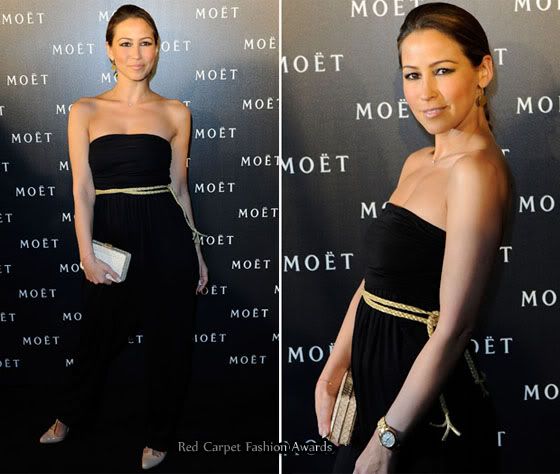 With her nude t-bar Louboutin's, Rachel Stevens wore a black strapless harem pants jumpsuit.
A bit more colour was added to her look, with a gold rope belt and a ivory clutch with gold detailing.