When Kate Hudson appeared on the worst-dressed list for her Stella McCartney Oscars gown in 2001, she said the designer and her laughed their asses off.
Anne Hathaway's approach was to issue an apology yesterday via WWD for the confusion over the dress: a press release had been sent out saying the dress was Valentino, so her Prada dress was miscredited by several outlets. A tad overdramatic, but I guess it was aimed at undoing the upset the House of Valentino must have felt, considering they have worked so closely with the actress over the years.
Yesterday she was sported grabbing lunch with her husband in Los Angeles, California wearing a prettier dress by Madewell.
Her sleeveless floral dress with a rounded neckline and nipped-in waist was styled with a Stella McCartney 'Bailey Boo' cross-body bag, chic shades and thonged sandals.
I love the effortless, ethereal nature of this feminine look, which she styled perfectly.
The chunky cardigan is much needed because despite the sunshine, it is actually quite cold in LA.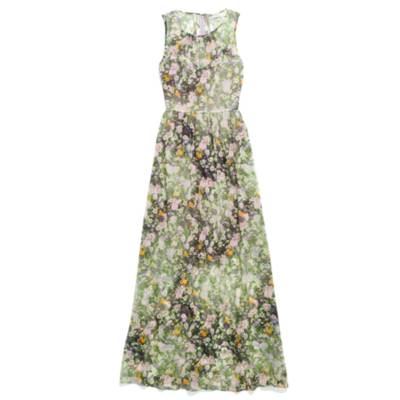 You can buy Anne's Madewell dress from Madwell.com.
Credit: Getty