I'm not sure what has been happening to Tyra Banks lately, but look seems to have finally be exorcised of all her former tranny traits.
Her desire to be seen as 'Fieerrce' all the time, has been replaced by a soft, more lady-like and charming Tyra.
Seeing this minimalist white Calvin Klein Spring 2009 dress on the runway, I would never have imagine Tyra wearing it, but she pulls it off gracefully and without over accessorizing.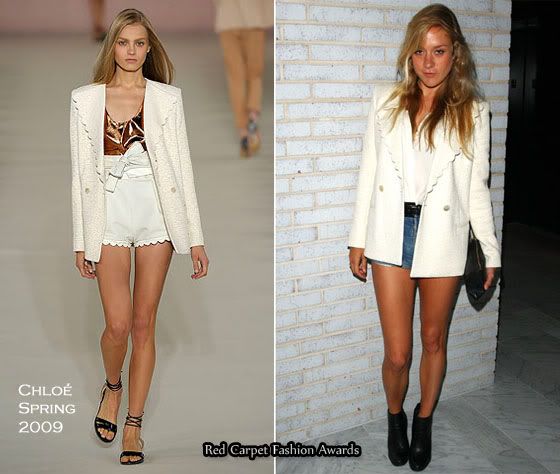 This the second Chloé look that Chloe Sevigny's has rocked this week. Firstly the scalloped short suit, now this Chloé scalloped-edge blazer, with cut-off denim shorts, and black ankle booties.
As always when I look at Chloe, the hair lets her down. The comb-over should be only sported by balding men.
Source: Wireimage