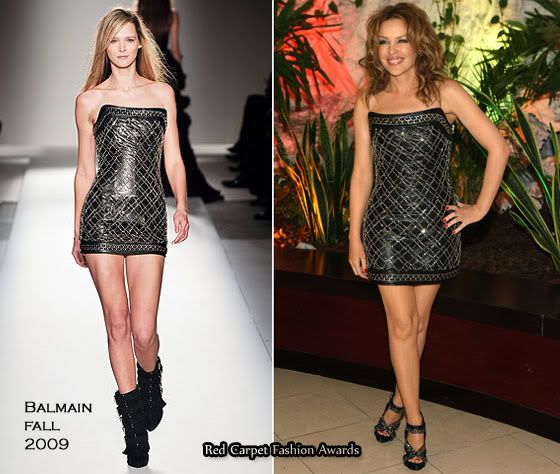 Kylie Minogue put on a special concert for the 'Miracle Africa International Foundation Charity', at the VIP Room during Cannes Film Festival this weekend.
In an event sponsored by Chopard, the Australian singer performed in front of stars such as Peaches Geldof, Tamara Beckwith and James Blunt. Kylie arrived at the VIP Room, wearing a black leather strapless Balmain Fall 2009 jewel encrusted mini dress, with an equally dazzling pair of heels.
It's a nice piece, but I don't think it does anything for Kylie. Maybe it's the angle of the picture, but I think it makes her look boxy, when we all know what an amazing figure she really has.
I much preferred the Balmain Fall 2009 strapless jumpsuit, with an embellished v-shaped panel, and harem pants, she performed, as it was more flattering.
Kylie has worn similar pieces from Jean Paul Gaultier, for her recent tour.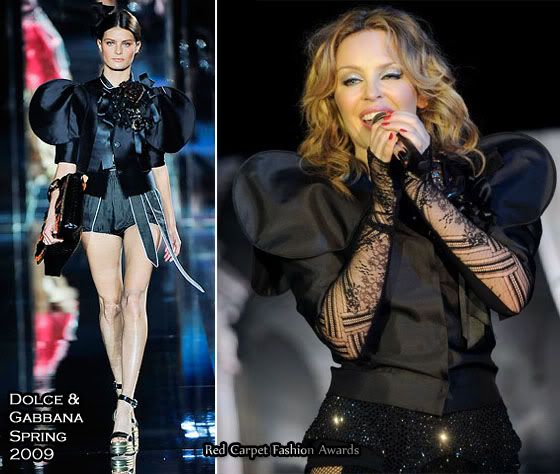 Kylie's other performance piece, was black Dolce & Gabbana Spring 2009 top, with circular sleeves, and a jeweled rosette.
Kylie cut up a pair of Chanel Fall 2008 half lace, half opaque tights, and used them as sleeves. A dazzling garter belt and fishnet tights, completed the sexy look.
Peaches Geldof arrived straight from the The Imaginarium of Doctor Parnassus Premiere, as she had the same hairstyle, make-up and earrings, but opted to changed into a pink Dolce & Gabbana off-the shoulder gown, with contrast piping and a ruffled trim.
The dress may look familiar to you, that's because AnnaLynne McCord wore the sexy shorter dress version, to the 90210 Season Wrap Party.
[nggallery id=38]