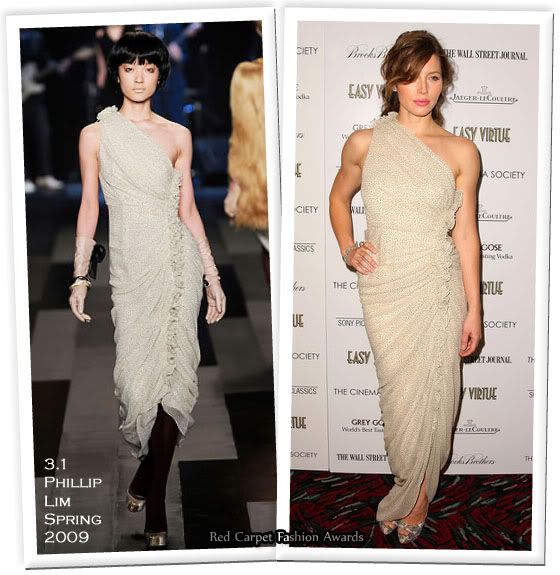 Jessica Biel is not my favourite actress to walk the red carpet, but give credit were credit is due, she looks surprisingly good here.

She lost my faith after she toned down her look, after dating Justin Timberlake, but I really like this one-shoulder 3.1 Phillip Lim Fall 2009 print dress.

It really flatters her figure, I like the ruffled detail cascading down the front of the dress, plus I'm super glad she didn't:

A. wear the dress as it was presented on the runway
B. wear black heels.

Instead she opted for a pair of Christian Louboutin snakeskin peep-toes.

Her hair is also looking good. She wore it in a loose low ponytail, with a sexy chic side part. Remember her Oscars greasy hair.

Huge improvements in all departments.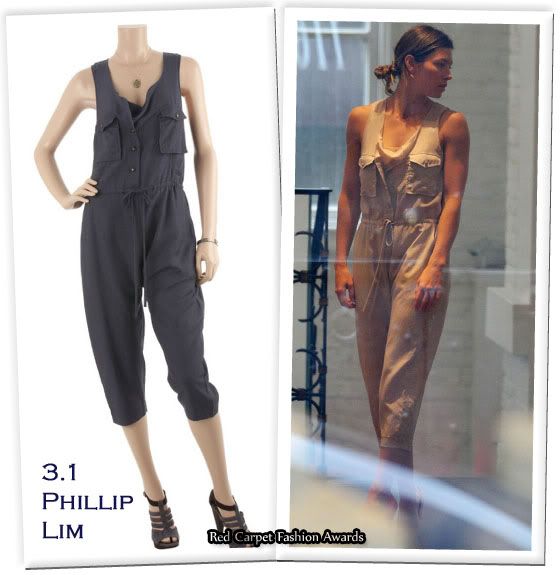 On Saturday she was seen out in SoHo with a friend and they had popped into a Phillip Lim store. No doubt to pick up her dress for last night, but Jessica also tried on a beige 3.1 Phillip Lim Linen jumpsuit.

Net-A-Porter have the same pocketed jumpsuit in gunmetal blue, with drawstring waist.

You can buy this from the Net-A-Porter US site for $450, or the international site for £390/€479. This jumpsuit is the epitome of urban chic. Layer it over a fave t-shirt or white cotton tank, slip into a pair of gladiator sandals and grab a large tote.

Source & Source & Source and thanks to Maria for the shopping pictures.