Operation Smile Presents the 2009 Smile Event, New York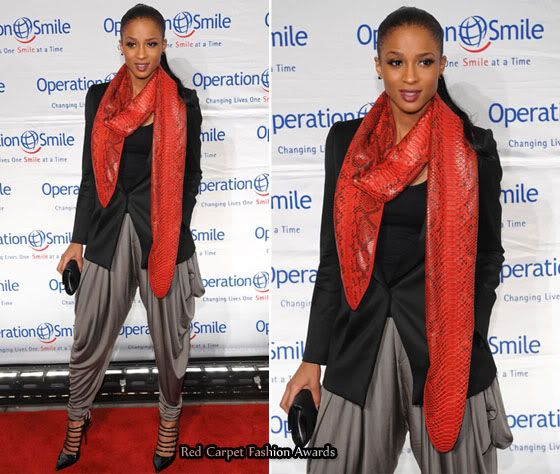 Ciara wore an ensemble from the Halston Fall 2009 collection, consisting of grey genie pants, a silk tuxedo jacket, and a python scarf.
The scarf is the very strong stand-out piece of this look, which I never expected to see on the red carpet, but Ciara makes it work.
Her look was completed with a pair of fierce multi-strappy Emilio Pucci Fall 2009 heels.
InStyle Hair Issue Launch Party, New York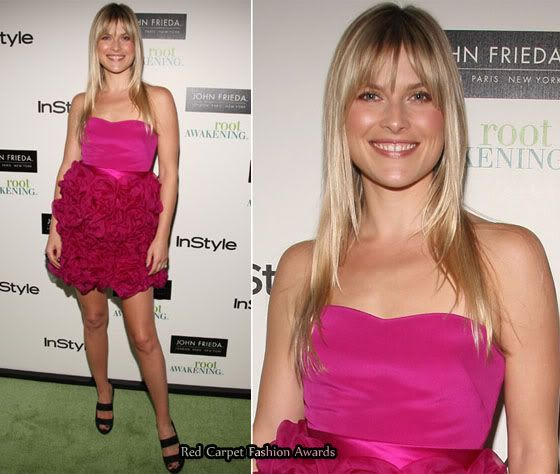 Ali Larter is very pretty in pink wearing a Notte by Marchesa strapless silk ruffle dress, with black strappy sandals.
The dress is youthful, cute, and sassy, but I would've loved to have seen someone like Selena Gomez, or Miley Cyrus wear this dress.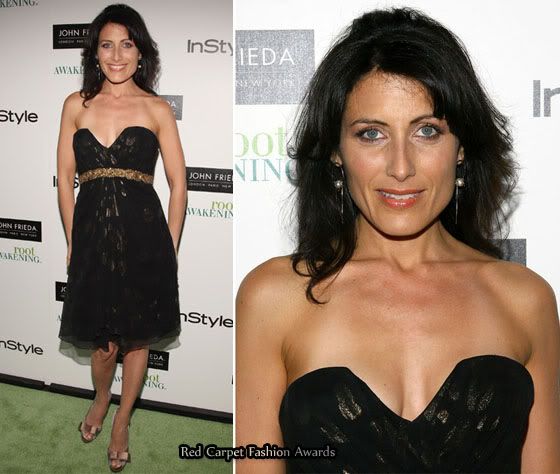 Lisa Edelstein also wore a strapless Notte by Marchesa dress.
Her metallic animal print dress, had a black chiffon overlay, and was accented with a gold woven tie at her waist.
She completed her look with taupe Fendi bow-front peep-toes.
Socialite Olivia Palermo, adds some oomph to her patterned organza Notte by Marchesa tank dress with a black sequined Diane von Furstenberg jacket, and T-bar shoes.
"Management" Screening, New York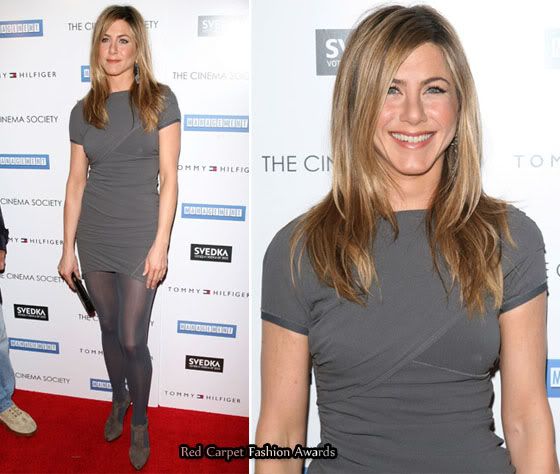 *sighs & gives up*
Jennifer Aniston walked the red carpet at this event which was co-hosted by Tommy Hilfiger wearing a grey dress, grey tights, and grey booties.
OK it's not black, but it might as well be. The dress is actually quite sexy, but the all over grey just makes this looks soooooo boring.
"The Brothers Bloom" Screening, New York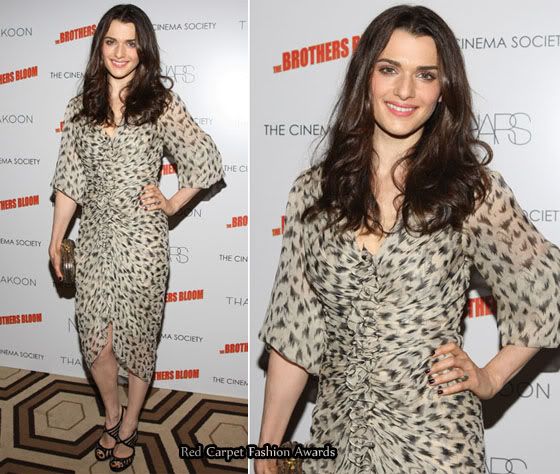 Rachel Weisz went for a low key, yet still very feminine look, wearing a 3.1 Phillip Lim Fall 2009 printed dress, which was ruched down the front
She paired her dress with a gold box clutch, and black Jimmy Choo strappy sandals.
11th Annual "Tribute To The Human Spirit" Awards Gala, LA
Mark & Spencer's campaign girl Myleene Klass, wore an electric blue Preen Line Tricks cotton drill dress, which hugged every inch of her curves, which she's so rightfully proud of.
"Love & Dancing" LA Premiere
Amy Smart is wearing a geometric print Halston Fall 2009 asymmetrical dress. This dress may have cost hundreds of dollars, but unfortunately she make is look very bargain basement.
2009 Rainforest Alliance Gala, New York
Gisele Bundchen was a vision of pure gorgeousness, wearing a gunmetal grey backless Versace gown, which plunged so wickedly.
The orange earrings really pop.