Jessica Stroup wore a cute white paillette covered Ferretti dress, adding an edge with a black ribbon tied around her neck, and black booties.
Very interesting accents.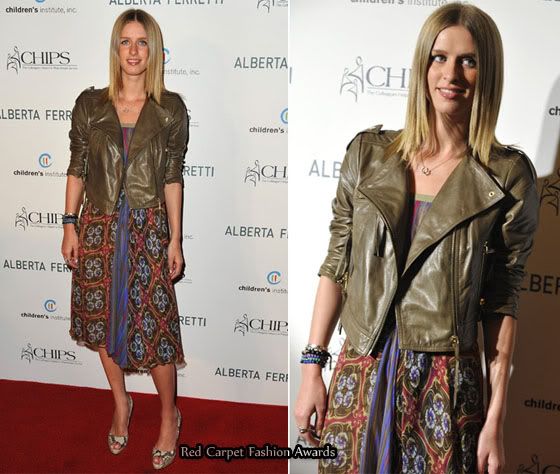 Nicky Hilton also added a slight edge to her bohemian Philosophy di Alberta Ferretti Aztec paisley dress, with an olive green Matthew Williamson for H&M cropped leather jacket, and snakeskin platform heels.
For a red carpet newbie, Lynn Collins is making a very impressive impact.
I won't pretend I'm crazy about her shoe choice. A nude heel would have been my preference to compliment the nude layers on her Philosophy Di Alberta Ferretti silk chiffon tiered dress.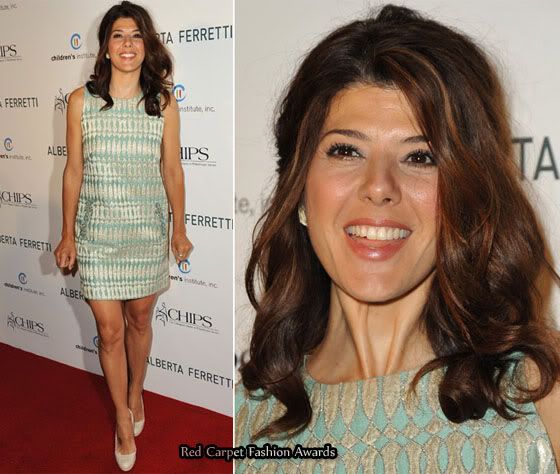 Marisa Tomei looks like she was having fun at this event, wearing a gorgeous turquoise embroidered Alberta Ferretti pocketed mini dress, with equally gorgeous ivory heels.
Quite frankly, I'm lusting after the whole look.
Angie Harmon wore a flapper style Alberta Ferretti Spring 2009 dress.
Her dress had an orange underlay, with a fringed web-like black overlay.
She's had better appearances on the red carpet. I would've liked to seen her in something that had more of a Spring-like feel to it, like the other attendees.