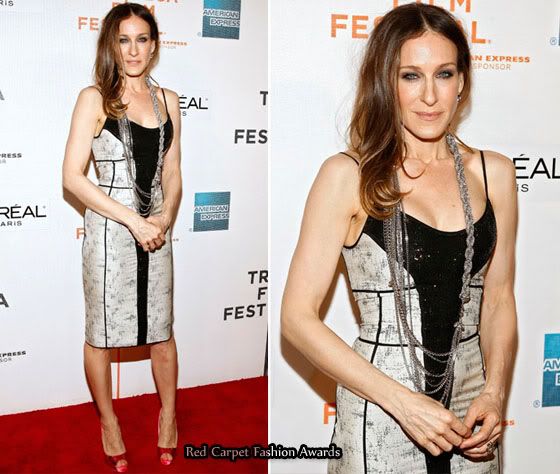 I love Sarah Jessica Parker's Narciso Rodriguez dress, and her fuschia pink Christian Louboutin Very Galaxy pumps.
The spaghetti strapped dress, is far more interesting than the cutesy vintage dress she wore recently.
What I don't like is the necklace. It seems so unnecessary on a dress that already has so much detail, with the print, and the sequin panel.
I also really hate her hair, as it's so uncharacteristically messy. A Carrie-esqe slick back bun would have worked so much better here.
Sanaa Lathan makes a quiet impact on the red carpet, but she's always consistently and effortlessly gorgeous, and last night was not exception.
She took to the red carpet wearing a floaty white silk chiffon v-neck Tadashi Shoji Fall 2009 dress, with a full skirt. The dress was accented with a black velvet belt, which she complimented with a black Roger Vivier clutch, and black peep-toes.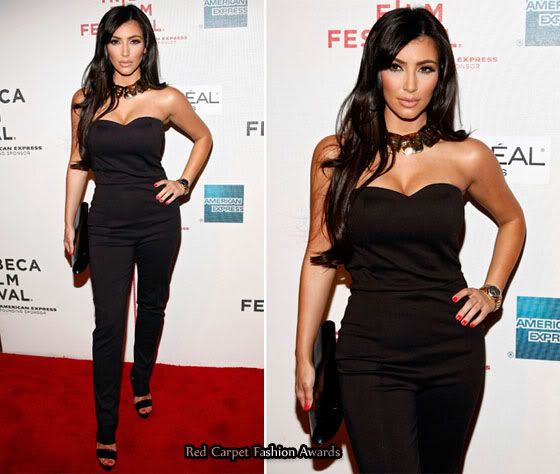 Maybe the wig got a bit too itchy, as Kim Kardashian returned to her natural raven locks, for which I'm very grateful. Her faux Beyonce look was just wasn't working for me.
The TV star looks fabulous in a black strapless jumpsuit, with matching accessories, an outstanding gold chocker and red nails.