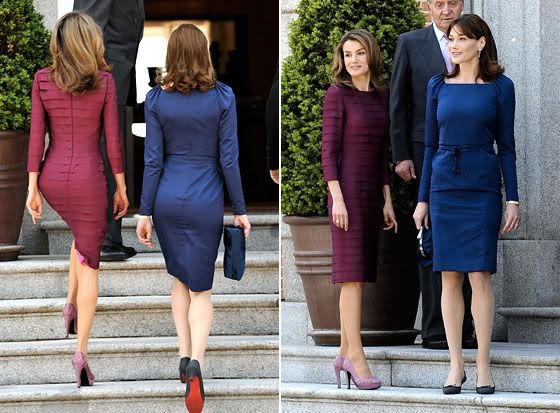 With Michelle Obama back in the US, Carla Bruni no doubt breathed a sigh of relief not have to share her 'First Lady of Fashion' title.

You can just imagine Carla saying, "here we go again", as she arrived at a lunch yesterday with Princess Letizia of Spain looking drop dead gorgeous.

Carla arrived wearing a very conservative navy Christian Dior dress, with Louboutin kitten heels (aaaargghh), whereas Princess Letizia, arrived wearing eggplant tiered dress by Spanish designer Felipe Varela, with lust worthy lilac croc heels…proper heels, with a platform and everything.

Carla looks appropriate, and appears to have done her best to not outshine her host, but am I alone in thinking she has lost her sparkle, or has the competition just got that much better?

Carla used to wow me. Now, not so much.