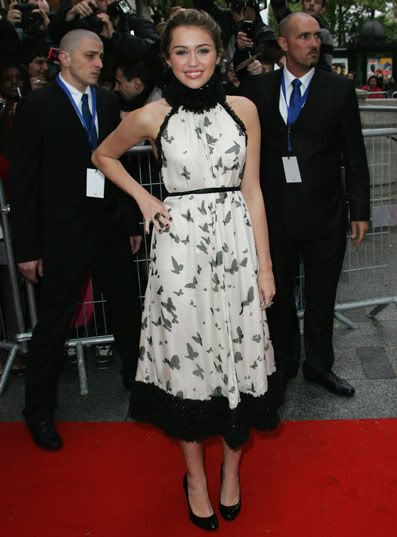 *

Sighs

*

Miley Cyrus just can't seem to get this red carpet this quite right. She's like a roller coaster. One minute she's up, next she's down, and it's all very confusing.

Last night she was in Paris, the fashion capital of the world, for her Hannah Montana: The Movie premiere.

Of her whole European promotional tour, this has to be my least favourite look.

She wore a Dolce & Gabbana printed halter-neck dress, which I really don't like on her.

That neckline is so unbelievably fussy, there's too much going on, plus the length of the dress feels quite awkward.

I found something similar, simpler an shorter on Sarah Coggles, which may have worked better for her.

Hopefully she will get to redeem herself before she travels home.

Source & Source