Jamie Lynn called it.
She said that Dita von Teese would be the first to be wear the Christian Louboutin Marie Antoinette's on the red carpet, and she did on Friday night when she arrived at An Evening With Women: Celebrating Art, Music, & Equality at The Beverly Hilton Hotel.
She wore her pink ankle strap heels, with a pretty baby blue lace dress, which had a very puffy skirt.
The last time we saw Dita she was wearing Keds, so we can breath a sigh of relief it was just a one-off.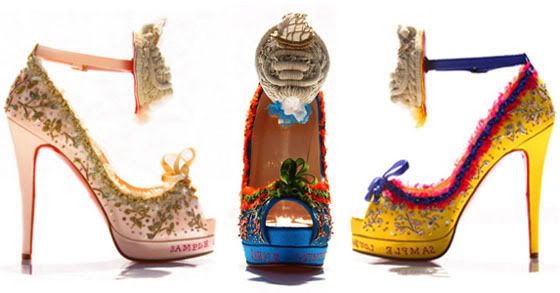 These $6,295/£3,975 heels were so exclusive that only 36 pairs were made. Dita opted for the pretty pink ones, but they also came in yellow and blue.
She would have been able to work any colour imo.
Thanks to Cry for point this out, but if you look really closely, the platform says:
"These are Dita's. With love from Christian Louboutin".
How friggin' cool is that.