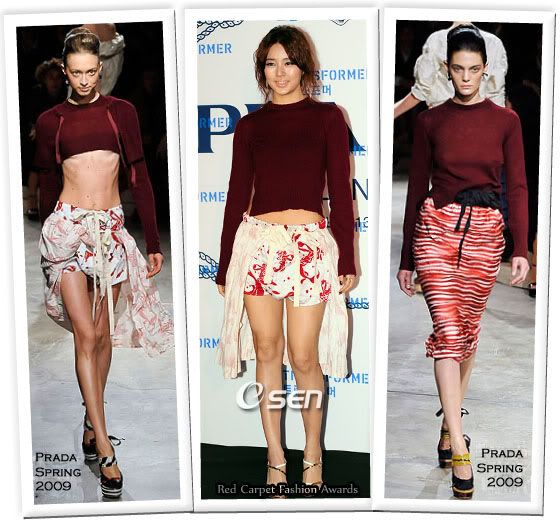 Watching Asian stars on the red carpet, is always a treat.

The looks are daring, exciting, some crazy, fashion forward, and risky weather they pay off or not.

Case and point is Yoon Eun-hye. She picked the most daring piece from the Prada Spring 2009 collection.

The maroon sweater is open at the back, with a few ties to secure it, which she wore with printed shorts, and a what could be confused as an apron tied to her waist.

Unlike when Nicole Kidman wore a piece from this collection, Yoon didn't press out all the intended creases.

On the site where I got this photo from, they said she should be arrested. I think she should be applauded for her bravery.

Despite her bashful wave, Cha Ye-ryun also picked a fabulous colourful strapless dress from the

Miu Miu Spring 2009

collection, which was famed for it's mosaic prints.

Yes she is wearing the total runway look, with a green python Prada clutch, but her look is still so refreshing.




Kim Min-hee's

Prada Spring 2009

dress may look plain, from this angle, but it has transparent panels on the sides.

I love that she wore a black scarf around her head to compliment the ties on her shoulder and the hip of her dress.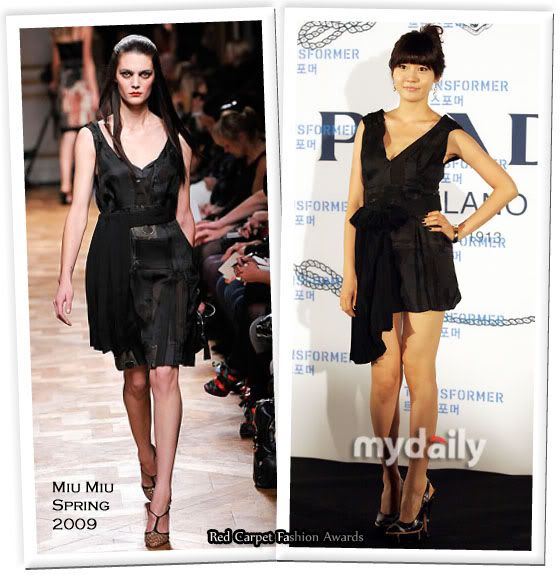 Sung Yuri modified her black

Miu Miu Spring 2009

dress, by shortening it, to show off more her long legs.

She should have also shortened the sash around the waist, as it dominates the skirt of her dress.

Her hair was styled into an updo, whilst she wore snake skin heels from the Prada Spring 2009 collection.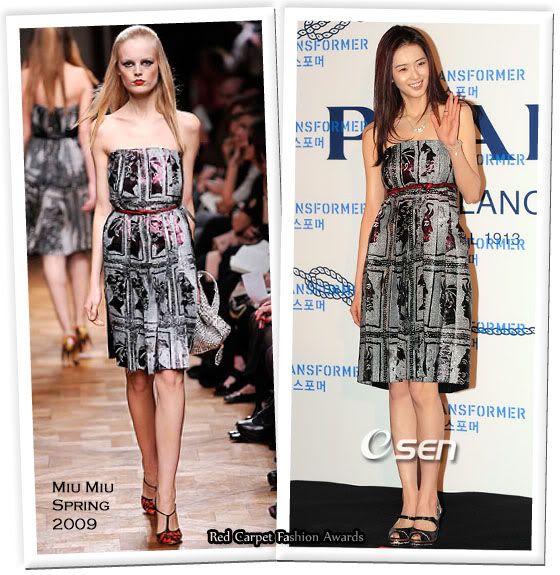 Koh Ara wore a Miu Miu Strapless print dress from the Spring 2009 collection. This dress has a mosaic print on the front, with a black paneled back.

Koh looks very sophisticated wearing her dress with the red runway belt, and Prada heels.

You can buy this dress for Net-A-Porter's US site for $1,865, or the international site for £1,055/€1,350.

Source & Source